Will Crypto Get the Santa Claus Rally?
Historically, the 4th quarter is a strong period for asset prices in general and Bitcoin specifically.
While the sample size is small (N=9), the effects are resounding. We checked in with Stock Trader's Almanac Executive Editor, Jeff Hirsch, to get his take on the chart below and he quipped,
It's still too small of a data set for a statistically significant effect, but it does look like it's tracking the best months of the year. Maybe we get that Santa Claus rally in crypto.
And here's that seasonality chart via Topdown Charts —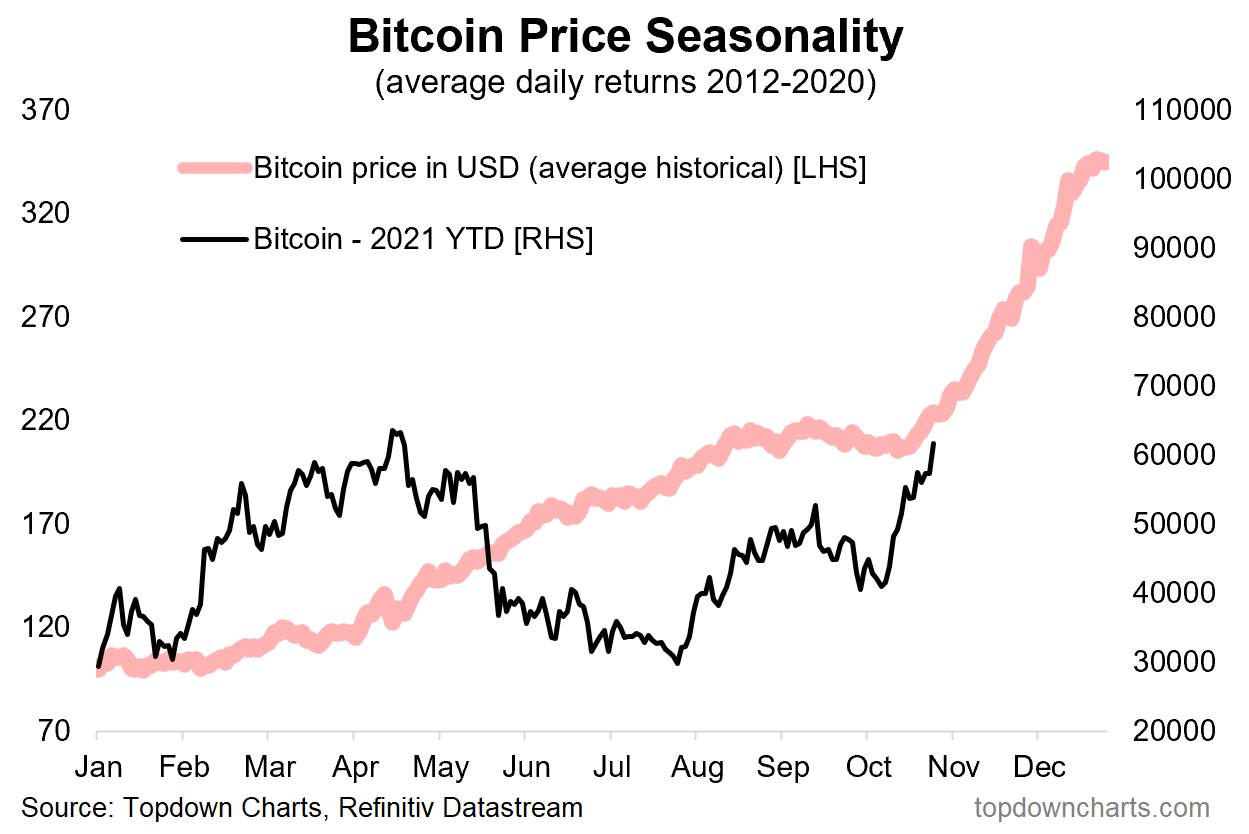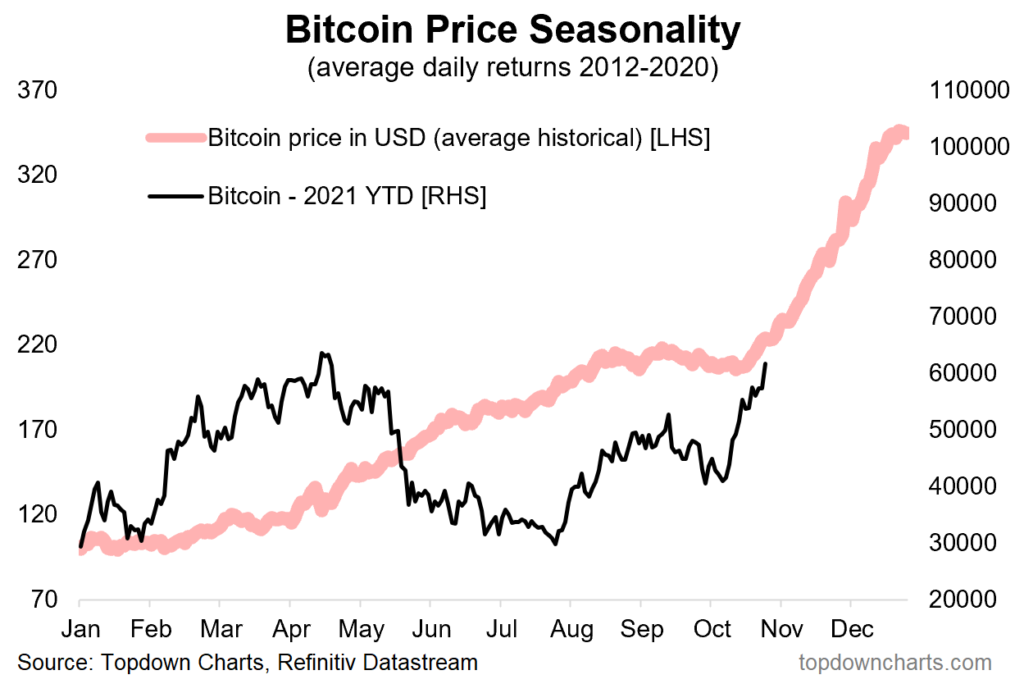 Will Q4 follow the historical average? Stay tuned.  
? Buy The Rumor, Buy the News?
The old saying goes, 
Buy the rumor, sell the news.
Recall when El Salvador officially adopted Bitcoin. Crypto got bought leading up to the event and then sold off hard for three weeks on the news. BTC fell from 52K to 40K.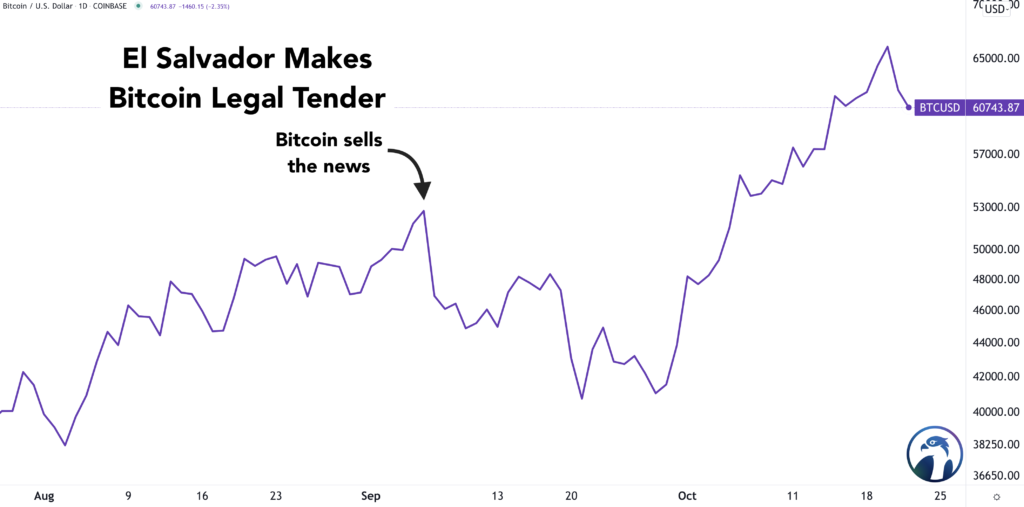 And that was the smart take leading into this past week as the Bitcoin Futures ETF launches approached. Same formula. Rally leading up to and distribution on the news. But a funny thing happened. 
They bought the news.
Bitcoin broke out to blue sky following the ETF debut on Tuesday and the most prominent alts followed suit.  
It was a buy the news event. 
Gotta love crypto!
? Nice Raise, FTX
FTX has had a fabulous year and it's not done yet.
On Thursday, the crypto exchange announced a Series B round raising $420.69M at a $25B valuation. 
If $420.69M wasn't memeable enough, the firm closed it's funding round with 69 investors. 
These guys get their audience. 
The crew celebrated the raise at opening night of FTX Arena in Miami.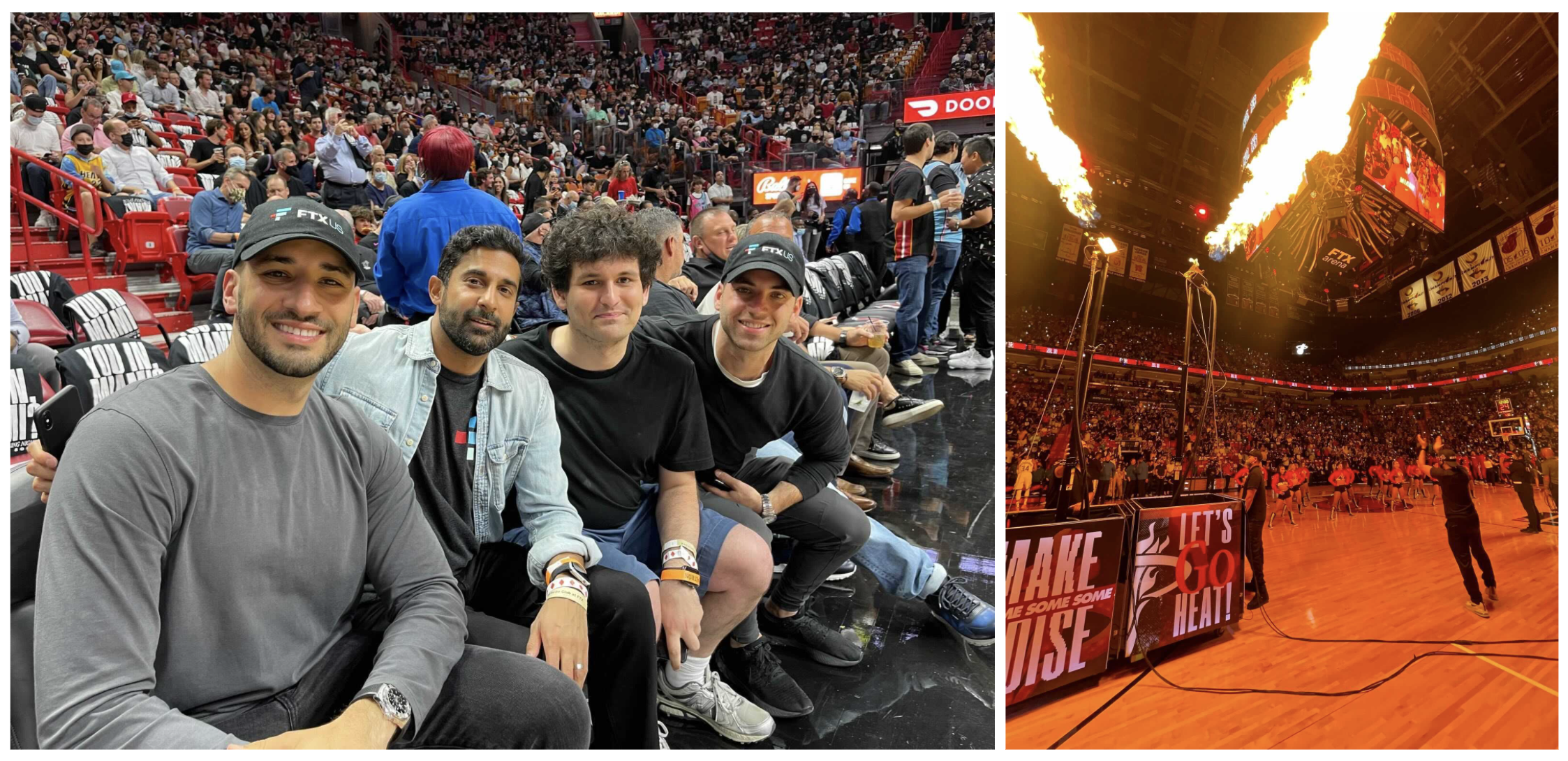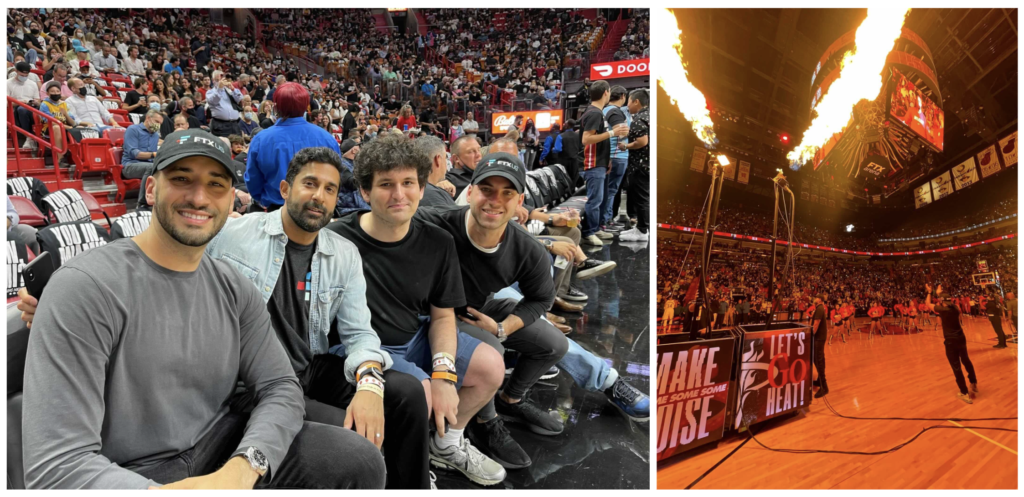 Earlier in the week, FTX founder and CEO Sam Bankman-Fried spoke with Patrick O'Shaughnessy on the Invest Like the Best Podcast. It was a great conversation and well worth your time. The two talked — 
 Key functions and building blocks of a perfect market (

11:55

)

 What it is about cryptocurrency exchanges that appeals to him (

37:36

)

 Marketing dollars and paid acquisitions for FTX (

54:35

)
? Inflation Nation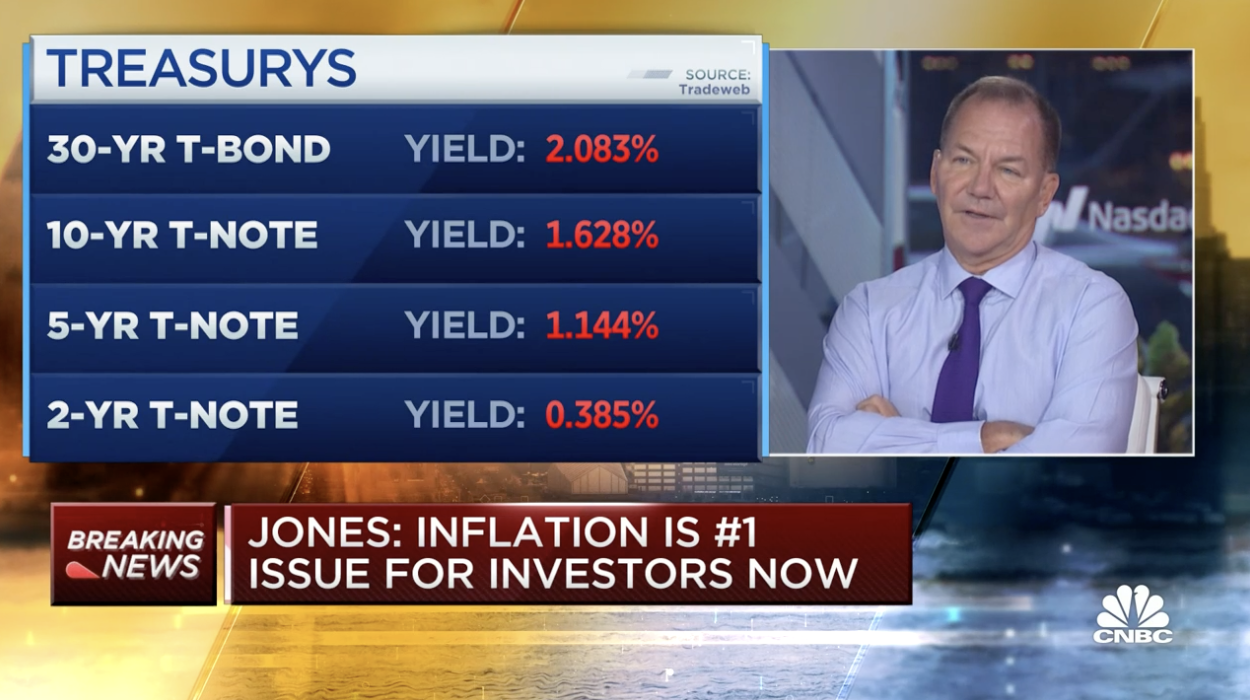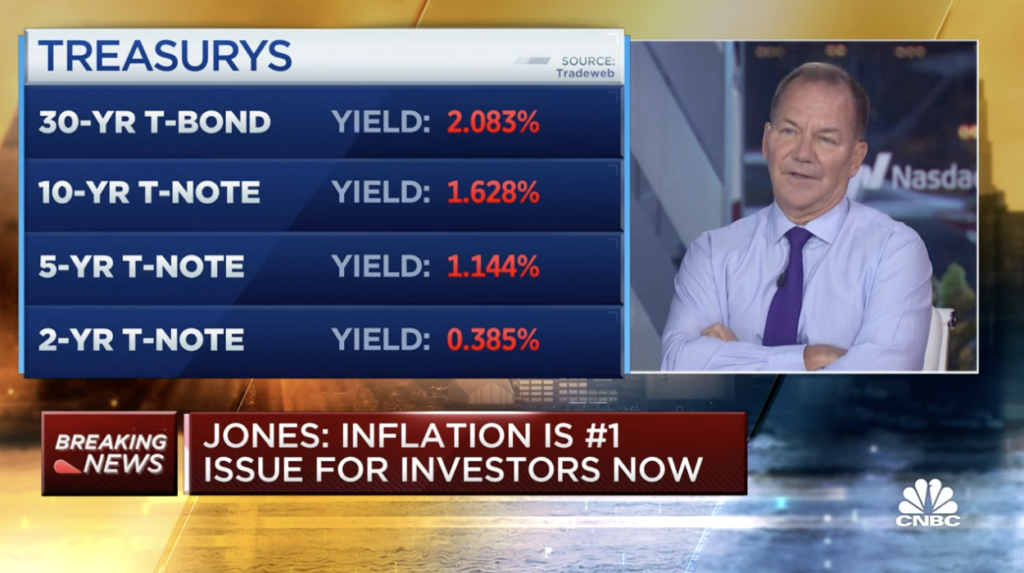 Paul Tudor Jones joined CNBC on Wednesday. 
The legendary trader flashed warning signs as he shared, 
I think to me the No. 1 issue facing Main Street investors is inflation, and it's pretty clear to me that inflation is not transitory. It's probably the single biggest threat to financial markets and I think to society just in general.

It's absolutely dead for a 60/40 portfolio, for a long stock, long bond portfolio. So the real question is how you defend yourselves against it.

Clearly, there's a place for crypto. Clearly, it's winning the race against gold at the moment.
Catch the full interview here. 
? The Vision Conference 
The DACFP Vision conference went off without a hitch. 
In case you missed it, here are a few must see session replays —
Next year's event will be in-person in Austin, Texas June 8th and 9th. 
Don't miss it. Click here to register. 
? What's New In NFTs? 
NFTs saw some big sales this week. 
Bored Ape #8585 sold for 696.969 ETH on Tuesday. (~$2.7M)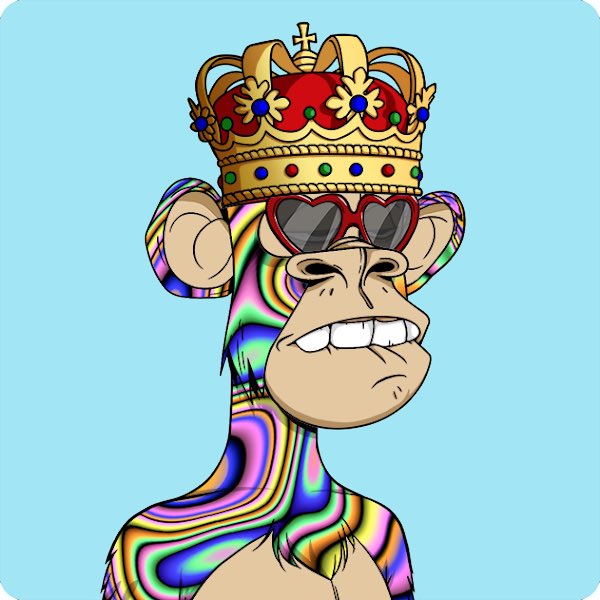 On Wednesday, Solana Monkey Business #4136 sold for 1,790 SOL. (~$350K)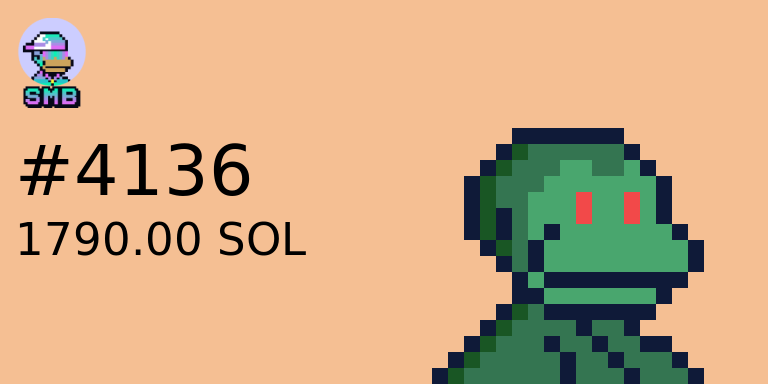 Here's additional NFT news for y'all junkies out there — 
Germany's World Wildlife Fund to sell NFTs featuring endangered species
Centralized Exchange NFT Platforms: The Advantages & Disadvantages
Solana-based play-to-earn NFT game MonkeyBall raises $3 million
Meta4 Capital will invest up to $100M in rare NFTs
Italy's Artissima Becomes the First Major Art Fair to Mint NFTs as Part of an Overhaul of Its Emerging Artist Prize
That Tungsten Company is Auctioning Its Largest-Ever Cube as an NFT
Fanatics' NFT company is worth $1.5 billion, and NFL legend Peyton Manning now owns a stake
The Weeknd Joins Tom Brady's NFT Platform Autograph as It Expands Into Music
? DraftKings Partners with Polygon 
NFTs on DraftKings aren't going away.
DraftKings and Polygon announced that it entered into a strategic blockchain agreement to support custom NFT drops and secondary-market transactions. 
The sports betting app will also become a full validator for the Polygon network. 
Osprey Funds Investor Product Series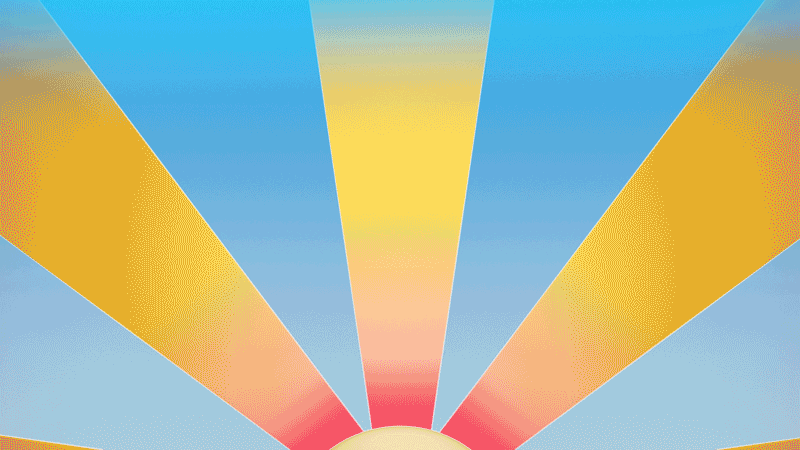 For more info on Polygon and the other coins associated with our single coin trusts, see Osprey Funds' Investor Product Series here: 
Polkadot
Algorand
Solana
Polygon
⛓ AP Partners with Chainlink
AP announced it will work with Chainlink to bring economic, sports, and election race call data onto the blockchain.
When asked, What's the significance of AP news and information being used on the blockchain? 
AP director of blockchain and data licensing, Dwayne Desaulniers said, 
Trust. The core purpose of a blockchain is to be a publicly accessible, safe and secure record of verified information. Because AP is such an important source for fact-based and trusted information around the world, we see this as an opportunity to provide blockchain users with data and info they can trust.
✌️ Glass House Getaway
Check out this glasshouse getaway found in Inari, Finland.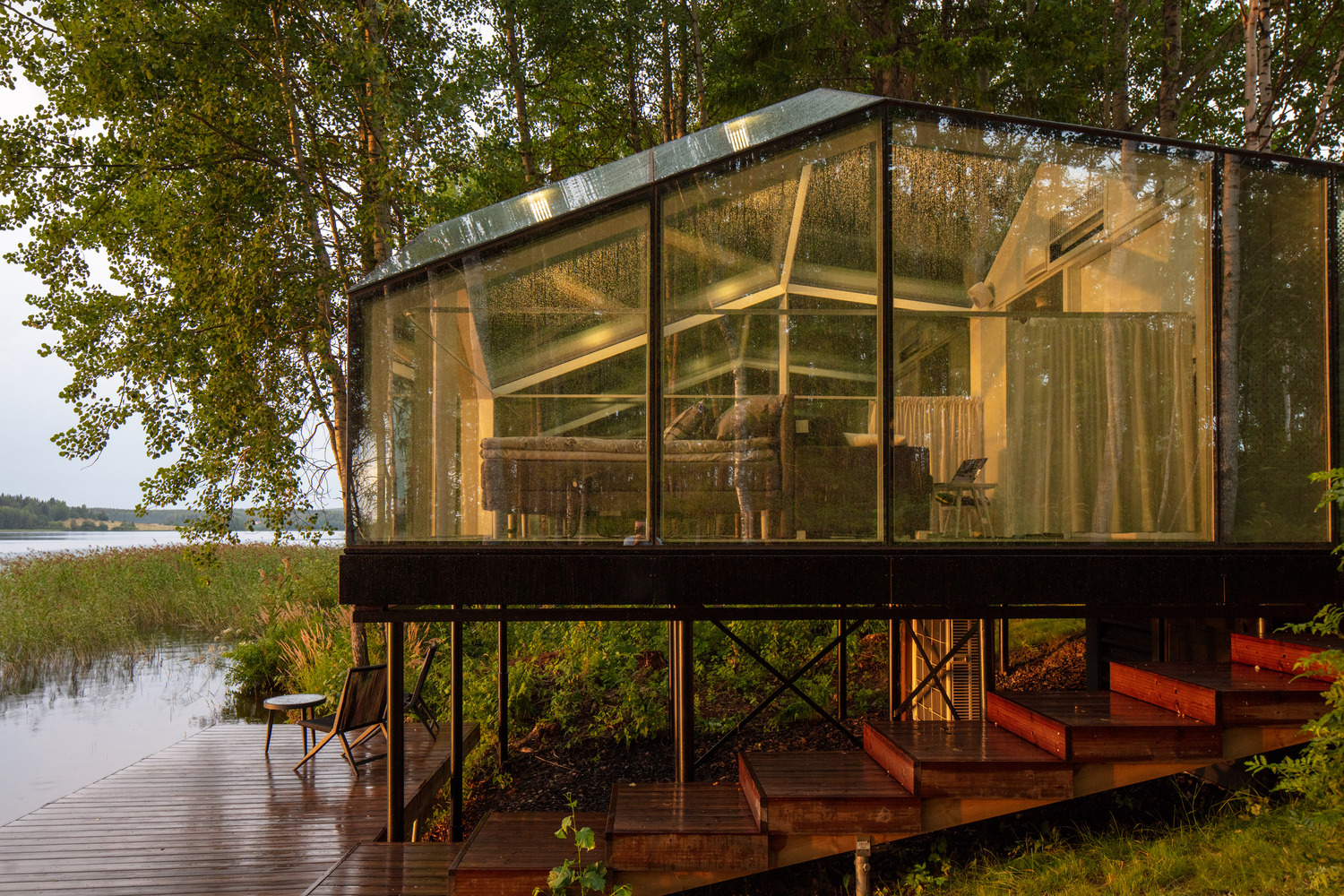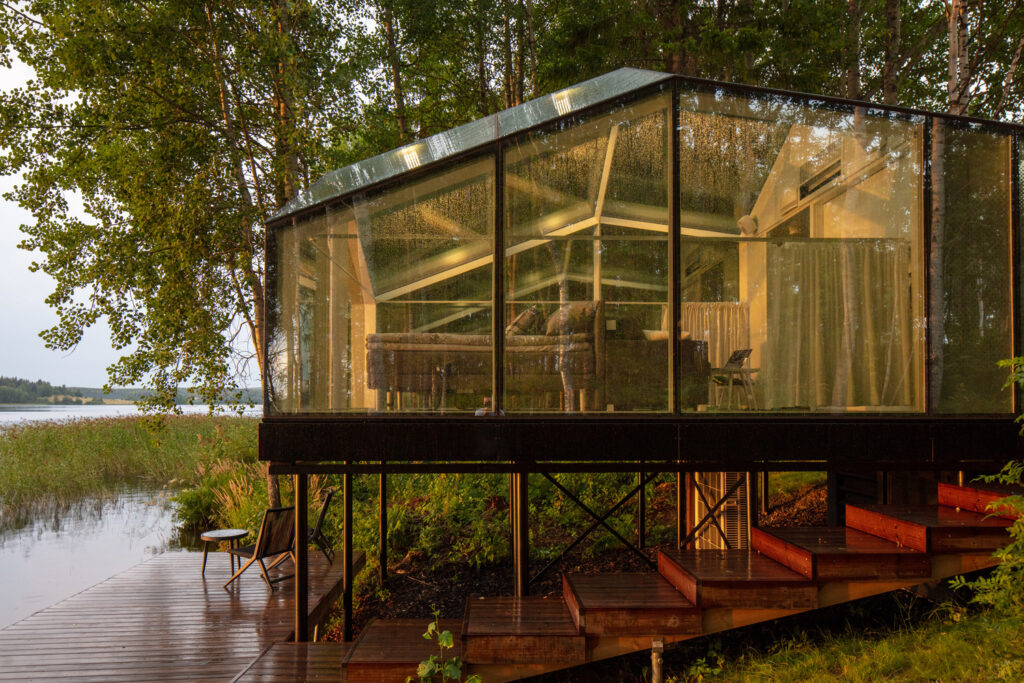 It's a perfect holiday stay.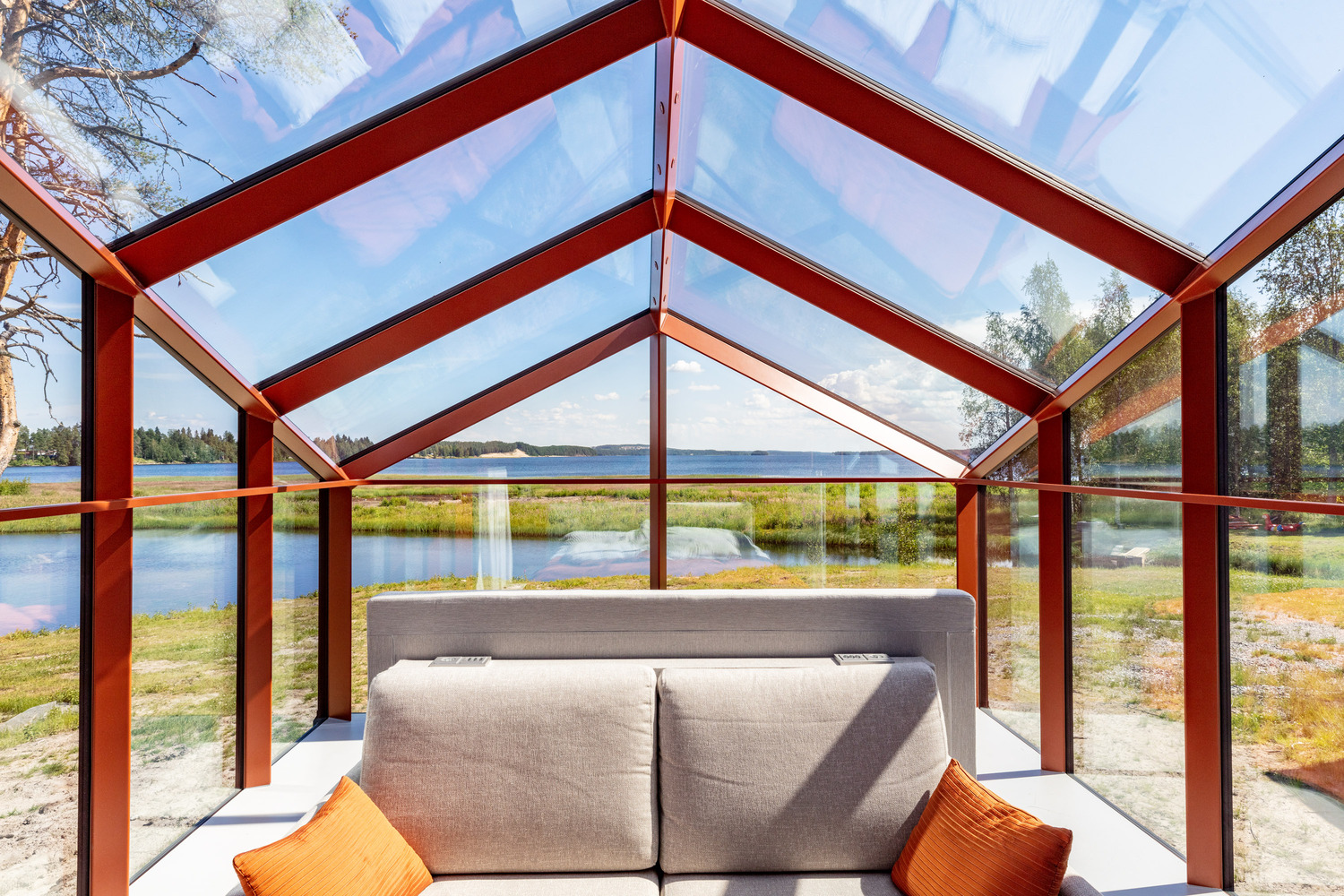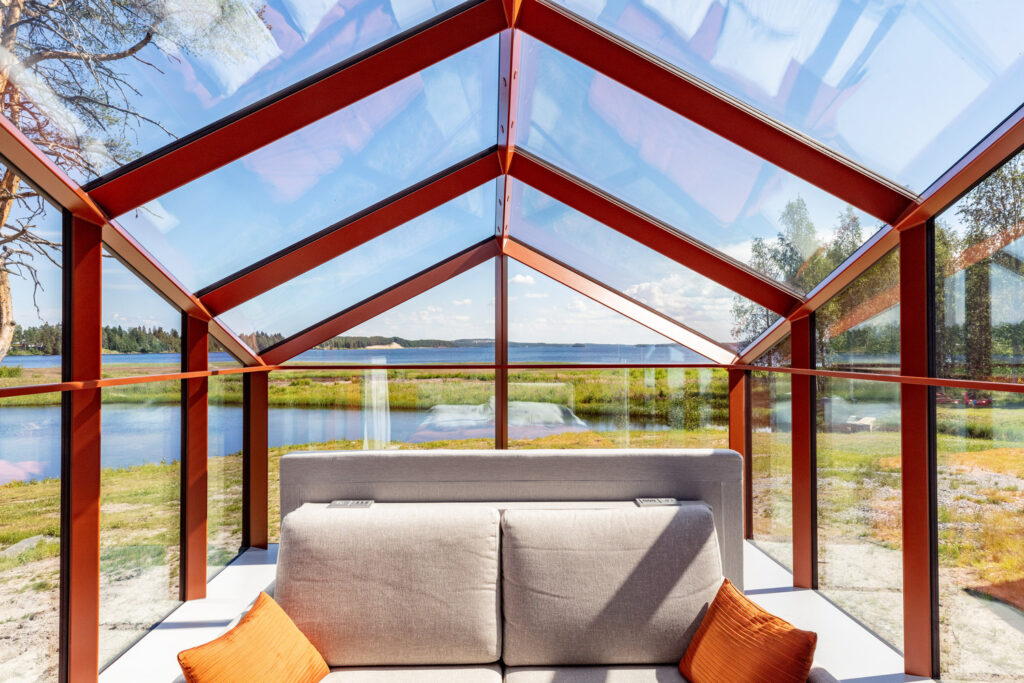 ? Stories You Might Have Missed
Why US Policymakers Should Embrace Web 3 — Three words: progress, opportunity and inclusion.
NFT ownership collaborative purchases rare Wu-Tang Clan album
The Weekly Hop #8: Crypto prophets & digital sovereignty
Startup powering Sotheby's Metaverse raises $20 million in funding
JPMorgan Says Bitcoin Record Run Driven By Inflation
Crypto Traders to Blame for Surging Sales of Small Tungsten Cubes
NFT Artist Brian Frye Wants You to Steal This Article
Number go up: Bitcoin is a Trojan Horse | Alex Gladstein and Lex Fridman
Peter Thiel's Valar Ventures leads $27 million Series A for crypto payments infrastructure firm XanPool
Walmart Has Quietly Begun Hosting Bitcoin ATMs
Houston Firefighters US Pension Fund Purchases Bitcoin
FATF has finalized its crypto guidance and plans release next week
Messario Research — State of Compound Q3 2021
Budget airline Volaris to accept bitcoin payments in El Salvador
Bitcoin for Everybody (via Saylor.org)
Transcript: Axie Infinity, the Crypto Game That's Up 200x This Year
For $200, You Can Trade Crypto With a Fake ID
Santa Fe Modern Book: New Mexico City Has Best Modern Architecture
solar-powered camper 'stella vita' completes 3,000km trip across europe
Tulip tower by Foster + Partners set to be given go-ahead
Fed to ban policymakers from owning individual stocks, restrict trading following controversy
A New Observatory Suspended Nearly 1,300 Feet in the Air Is Redefining New York City's Skyline
Go Behind the Scenes of Wes Anderson's New Film, 'The French Dispatch'
3deluxe launches zero-carbon superyacht with cultivation garden
FIFA says it never liked EA anyway, will see other publishers now
WeWork Shares Rise on First Day of Trading, Two Years After Failed IPO
Virkkunen & Co designs sculptural substation and pylons in Finland
State of the World sculptures by Mathieu Lehanneur depict population data