With the recent rally, Bitcoin is again up over 100% year-to-date (YTD). This comes on the heels of a 400%+ gain for 2020.
Not too shabby.
Nevertheless, if you look at it relative to Ethereum or the other best performing altcoins for 2021, it pales.
Here's a BTC and ETH comparison chart YTD: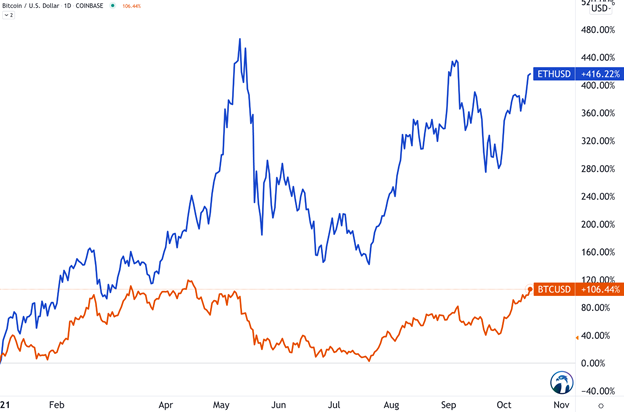 ETH performance has crushed BTC. And if we added the likes of Cardano or Solana, it would look considerably more lopsided in favor of the alts.
But more recently a funny thing has happened. Here's a one month chart with the 4 coins and lo and behold, BTC is the one doing the crushing.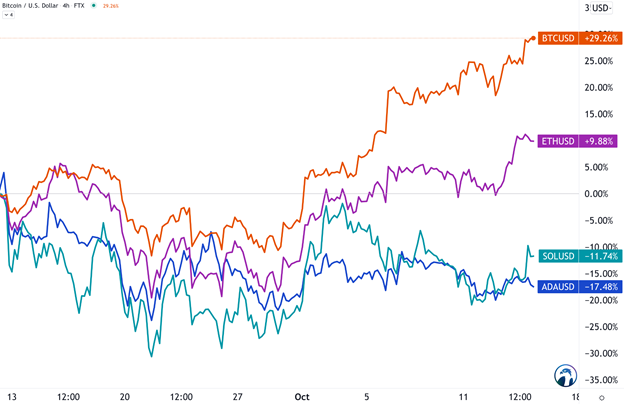 Is this about the apparently imminent BTC Futures ETF? That's the dominant media narrative for sure (See more below).
We have no idea, though we've learned to treat dominant media narratives as suspect.
Is it about regression, you know, just math?
This is certainly possible.
But maybe there's something more happening here. For one thing, Bitcoin transactions are growing fast with payment networks like Lightning bolting ahead. And for another, it is Bitcoin. The bellwether crypto.
?? U.S. Bitcoin Mining Emerges
Following China's ban, the U.S. leads the world in Bitcoin mining. 35.4% of the global hash rate falls within its borders. 
Here's the nice visualization: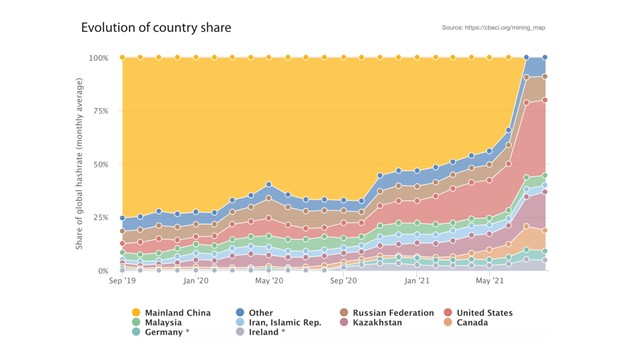 China dominated until it didn't. Oof. 
Here's the University of Cambridge with more. 
? Dimon Says Bitcoin Is Worthless… Nobody Cares
JPMorgan Chairman and CEO Jamie Dimon said,
I personally think that Bitcoin is worthless.
He continued, 
I don't want to be a spokesperson — I don't care. It makes no difference to me. Our clients are adults. They disagree. That's what makes markets. So, if they want to have access to buy yourself bitcoin, we can't custody it but we can give them legitimate, as clean as possible, access.
Dimon dismissed Bitcoin back in 2016 and has been negative on it ever since. 
Maybe he's just salty he missed it? 
See Jamie's full CNBC interview here. 
Meanwhile, billionaire Barry Sternlicht thinks Gold is kind of "worthless."
Billionaires… lol. 
? Coinbase NFT Marketplace Drop Hot AF
Things continue to accelerate in the adoption of NFTs. This week…
Coinbase announced Coinbase NFT, an NFT marketplace with a social twist.

Users will be able to mint, purchase, showcase, and discover what's new. 
It was a hot news drop as the company said >1M signed the waitlist in the first 24 hours and 2M sign ups as of Friday, October 15, 2021. 
The preview photo has an Instagram feel. Have a look —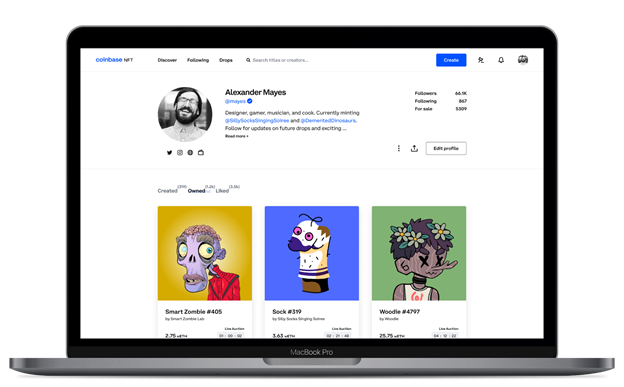 And click here to join the waitlist.
FTX also unveiled its NFT marketplace on Monday. 
The crypto exchange supports existing Solana NFTs and plans to support Ethereum NFTs soon. 
Users can mint new NFTs directly on the marketplace and list them in USD, SOL, or ETH. 
Phantom, a popular wallet for Solana NFTers, shared that it's adding 100,000 new users per week. 
Even SpongeBob secured it's spot on the bandwagon. 
And here's our favorite NFT we stumbled upon this week:
An Electric Storm by Reuben Wu
The NFT owner will also receive a physical print which can be electrified via augmented reality. 
Pretty sweet. 
Here's additional NFT news if you haven't had enough —
Nigerian NFT artist first to use social tokens during a Christie's event.
Crypto Billionaire Mike Novogratz Wants to Turn Tattoos to NFTs.
Sotheby's announced Sotheby's Metaverse, an NFT marketplace offering curated NFT collections.
Visa partners with NFT artist Micah Johnson to support the creator economy.
? Investor Product Series IV: Polygon 
On Thursday, we published the fourth installment of the Investor Product Series titled, Polygon: Ethereum's Expressway.
Here's a preview quote:
Polygon (MATIC) is a Layer-2 protocol for building and connecting Ethereum-compatible blockchains.

It's the only Ethereum-compatible side chain that offers lower fees and instantaneous settlement. Today, it handles ~6M transactions per day costing less than a penny per transaction.

Polygon looks to provide a scaling solution to Ethereum and become an Internet-of-Blockchains.
? Bitcoin Futures ETF Coming Soon…?
Thursday night, the SEC said a Bitcoin futures ETF will not face opposition in their upcoming decision. Bitcoin flew from 57,100 to 59,100 an hour after the news broke. 
If approved, two Bitcoin futures ETFs may trade as early as next week. 
Here's Bloomberg with the full scoop. 
? Heated By Bitcoin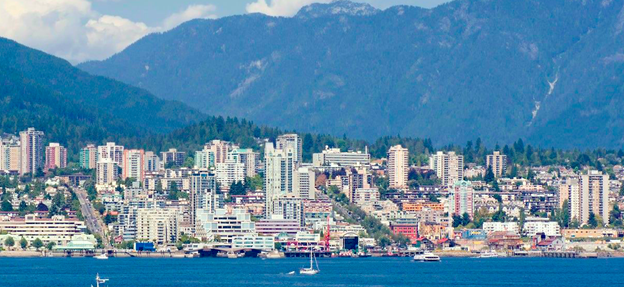 North Vancouver will be heated by Bitcoin. 
In 2022, the City and Lonsdale Energy Corporation will introduce Bitcoin mining as a heat source to their energy system. 
We love to see it. 
? Stripe Comes Back To Crypto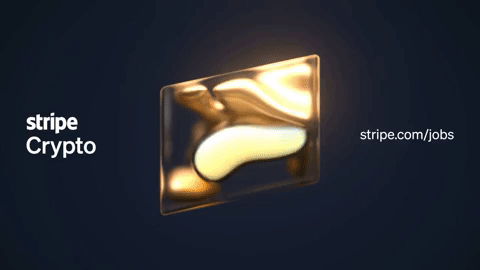 Stripe is rebuilding its Web3 team.
However, this isn't the first time it's come to crypto. The payment processor stopped Bitcoin support in January 2018. 
Today, Stripe looks to hire multiple crypto engineers. If this is you, shoot your shot.
 ? Aurora Borealis Comes in View
The northern lights had a gnarly night on Monday. 
Here are the highlights —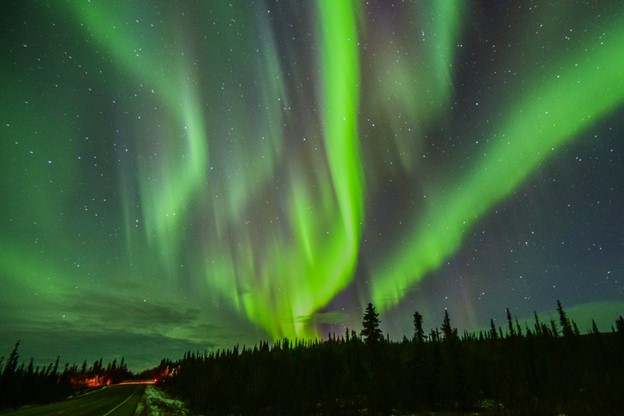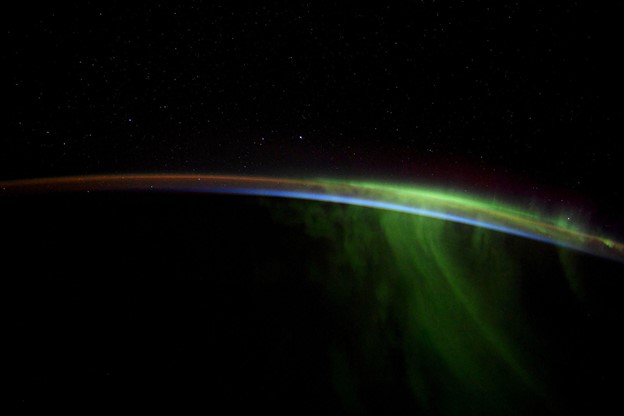 ? Stories You Might've Missed 
DACFP VISION – The Premier Event on Blockchain & Digital Assets
Morgan Stanley CEO says cryptocurrencies 'aren't going away'
FTX to Launch 'NFT Lotería' Game on Solana to Fund Program for Hispanic Engineers
Australia's fifth-largest pension fund is open to investing in crypto
Following the Smart Money: A Study of Long-Term Holders
October 13, 2021 Keynote – Gavin Wood, Parity | Sub0 Online 2021
Are BTC and ETH Spot Markets Maturing?
Bitcoin Miner Bitfury Plans to Go Public With Value in 'Billions of Pounds:' Report
TradingView's $3 Billion Valuation Fed by Retail Investing Boom
Bitcoin Mining Is Reshaping the Energy Sector and No One Is Talking About It
Jay-Z Adds Incubator to Portfolio of Blockchain/Crypto Investments
The Solana Podcast — Packy McCormick EP. 49
Decentralized finance is now a $200 billion industry
An Agenda for the Future of the Internet
BlackRock CEO Sees 'Huge Opportunities' in Digital Currency
Introducing Polkadot Gifts: The Easiest Way to Send DOT
Venezuelan international airport to accept Bitcoin payments: Report
Coinbase Digital Asset Policy Proposal: Safeguarding America's Financial Leadership
Africa's Top Crypto Artist Launches Social Token Experience at Christie's
Putin Says Crypto Can't Yet Replace Dollar in Settling Oil Trades: Report
Subversive Capital Files Application With SEC for a Metaverse ETF
Aspen Real Estate Is Still Booming, Held Back Only by Lack of Supply
FTX Partners with the International Cricket Council
Crowdsourced Quant Backed by Paul Tudor Jones Rides the Crypto Wave
Roblox pushes toward avatar realism, plans to add NFT-like limited-edition items
Space Perspective raises $40M Series A for stratospheric balloon rides
Banksy's Shredding Artwork Is Auctioned for $25.4 Million at Sotheby's
With NASA partnership, Orlando begins planning for air taxis, flying cars