Voyager Customers Getting A Christmas Miracle?
Binance.US has Entered an Agreement to Buy Voyager Digital's Assets
On Sunday Binance's California based entity, Binance.US, released a press release announcing an agreement with Voyager Digital to acquire its assets. The agreement establishes "a clear path forward for Voyager customers' funds to be unlocked as soon as possible, and returned to them in the form of the cryptocurrencies previously held in their Voyager accounts". The deal, which is scheduled to be heard in Bankruptcy Court on January 5th, 2023, is valued at $1.022 billion.
1/ Today, @BinanceUS was selected highest and best bid in Voyager's reopened bankruptcy asset auction. Once the deal is completed, Voyager users will finally be able to access their digital assets on the https://t.co/Wc26vMosC4 platform.

Read: https://t.co/gBK5m3kcYn

— Brian Shroder (@BrianShroder) December 19, 2022
The Twitter thread above posted by Binance.US President & CEO, Brian Schroder, offers more insights into the proposed acquisition along with assurances that the exchange is operating as intended and well collateralized. Pending court approvals, this will allow Voyager customers to trade their holdings on their own terms without being liquidated for cash in bankruptcy proceedings, transfer them to other wallets, or keep them on the Binance.US platform. According to the thread, Binance.US has been making a substantial push for increased market share in the United States by gaining regulatory approval in 46 states, offering zero-fee trades on many BTC & ETH trading pairs, and providing competitive staking yields on many assets. Approval of the deal will bring over 1.7 million Voyager customers to the Binance.US ecosystem.
Can Bitcoin be Seen as a Leading Indicator for the S&P 500?
Delphi Digital recently released a report previewing the year ahead for markets. In the report, the Delphi team reveals that the last four major Bitcoin reversals have led those in the S&P 500 Index (SPX) by an average of ~29 days.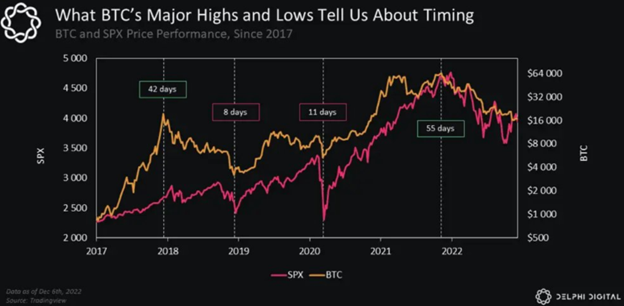 Most recently, Bitcoin peaked at ~$69,000 on November 11th, 2021, 55 days ahead of when the SPX ran out of steam at 4,818 on January 4th of this year. Risk assets, such as Bitcoin, tend to lead the rest of the market and Delphi strategists noted, "The crypto market is one of the purest bets on global liquidity expansion and currency debasement. Not only is it influenced by macro factors, but when market conditions change, it's often the first to react". Only time will tell if Bitcoin can continue this correlation with the SPX when markets reverse the current downtrend.
Bitcoin Miner Core Scientific Files for Bankruptcy
Texas-based Bitcoin mining company Core Scientific ($CORZ) filed for Chapter 11 bankruptcy on Wednesday. According to Reuters, the mining firm "attributed its bankruptcy to slumping bitcoin prices, rising energy costs for bitcoin mining, and a $7 million unpaid debt from U.S. crypto lender Celsius Network, one of its biggest customers". On Thursday, a day after filing for bankruptcy, a U.S. Bankruptcy Court judge approved a $37.5 million loan from a group of existing creditors who "have faith in Core Scientific's long-term viability despite the company's recent challenges and bitcoin's falling price". On the bankruptcy news, the Core Scientific stock dropped to ~$0.05 per share, down more than 99% from its high of almost $15 in November of 2021. The stock price was able to rally off the low and settled at $0.1137 per share as of market close on Friday.
Core Scientific is responsible for ~10% of Bitcoin's total hash rate, which is the computing power on Bitcoin's network to solve the Proof-of-Work consensus mechanism. The company intends to keep operating throughout bankruptcy proceedings.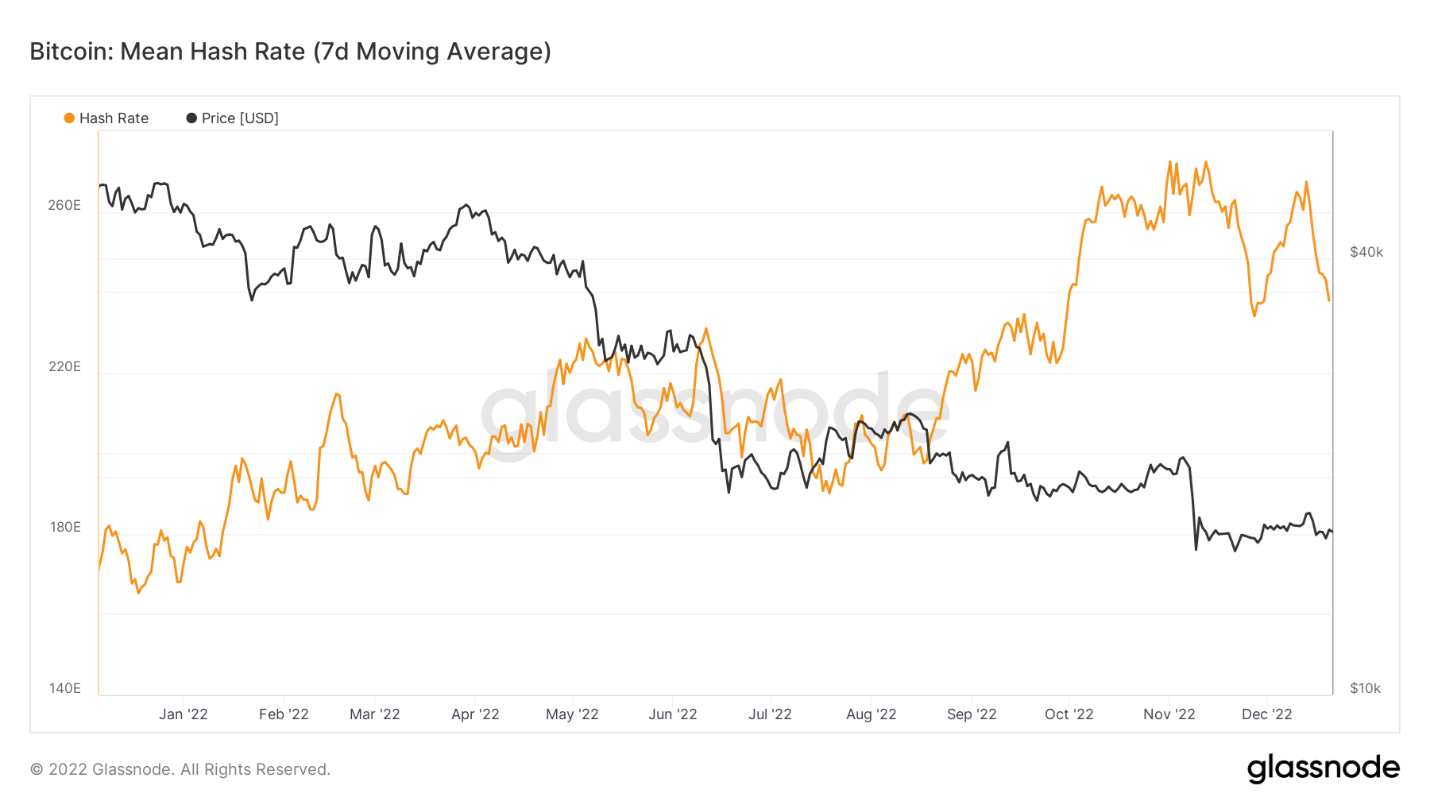 Bitcoin's hash rate has taken a hit in recent weeks but has had a strong inverse correlation with BTC price throughout 2022, even reaching an all-time high in November.
Podcast of the Week:
This week we are listening to "Crypto Year in Review" on the @Coinbase: Around The Block Podcast

Coinbase CEO @brian_armstrong and Chief of Staff @markcialone discuss regulatory clarity, enforcing a level playing field, and preserving the innovation potential of decentralization

— Osprey Funds (@OspreyFunds) December 22, 2022
ICYMI:
SBF to Live with His Parents After Posting $250 Million Bail
Brazil's President Signs Bill Legalizing the Use of Bitcoin as Payment
Twitter Adds Crypto, Stock Prices in Search Results
Polygon's zkEVM Launched its Second Testnet, the Last Step Before Mainnet Goes Live
Before We Go:
Will Santa Claus be coming to crypto town?
Santa Rally Coming?

Over the past 5 years $BTC has averaged ~18% gain in December🎅 pic.twitter.com/eMHNaiDNC8

— Osprey Funds (@OspreyFunds) December 13, 2022