Regulation is coming to crypto in the US. We all know it. This is the largest economy in the world and it has its own best interests at heart.
Priorities will include maintaining perceived stability for the dollar, for businesses most notably banks, and for citizens.
Still, and to paraphrase Dr. King, the arc of the crypto universe is long, but it bends towards economic liberation.
Over the short term, though, they matter a lot, and we are a myopic bunch, so pundits and social media quarterbacks are busy parsing words and confirming biases.
Web 3.0 is a technological epoch. It will likely proceed, slowly, or a little faster, until decentralized technologies are built into our everyday lives without us giving them much thought.
Two events occurred this week that might affect the more immediate velocity of this revolution.
SEC Chairman, Gary Gensler, spoke at the Aspen Security Forum on Tuesday, and the $1,000,000,000,000 infrastructure bill was unveiled for a vote in the Senate. 
Gensler at the Aspen Security Forum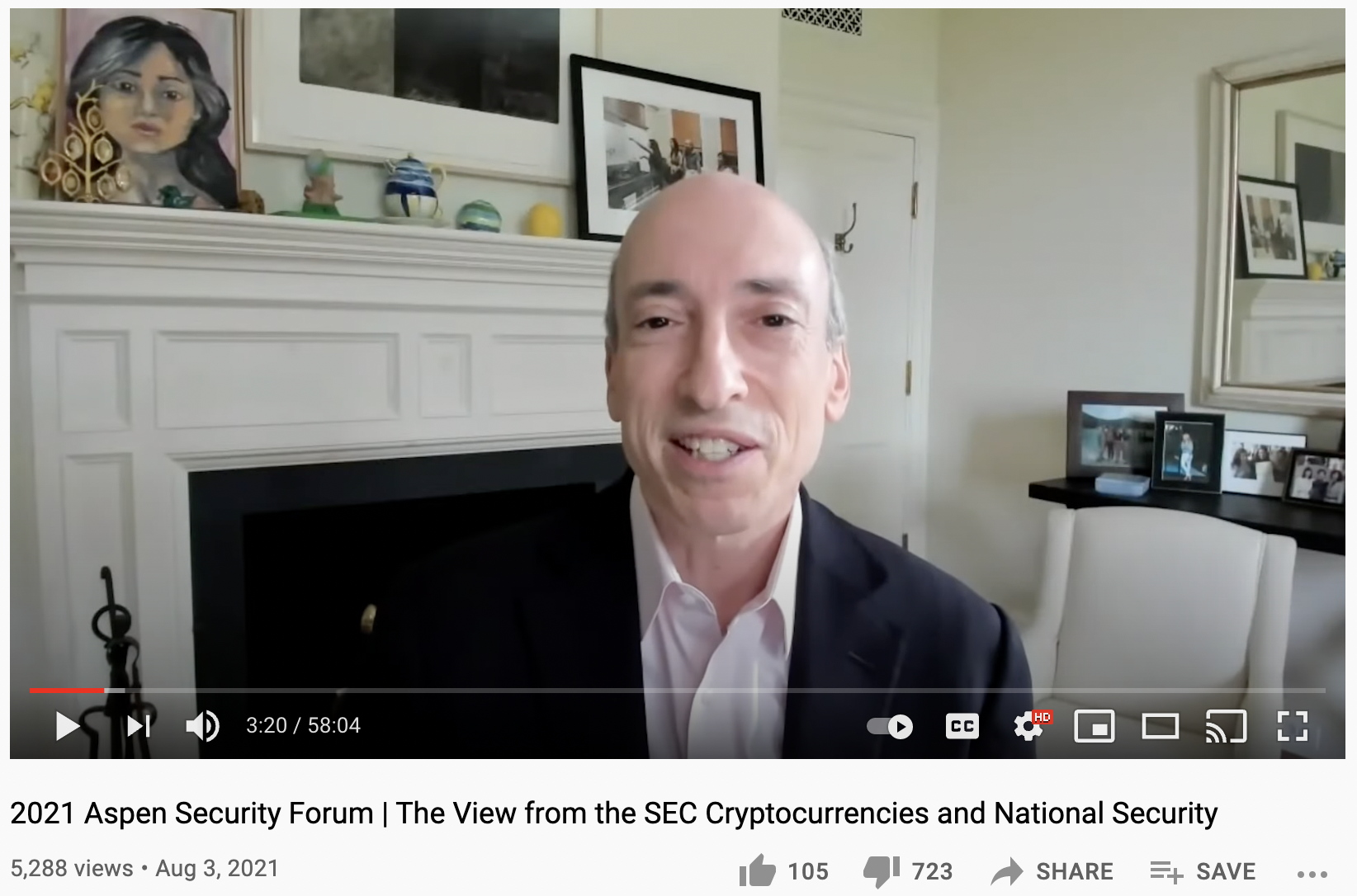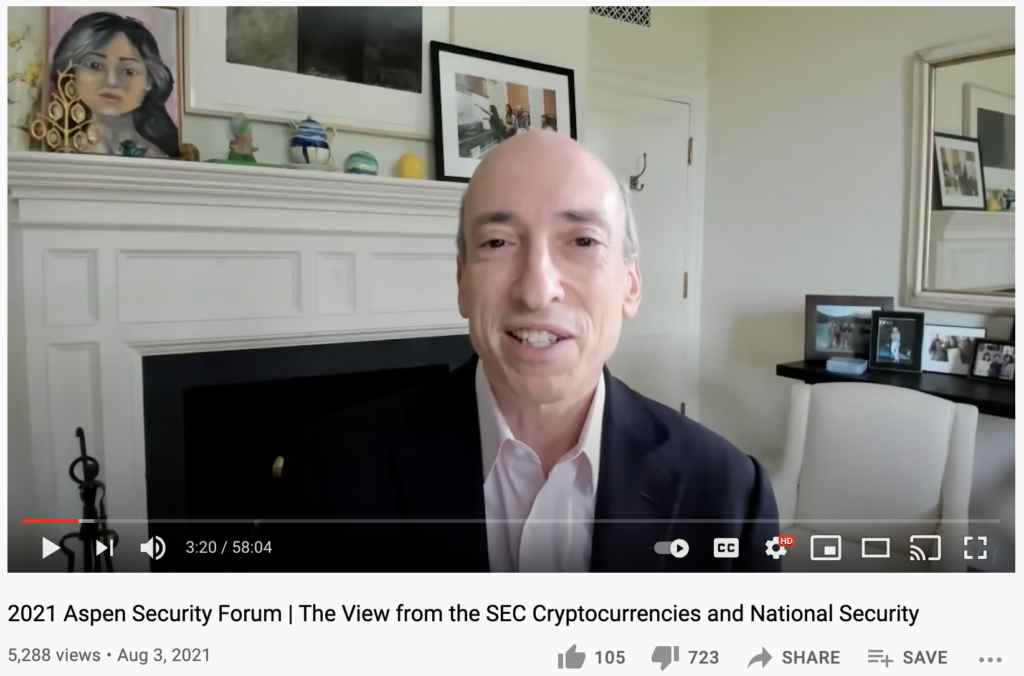 Many are out critiquing Chairman Gensler's comments, and there was something for everyone as he shared both caution and encouragement.
But few are actually watching the recording directly with only 5,000 views on Youtube so far. Crazy.
If you are interested in this space, spare yourself the punditry and go watch directly. It's an hour including the Q&A and well worth your time going right to the source.
We'll spare you our take and leave a few quotes to spark your curiosity:
As is customary I should note that these views are my own and I'm not speaking on behalf of the commission or the SEC staff.

Nakamoto's innovation is real.

It's more like the wild west. It's an assets class rife with frauds, scams, and abuses in certain applications.

We have taken and will continue to take our authorities as far as they can go.
The US Infrastructure Bill Is Really Long
The $1T bipartisan infrastructure bill was unveiled Sunday and is being jostled about the Senate this week.
It reads 2,702 pages, which is a lot when you compare it to Nakamoto's Whitepaper, which comes in at 8 pages. 
It contains language around crypto taxation and a debate has ensued that will affect everyone who invests in the space.
Wyoming Senator and crypto advocate, Cynthia Lummis tweeted—
'Secret bill drafting' is more concerning for the future of financial innovation in the US than 'shadowy super coders'. The committee process is the open source of legislation. Let the sunshine in!  
Cynthia alongside Oregon Senator Ron Wyden and Pennsylvania Senator Pat Toomey proposed an amendment that would exclude validators, hardware and software wallet makers, and protocol devs from the broad definition of a 'broker.' 
The Blockchain Association, Coinbase, Coin Center, Rabbit Capital, and Square responded in support of the senators.
Here's their statement: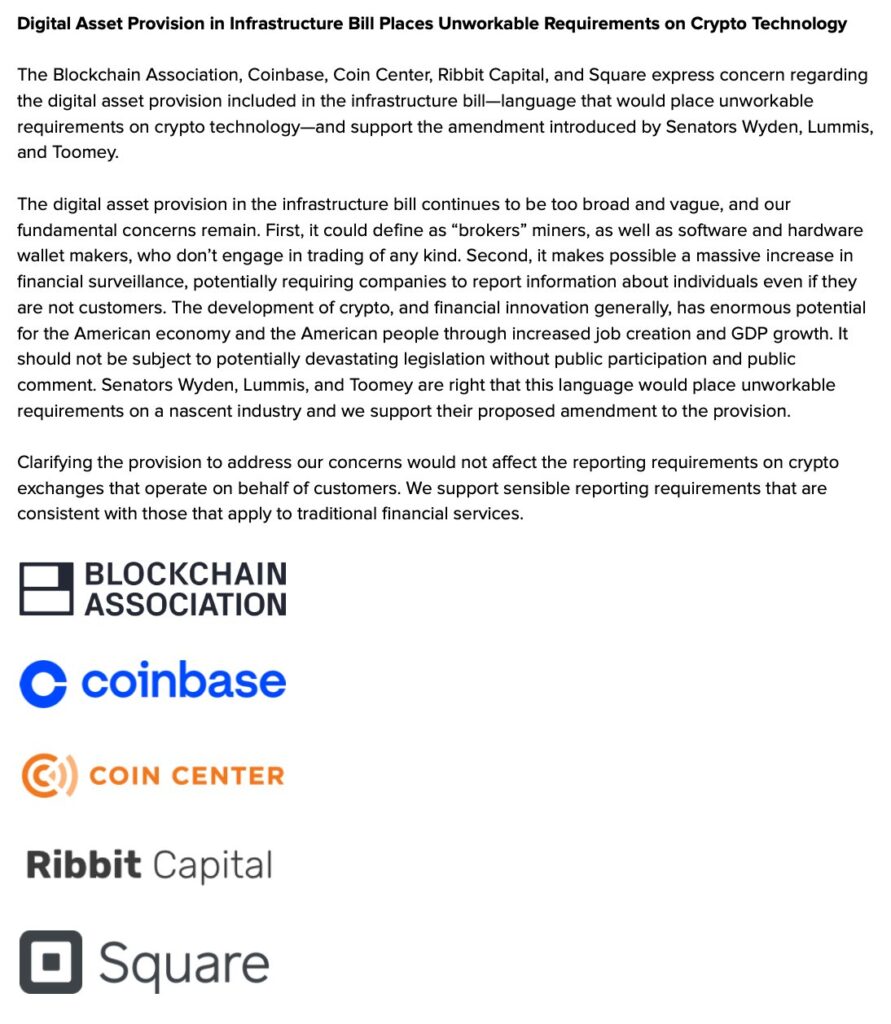 Union Square Ventures VC, Fred Wilson, wrote an optimistic piece, Crypto and the Infrastructure Bill — 
Here is a money quote:
The crypto sector has come together to get the language changed in a way that I have never seen before. Everyone in crypto is working together, staying on message, working all of the avenues, and creating the appropriate amount of pressure on the process… 

It is also the case that when a government decides that a sector is an important producer of revenues, that is a sign that it has arrived. Many out there think these new regulations are bad for crypto but I think they are a bullish sign…

I think this is a watershed moment for crypto in the US.
Have a great day, folks.