Staked ETH Almost Done Serving its Time
Before We Begin:
The 2022 Tax Information is now available for the Osprey Bitcoin, Polkadot, and Solana Trusts. This information is being provided to assist with reporting of taxable income and expenses for holders of interests in the Trusts during the year 2022. Please click on the links below to access the information. This is being provided for informational purposes only. Investors are urged to consult their own tax advisors with respect to all U.S. federal, state, local, and foreign tax law considerations potentially applicable to their investment.
Osprey's Founder & CEO, Greg King, Appears on TD Ameritrade Network
On Wednesday, Greg joined Oliver Renick on TD Ameritrade Network to discuss crypto regulation, Bitcoin vs. Gold, inflation, and much more. Check out the interview below:
Has #bitcoin hit its bottom? @GregKingOsprey says yes, but it won't be a straight line back up.

King discusses efforts to regulate the crypto industry, and the use case for bitcoin in the portfolio vs. gold during periods of high inflation with @OJRenick: https://t.co/kjHmbcEXDu

— TD Ameritrade Network (@TDANetwork) April 5, 2023
Big Week for Ethereum Ahead
Ethereum developers are targeting Wednesday, April 12th to execute the highly anticipated Shanghai-Capella ("Shapella") upgrade, which will unlock staked ETH from the Beacon Chain. The genesis block of Ethereum's Beacon Chain went into effect on December 1st, 2020, allowing ETH holders to lock-up their ETH in return for yield on the asset. Since then, more than 18.1 ETH has been deposited on the Beacon Chain totaling ~15.1% of the circulating ETH supply. After the launch of the Beacon Chain many service providers popped up that aided investors in the staking process. Lido has garnered the lion's share of the ETH staking service industry with more than 31% of the market share:

Lido was likely able to claim their relatively high market share by being the first to offering liquid staking. As mentioned above, staked ETH has been locked on the Beacon Chain until this week's upcoming Shapella upgrade. The Ethereum liquid staking process occurs when a user deposits ETH to a platform, like Lido, and then is given an ETH derivative, in Lido's case stETH, on a 1:1 basis. The goal of stETH is to give investors liquidity to use as collateral in DeFi, trade, or lend all while earning yield on their staked ETH. Since TradingView started tracking the price of stETH in July '22, the ETH derivative has done well tracking the price of ETH: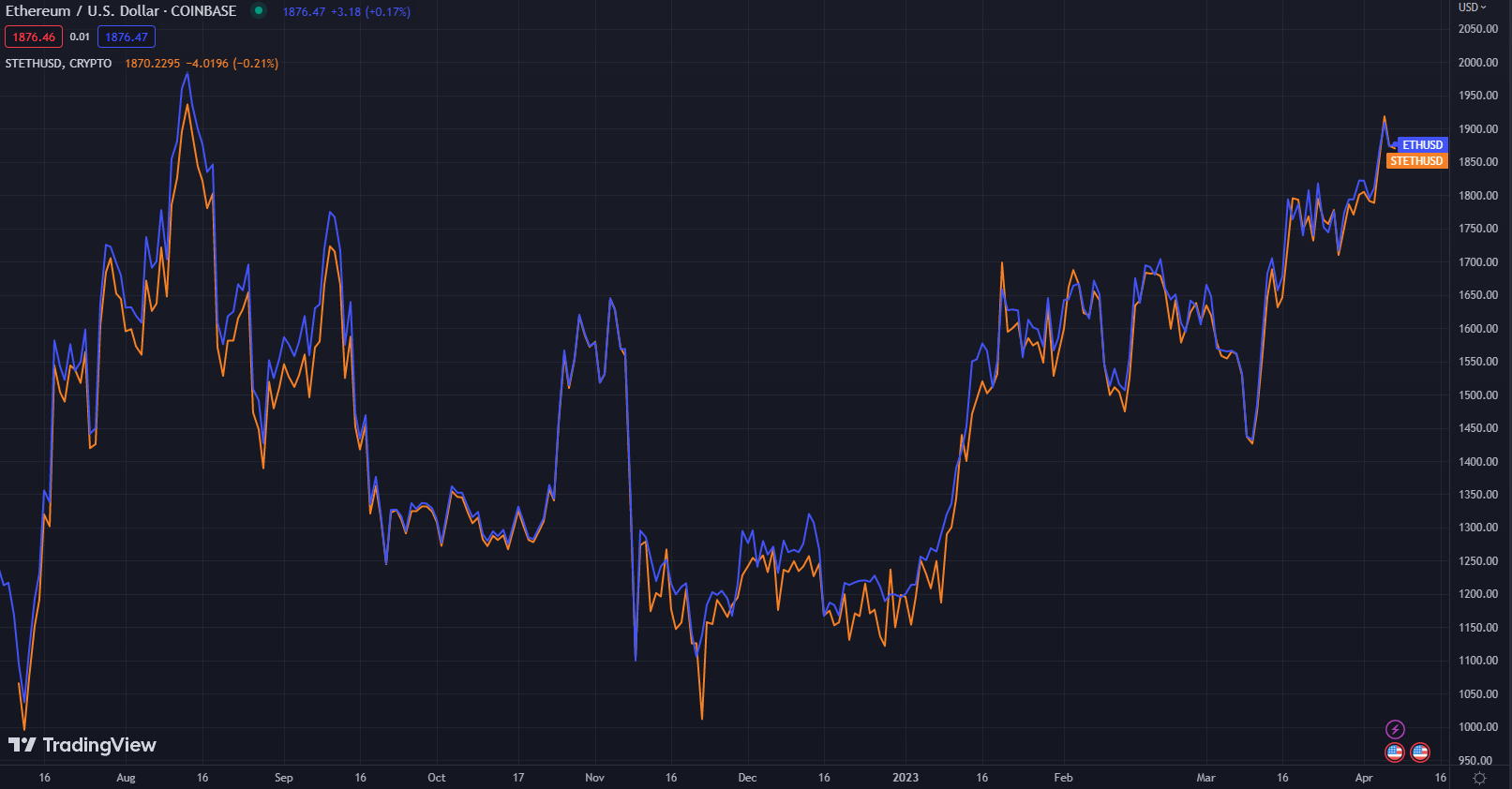 While staked ETH is set to be unlocked from the Beacon Chain on April 12th, Lido users have been told they should expect ETH withdrawals "no sooner than early May," as the platform must undergo an upgrade before allowing withdrawals. Although many users were likely hoping to see ETH liquidity immediately after the Shapella upgrade, this lag could help ease immediate selling pressure that would likely come from ~18.1 ETH hitting the market simultaneously.
LayerZero Raises at One of the Largest Valuations Since the Beginning of Crypto Downturn
Vancouver-based blockchain infrastructure provider, LayerZero Labs, closed a Series B fundraising round on Tuesday, raising $120 million at a $3 billion valuation. This was the heftiest crypto-related valuation seen during the market downturn since Amber Group raised $300 million, also at a $3 billion valuation, in December '22. LayerZero's raise consisted of 33 investors including some of the biggest names in the space like Andreessen Horowitz, Sequoia Capital, Samsung Next, OpenSea Ventures, and auction house Christie's.
— LayerZero Labs (@LayerZero_Labs) April 4, 2023
The goal of LayerZero, in simple terms, is to create complete interoperability between existing and future blockchains. Bryan Pellegrino, Co-Founder and CEO of LayerZero Labs, stated:
"LayerZero is to blockchains what the internet was to computing clusters. LayerZero allows chains not only to build bridges (to transfer assets / value between them) but send and execute arbitrary data just like a packet on the internet. What this means is that you can now build applications that are orders of magnitude more complex than existing applications and do so with a completely seamless experience between chains."
To date, LayerZero has already relayed more than 3.6 million cross-chain messages across over 30 different blockchains and handled a transaction volume greater than $6 billion within its first year.
ICYMI:
Crypto's Decentralized Exchanges Had Most Volume in 10 Months Amid U.S. Crackdown in March
MicroStrategy Buys 1,045 More BTC, Bringing Their Total Holdings to 140,000
Su Zhu & Kyle Davies Backed Exchange, OPNX, Stumbles Out of the Gate
Stablecoin Tether's Market Capitalization Nears Record High of $83B
Before We Go:
#Bitcoin just had its best quarter since Q1 '21$BTC $OBTC pic.twitter.com/wPKgohwTqk

— Osprey Funds (@OspreyFunds) April 4, 2023