Ripple vs. SEC Coming to a Head
Ripple Lab's native token, $XRP, has been on a tear lately. $XRP appreciated in price by almost 66% from its March low of ~$0.35 on 3/12 to ~$0.58 on 3/29: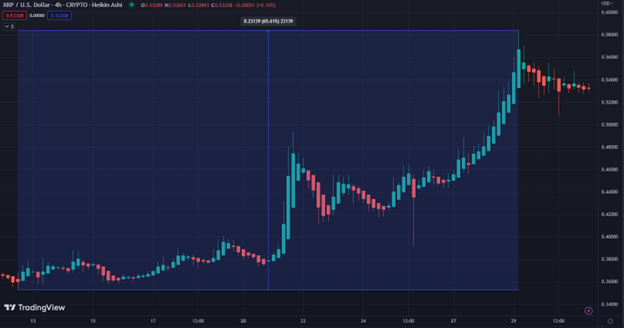 Much of the price action can likely be attributed to investors belief that Ripple could win their long-standing case against the SEC. Last week, Ripple's lawyers submitted a letter to Judge Analisa Torres, the presiding judge in their case Securities and Exchange Commission v. Ripple Labs Inc. The letter was used to point out the recent developments in Binance.US's bid for bankrupt Voyager Digital's assets. About a month ago, the SEC filed an objection to the Binance.US/Voyager deal citing a potential "unregistered offer or sale of securities under federal law", referring directly to Voyager's native token $VGX. However, on March 11th, United States Bankruptcy Judge, Michael Wiles, rejected the SEC's objections of the deal in part due to "the vagueness of [the SEC's] submission". Ripple's letter was filed on 3/20 which coordinated with the first $XRP spike in price seen on the chart above.
In Ripple's case, which began in December '20, the SEC alleged that Ripple engaged in the sale of an unregistered securities offering to investors with their $XRP token. In 2013, Ripple raised more than $1.3 billion through selling their $XRP token to investors. In the years since the suit was brought against Ripple, they have continuously refuted claims that $XRP is an unregistered security. This argument was believed by some to have been given more merit on Monday when the Commodity Futures Trading Commission (CFTC) filed a lawsuit against Binance, stating that the exchange was offering unregistered derivative products to U.S. customers. In the suit, the CFTC clearly states that bitcoin ($BTC), ether ($ETH), and litecoin ($LTC) are commodities, not securities. It seems that many investors believe this statement by the CFTC could help Ripple's case by having $XRP deemed a commodity. The same day, March 27th, $XRP began its second spike in price this month, seen above.
Bitcoin to $1 Million…In 90 Days?
On March 17th, former Coinbase CTO and Andreesen Horowitz General Partner, Balaji Srinivasan, made ripples by saying he'd take a bet that the price of 1 BTC would hit $1 million within the next 90 days:
I will take that bet.
You buy 1 BTC.
I will send $1M USD.
This is ~40:1 odds as 1 BTC is worth ~$26k.
The term is 90 days.
All we need is a mutually agreed custodian who will still be there to settle this in the event of digital dollar devaluation.
If someone knows how to do this… https://t.co/hhPr522PQu pic.twitter.com/6Aav9KeJpe

— Balaji (@balajis) March 17, 2023
Srinivasan has been bullish on Bitcoin for a while but argues that the current macro environment has led to the perfect storm that will devalue the U.S. Dollar and make Bitcoin a much more valuable asset. Balaji has put his money where his mouth is by publicly depositing $2 million of $USDC into a wallet that will be used for two $1 million bets, one with pseudonymous Twitter account James Medlock and the other with an unknown counterparty:
As I mentioned to Medlock, I moved $2M into USDC days ago and it's ready to go[1].

Right now, we're making sure it's set up as a Simon-Erlich style public interest bet where it's clear that there's zero profit motive.

[1]: https://t.co/cLy2hEFsIc https://t.co/mKpak2KBCU pic.twitter.com/vh4k0nKFHh

— Balaji (@balajis) March 25, 2023
Both Medlock and the unknown counterparty have purchased 1 BTC that will be sent to Srinivasan if Bitcoin reaches $1 million within the 90-day timeframe and Srinivasan will send the two counterparties $1 million in $USDC if it fails to meet the threshold. Most people believe the $1 million prediction to be outlandish or just a publicity stunt, but Srinivasan has pointed to the many times in history that fiat currencies have rapidly declined in value due to hyperinflation: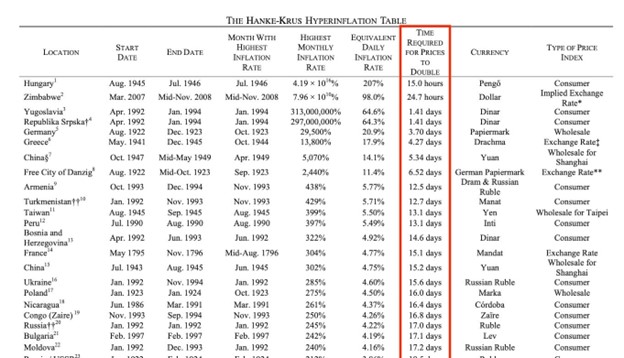 June 17th is the time limit for Balaji's prediction to come to fruition.
Airline Tickets as NFTs
On Thursday, Argentinian airline, Flybondi, entered a partnership with TravelX to offer their tickets as NFTs. The tickets will be issued as NFTs on the Algorand blockchain:
Fly the friendly skies of Web3 with @travelx__ and @flybondi, an Argentinian airline selling NFT tickets built on Algorand.

Learn more about Ticket 3.0 here 👇https://t.co/FlR1iF2aSO

— Ⱥlgorand Foundation (@AlgoFoundation) March 31, 2023
NFT proponents have discussed their potential use cases for things like airline, concert, or sporting event tickets for a while. Having tickets as NFTs allows for the creation of a secondary market through which customers can buy/sell tickets directly in a peer-to-peer fashion. Many current secondary markets for tickets, such as Ticketmaster or StubHub, charge high fees to act as a middleman in ticket transactions. Placing tickets on the blockchain, as NFTs, has the potential to greatly decrease fees for secondary market transactions. In the case of Flybondi and TravelX, customers will only be charged a 4% fee for secondary market transactions (2% for the airline and 2% for TravelX). The use case of airline tickets as NFTs can already be seen in action on sites like travel.xyz. According to TravelX, more than 60 airlines worldwide are exploring NFT ticketing through the TravelX platform.
ICYMI:
TUSD Stablecoin Daily Trading Volume Surpasses $1B After Binance Boost
Binance.US is Gaining Market Share on Coinbase
Justin Sun Offers to Buy all the U.S. Government's Bitcoin
Fetch.ai Raises $40 million to Deploy Decentralized Machine Learning
Before We Go:
Moonbeam, Polkadot's Ethereum-compatible smart contract parachain, has gone parabolic in unique users since the Fall.

Friday saw the largest daily increase with 180k new addresses. $DOT $GLMR pic.twitter.com/huzuWXVIAm

— Osprey Funds (@OspreyFunds) March 29, 2023