Bianance Trusts $TUSD to Keep the Peg
Stablecoin TrueUSD Soars to All-Time High in Market Cap as Binance Increases Adoption
On February 13th Binance CEO, Changpeng Zhao, Tweeted that Paxos was ordered to stop minting Binance's stablecoin, $BUSD, by the New York Department of Financial Services. From then on users have only been able to redeem $BUSD for fiat and no new $BUSD tokens have been created, resulting in a steady fall in the stablecoin's market cap.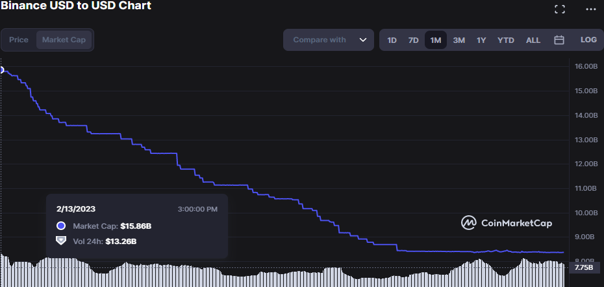 In the time since, the world's largest crypto exchange has stated that they will be looking to diversify their stablecoin holdings away from $BUSD. One of the stablecoins that Binance has set its sights on is TrueUSD ($TUSD). Binance began minting $TUSD in February and the stablecoin has since became the 5th largest stablecoin with a market cap of more than $2 billion:
With @binance's stablecoin, $BUSD, winding down, the exchange has begun diversifying their stablecoin offerings

TrueUSD, $TUSD, is looking like $BUSD's successor after Binance minted at least $150M of $TUSD in February, helping send $TUSD to a new all-time high in market cap pic.twitter.com/EpsnZq4BtS

— Osprey Funds (@OspreyFunds) March 16, 2023
In addition to minting millions of TrueUSD, Binance will offer zero-fee trading on BTC/TUSD, BNB/TUSD, and ETH/TUSD trading pairs beginning March 22nd, the only three trading pairs on the platform to enjoy the perk. TrueUSD currently exists on the Ethereum, Binance Smart Chain, Avalanche, Polygon, and Tron blockchains, among others. The project was also the first stablecoin to implement Chainlink's on-chain Proof-of-Reserves. Chainlink and U.S. based audit firm, Armanino, provide users live attestations that $TUSD is backed at least 1:1 at all times through the process laid out below:

LinksDAO Enters Agreement to Buy Scottish Golf Course
On Thursday, LinksDAO entered an exclusivity agreement to buy the Spey Bay Golf Course in Scotland. The sale price for the course is listed at $905,000. LinksDAO is a Decentralized Autonomous Organization (DAO) created by Jim Daily, Adam Besvinick, and Mike Dudas in late '21. In January '22, LinksDAO sold 9,090 memberships to the organization, in the form of NFTs, raising more than $10 million in 24 hours. The memberships were offered in two tiers, "Global Member" and "Leisure Member", and their perks are shown in the image below: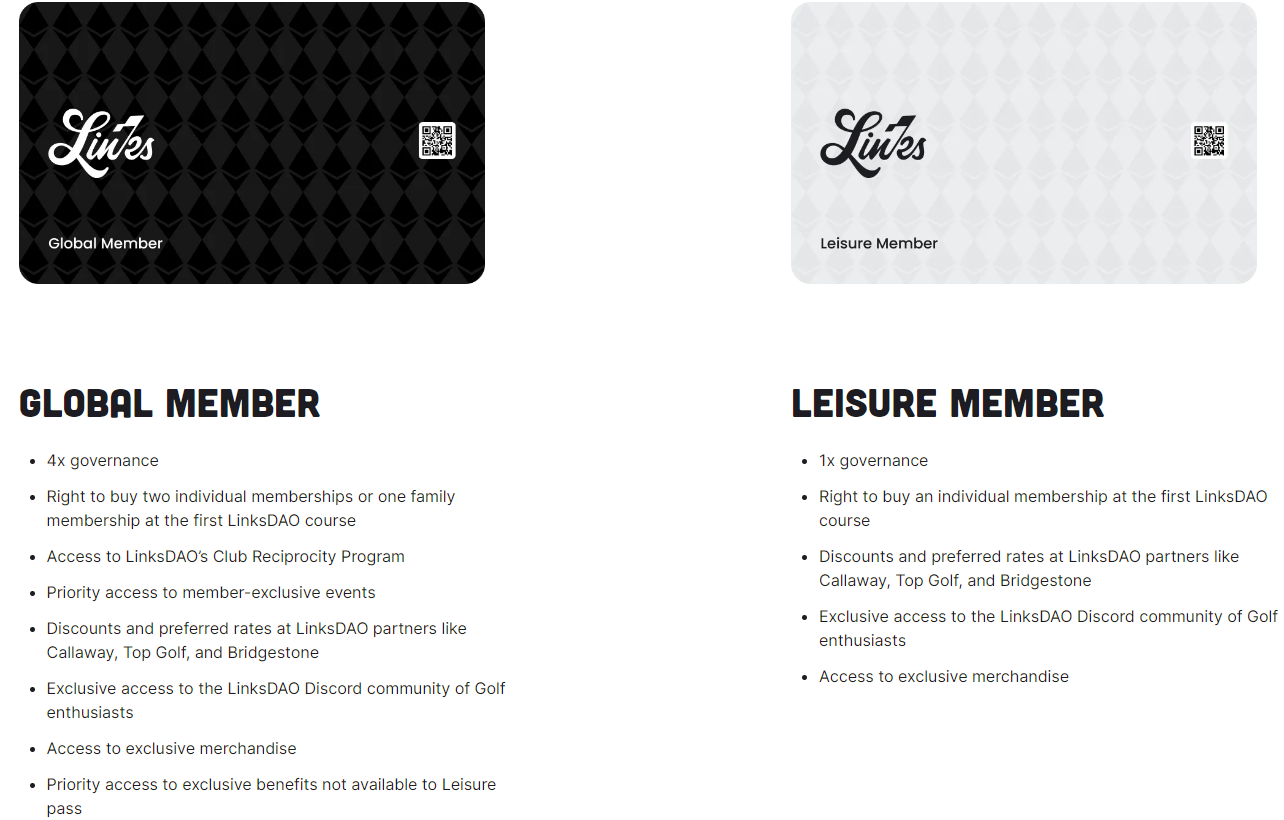 LinksDAO placed a proposal in front of DAO members on whether or not to purchase Spey Bay in which approximately 88% of more than 4,300 members voted in support of. In recent weeks, LinksDAO memberships listed on OpenSea have nearly doubled in $ETH terms from two months ago, likely due to news about the potential purchase of Spey Bay: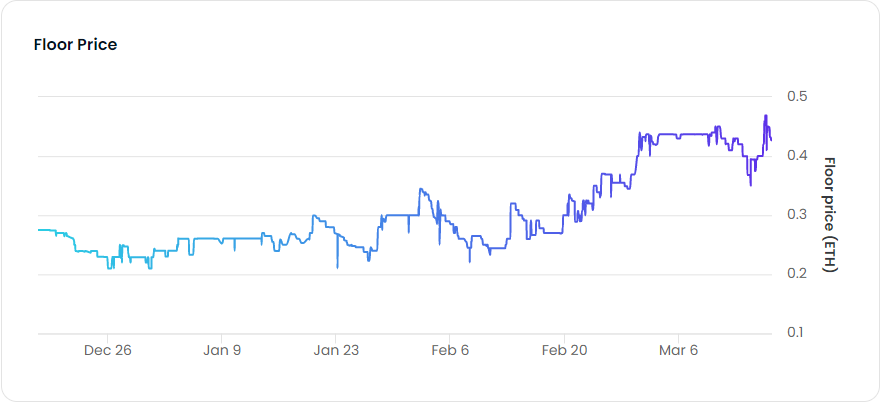 Bitcoin Seen as a Flight to Safety in Current Banking Crisis?
Last week we discussed the ongoing banking crisis, and the role government entities are playing to try and quell public fear. In the wake of Silvergate Bank, Silicon Valley Bank, and Signature Bank shutting down operations, Bitcoin has reached its highest price since June '22. Last Friday, March 10th, $BTC had a low of ~$19,500 and, just one week later, has rallied ~38% to a ~$27,000 high on March 17th: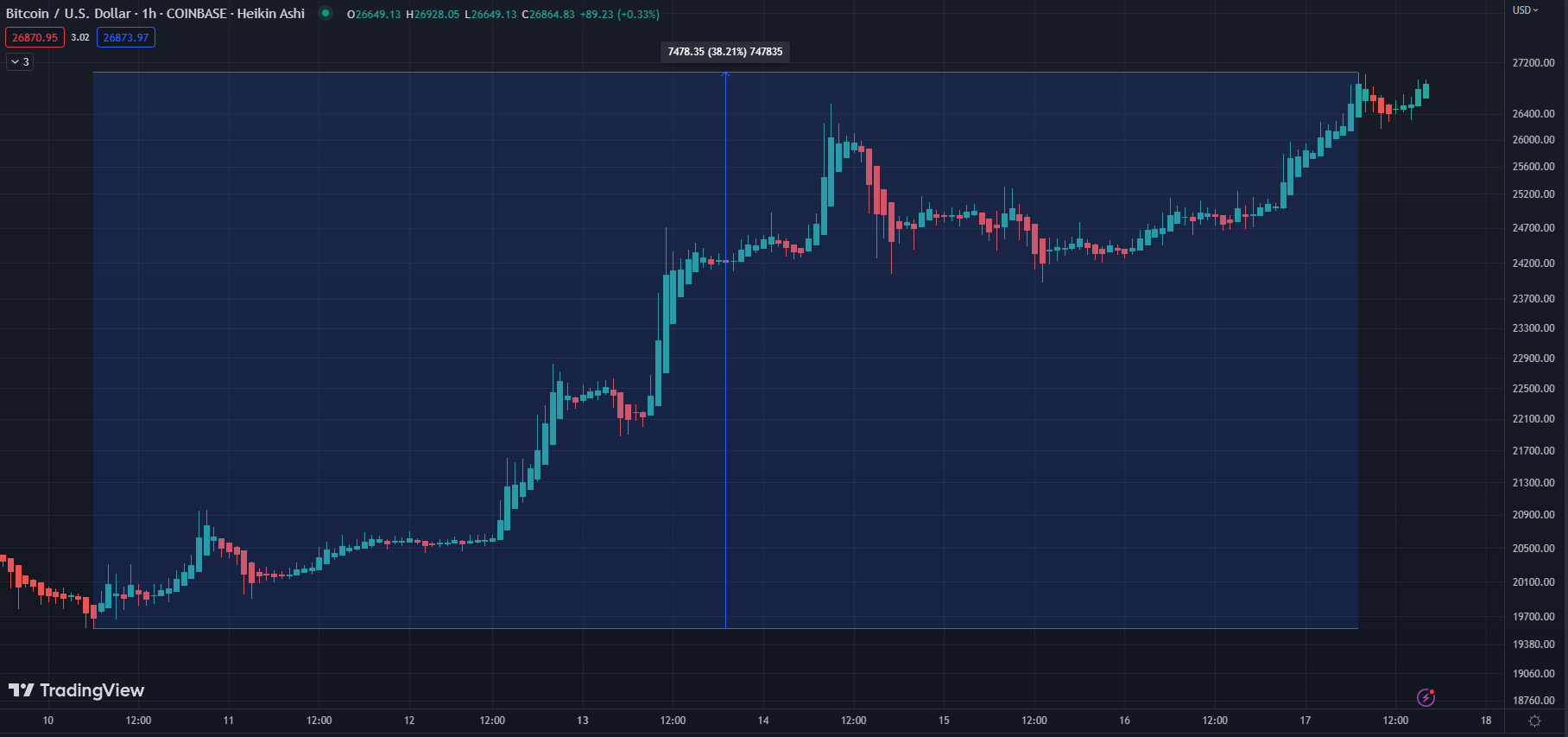 The Fed's historically rapid tightening cycle has brought duration risk front-and-center for U.S. banks and led to the creation of the Bank Term Funding Program (BTFP) to backstop banks and ensure customer deposits. This action by the Fed and recent market conditions have moved consensus estimates for the new FOMC meeting from 50bps to 25bps, with some estimates predicting no rate hike at all. A less hawkish Fed and increased stimulus, like the BTFP, would increase market liquidity, which Bitcoin has thrived on in the past.
A week ago we also mentioned Circle's $USDC losing its dollar-peg. While it has since repegged to the dollar, the stablecoin market cap has fallen to its lowest level compared to the market cap of Bitcoin since June '22. This, in addition to the quickly appreciating price of $BTC, shows that many investors are seeing Bitcoin as a comparatively safer crypto asset in this time of stress.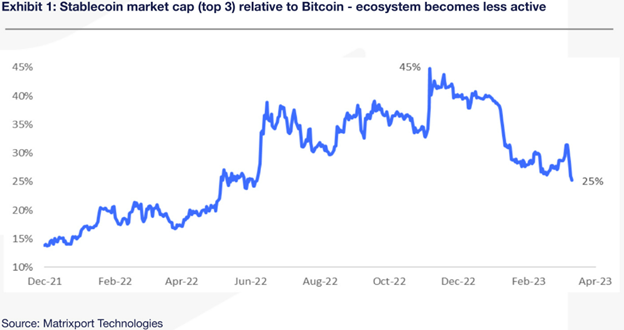 ICYMI:
Ethereum Developers Target April 12th for Shanghai/Capella Upgrade Which Will Unlock Staked Ether
Arbitrum Looking to Airdrop 12.6% of its Governance Token, $ARB, on March 23rd
Ark Invest Has Raised $16M for New Crypto Fund
Gaming Giant, Epic Games, has "Close to 20" Crypto Games in the Pipeline
Before We Go:
Osprey's CEO, Greg King, discussed banks and Bitcoin with CoinDesk TV this week. Check it out below:
Osprey Founder & CEO @GregKingOsprey talks banks and $BTC. Check it out:https://t.co/isQXp6zIGd

— Osprey Funds (@OspreyFunds) March 17, 2023