We Know ERC-20s, What About BRC-20s?
Back in 2017, Ethereum implemented Ethereum Improvement Proposal 20 (EIP-20) which gave birth to the ERC-20 token standard. The ERC-20 standard "defines a common list of rules that Ethereum tokens using smart contracts must adhere to" (read more about those here). Many of the top stablecoins including USDT, USDC, BUSD, & DAI along with MATIC, UNI, LINK, & the original form of BNB (now uses BEP-20 & BEP-2) were created using the ERC-20 standard. You can check out the full list of ERC-20 tokens using the Etherscan link here.
More recently, pseudonymous developer domo gave a nod to the ERC-20 standard when creating and naming the BRC-20 token standard:
An experiment into "brc-20's" and fungibility on bitcoin with ordinals 1/x pic.twitter.com/9khKLbEPk6

— domo (@domodata) March 9, 2023
A few months back we discussed Bitcoin inscriptions/ordinals and how they brought programmability to the Bitcoin blockchain. Domo used the backbone of ordinal inscriptions to create fungible tokens on Bitcoin, which he named BRC-20s. To get a more technical understanding of how BRC-20s work, look into Domo's GitBook page.
In the past few weeks BRC-20s have taken off and cumulatively reached $1.5 billion in market capitalization on Tuesday. At the time of writing, nearly 14,500 BRC-20 tokens have been created and the total market capitalization is sitting at ~$550 million. The BRC-20 craze has put a lot of strain on the Bitcoin network, which has recently led to new all-time highs in daily transactions and block fees:
Within the past week, #Bitcoin has hit all-time highs in daily transaction count and average block fees: $BTC $OBTC pic.twitter.com/2s9D6aPWpK

— Osprey Funds (@OspreyFunds) May 9, 2023
Tether Reports Nearly $1.5 Billion Profit in Q1
On Wednesday Tether Holdings Limited, the company behind the world's largest stablecoin USDT, published its Q1 2023 assurance report. The report was conducted by BDO Italia, a top-5 global independent public accounting firm. One of the biggest takeaways was Tether's $1.48 billion net profit in the quarter which brings the company's excess of reserves to $2.44 billion, an all-time high. As of March 31, 2023, Tether Holdings Limited held assets just over $81.83 billion, with ~85% in cash/cash equivalents/short-term deposits and liabilities of approximately $79.39 billion (nearly all issued USDT tokens). Also included in the assets disclosed by Tether was ~$1.5 billion of BTC and ~$3.39 billion of physical gold. In addition to USDT, Tether Holdings Limited also operates XAUt, which is a "digital token backed by physical gold" (Tether Gold Website). It is of note that XAUt only has a market cap of ~$500 million, much smaller than their physical gold holdings.
USDT has long been the top dog among stablecoins. Circle's USDC took a run at the #1 spot in mid-2022, but since then USDT has regrown a substantial lead in market capitalization: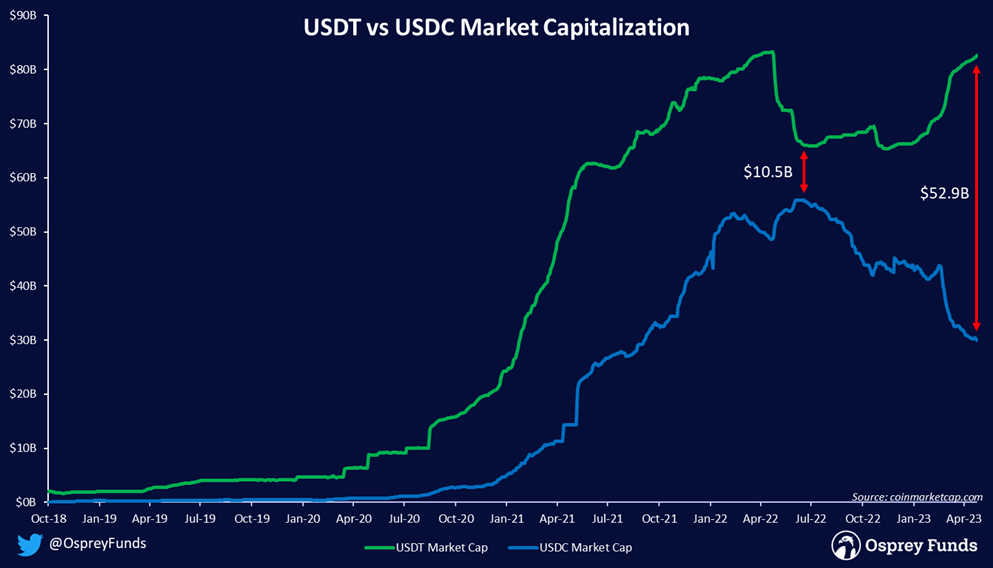 Amount of Staked ETH Hits All-Time High
Friday marked one month since Ethereum successfully implemented the Shapella upgrade and allowed for staked ETH to be withdrawn from the Beacon Chain. Many in the crypto space expected the upgrade to have a negative effect on the price of ETH in the short-term as millions of ETH tokens became unlocked. While the price of ETH is down slightly in dollar terms since the upgrade, this can be attributed to the greater crypto market losing value and ETH has gained ~6.5% in BTC terms over the past month: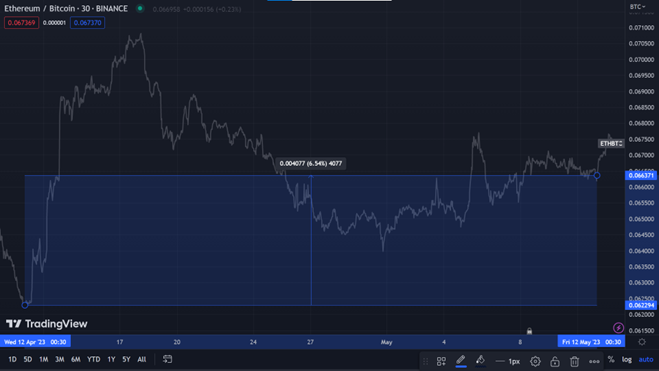 Thus far, the amount of staked ETH has increased by more than 1.6 million post-Shapella as ETH holders can now stake their ether without the need to lock it up for the long-term: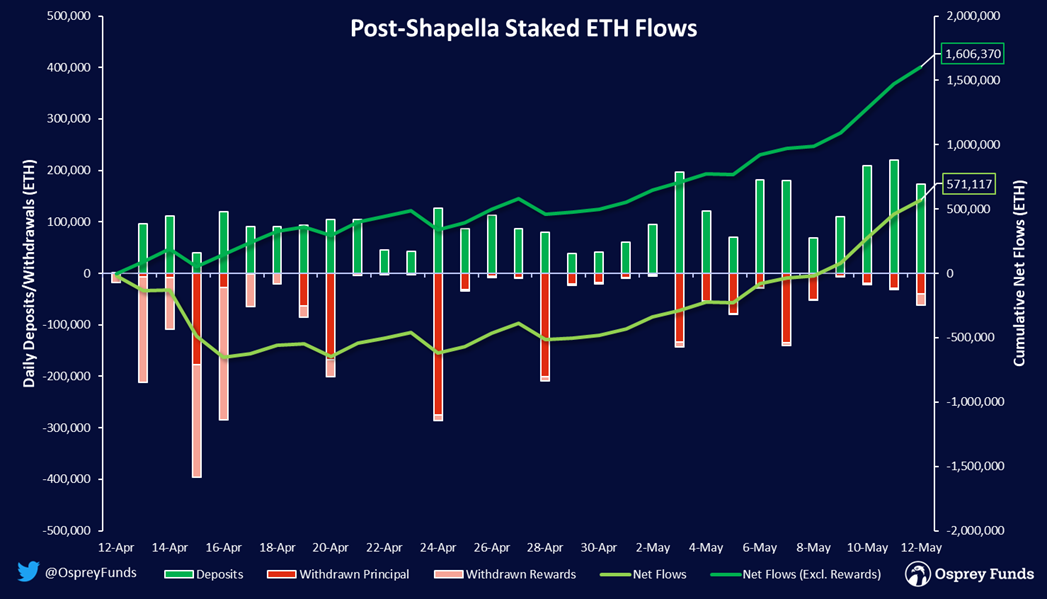 That being said, the largest player in the ETH staking space, Lido, has not allowed for withdrawals from the platform yet. Lido currently has ~6.78 million staked ETH on the platform and is aiming to begin processing withdrawals on Monday May 15th.  Although it is unknown how much ETH will be withdrawn when Lido allows for withdrawals, Kraken subsidiary, Staked, predicts the amount of staked ETH could double within the next 18 months.
ICYMI:
Binance to Add Bitcoin Ordinals to Its NFT Marketplace
Crypto Derivatives Market Share at All-Time High
Bitcoin Mining Stocks Rally as Network Congestion Stirs Hopes for Higher Fees Ahead
Four Firms File for ETH Futures ETFs This Week
Before We Go:
Elon Musk has named Linda Yaccarino as his successor as CEO of Twitter:
I am excited to welcome Linda Yaccarino as the new CEO of Twitter!@LindaYacc will focus primarily on business operations, while I focus on product design & new technology.

Looking forward to working with Linda to transform this platform into X, the everything app. https://t.co/TiSJtTWuky

— Elon Musk (@elonmusk) May 12, 2023