Ledger's Lackluster Launch
Ledger Pauses New Product Amid Backlash
Although self-custodying using a hardware wallet is one of the best ways for investors to protect their crypto from malevolent actors, they come with a high level of responsibility as losing the private keys will leave users unable to access their assets. Last week, the world's largest crypto hardware wallet company, Ledger, announced a new product called "Ledger Recover". Ledger believed their new product would offer investors more comfort by allowing for a private key recovery system in the event that users lose their private keys. Below is the process by which the Ledger Recover system works according to the Ledger website: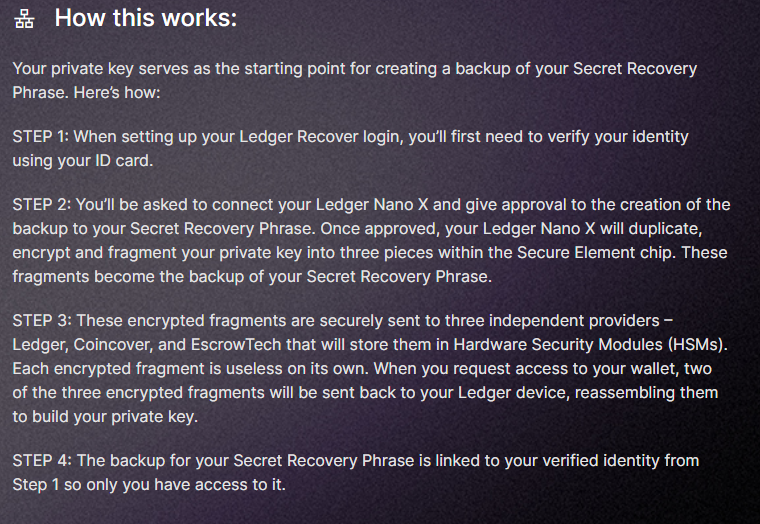 Within hours of the announcement Ledger was trending on Twitter as many in the community spoke out against the company's new feature. The ire stemmed from the belief that sharing private key shards with multiple parties would be a security risk. Ledger was also hacked in 2020 leading to the public dissemination of 1 million email addresses and 272,000 names, mailing addresses, and phone numbers belonging to customers. Since users are required to undergo KYC for the service, many are worried about a similar exposure of private data in another hack or government subpoena. On Tuesday, Ledger stated that they would be putting Ledger Recover on pause for now and releasing most of the source code so it could be audited by the public.
Coinbase Partners with Austrian-Based Bitpanda in Further Push Abroad
On Thursday, Coinbase, the United State's largest crypto exchange, announced that they would be making further strides into the European market by partnering with Austrian-based crypto exchange Bitpanda. According to the Bitpanda blog, Coinbase will be using Bipanda's Investment-as-a-Service platform to offer 24/7 trading to institutional clients outside of the United States.
This announcement comes a week after Coinbase announced their new subscription service entitled "Coinbase One", available in 35 countries worldwide:
— Coinbase 🛡️ (@coinbase) May 18, 2023
The service is priced at $29.99/month and grants users access to "zero trading fees, a dedicated support team, boosted staking rewards, and exclusive benefits from partners with Coinbase One". In addition to the perks listed above, subscribers will also receive a pre-filled tax Form 8949. The form will organize transactions and simplify the headache that historically has been accounting for crypto trades on exchanges come tax season.
Coinbase has remained top-dog among North America-based crypto exchanges, with more than 50% of total volume the region has seen in each month over the past year but has a lot of work to do if it wants to compete with Binance on the global stage (currently claiming nearly half the world's crypto exchange volume):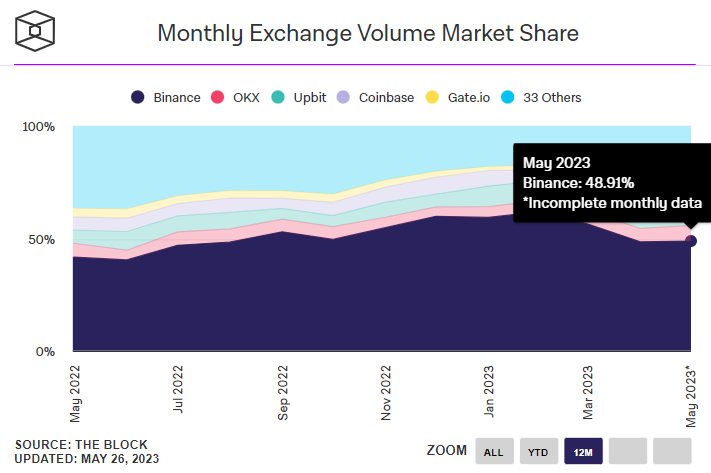 Binance Enters NFT Lending Space
On Thursday the world's leading crypto exchange, Binance, announced plans to offer NFT lending services on their platform:
Access instant liquidity from your NFTs with #Binance NFT Loan!

You can now secure crypto loans using your NFTs on @TheBinanceNFT Marketplace, with zero gas fees, low interest rates and liquidation protection.

Find all the details below.

— Binance (@binance) May 26, 2023
NFT lending platforms allow NFT investors to gain liquidity on their assets without selling their jpegs. In the NFT lending space NFTfi is currently leading the way with nearly $430 million of cumulative borrow volume. Blur's recently launched NFT lending service, Blend is currently hot on NFTfi's tracks with over $250 million in cumulative borrow volume in less than a month since going live and has secured ~82% of recent market share. The space as a whole has reached nearly $1.5 billion in borrow volume at the time of writing:
.@binance announced that they will entering the NFT lending space this week.

The cumulative NFT borrow volume among top platforms is quickly approaching $1.5 billion:

h/t @ahkek4 pic.twitter.com/sBbvQIvRgq

— Osprey Funds (@OspreyFunds) May 26, 2023
Binance has been involved in the NFT space for a while but has not been able to compete with top NFT exchanges like OpenSea and Blur thus far. The exchange is likely hoping for their new NFT lending service to increase their market share in the NFT space.
ICYMI:
Crypto Consortium Fahrenheit Wins Bid to Acquire Bankrupt Celsius' Assets
Sam Altman's Crypto Project Worldcoin Raises $115M Led By Blockchain Capital
Circle Launches Euro-Backed Stablecoin on Avalanche
F1 Ticket Provider Platinum Group Introduces NFT Tickets at Monaco Grand Prix
Before We Go:
Check out @truflation for inflation metrics updated daily.

Truflation Indicies use @chainlink Oracles with 10+ million data points to track inflation in the U.S. and abroad:https://t.co/T4WkhjA3lG pic.twitter.com/SRICADxAhd

— Osprey Funds (@OspreyFunds) May 25, 2023