📉 Did Tesla Aid the Crypto Collapse?
Tesla reported earnings Wednesday after the close and revealed that it liquidated ~75% of its bitcoin holdings. 
The EV company sold approximately 31,500 bitcoins with an average cost of ~$30,000, totaling nearly $1 billion.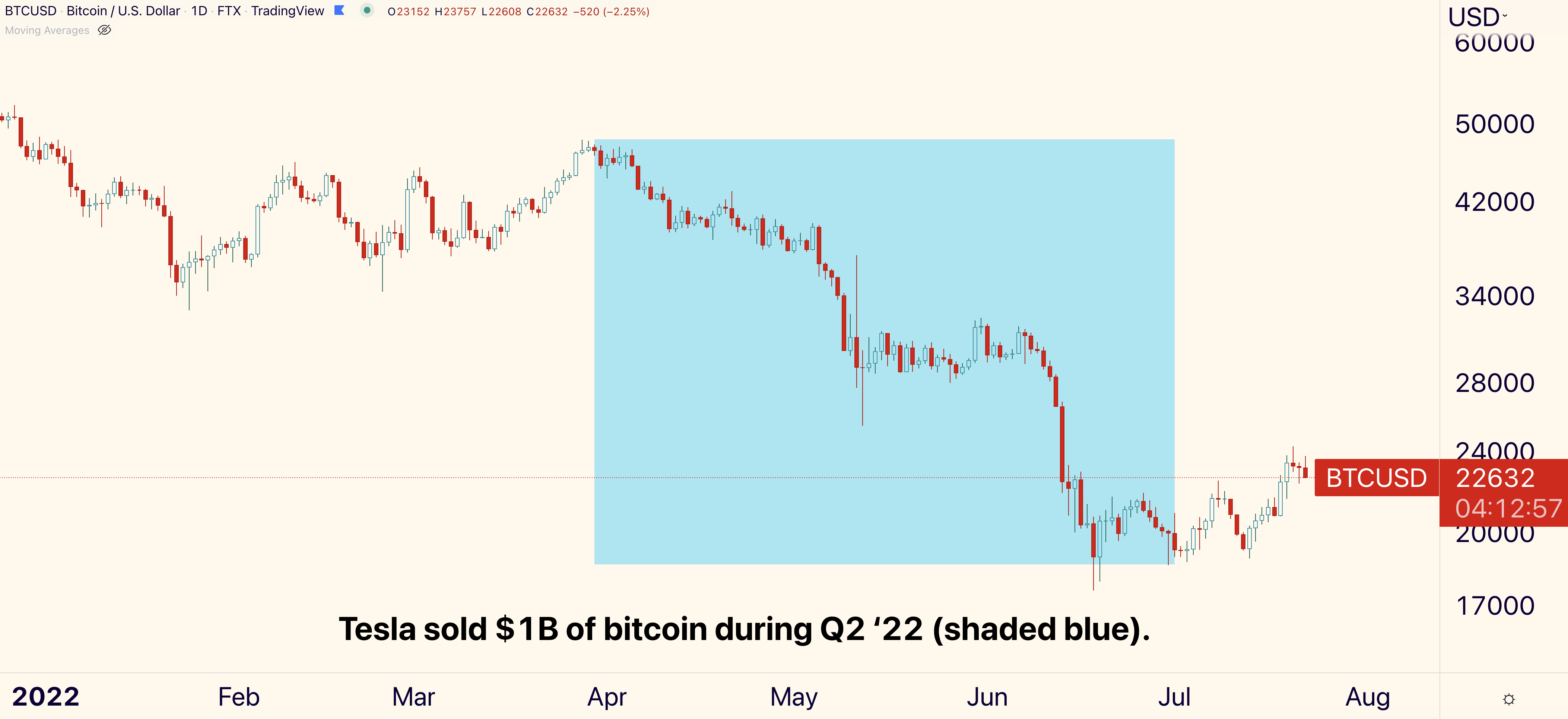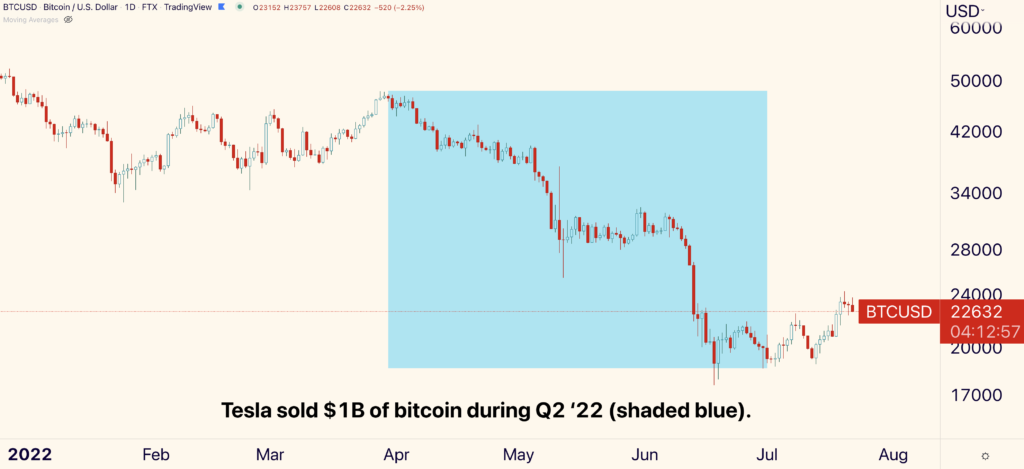 Did the company cause the steep price declines? Probably not. Did the selling contribute to the slide? 
It didn't help.
Tesla still holds $218M in digital assets. See its official earnings update here.
🇧🇸 Bitcoin in the Bahamas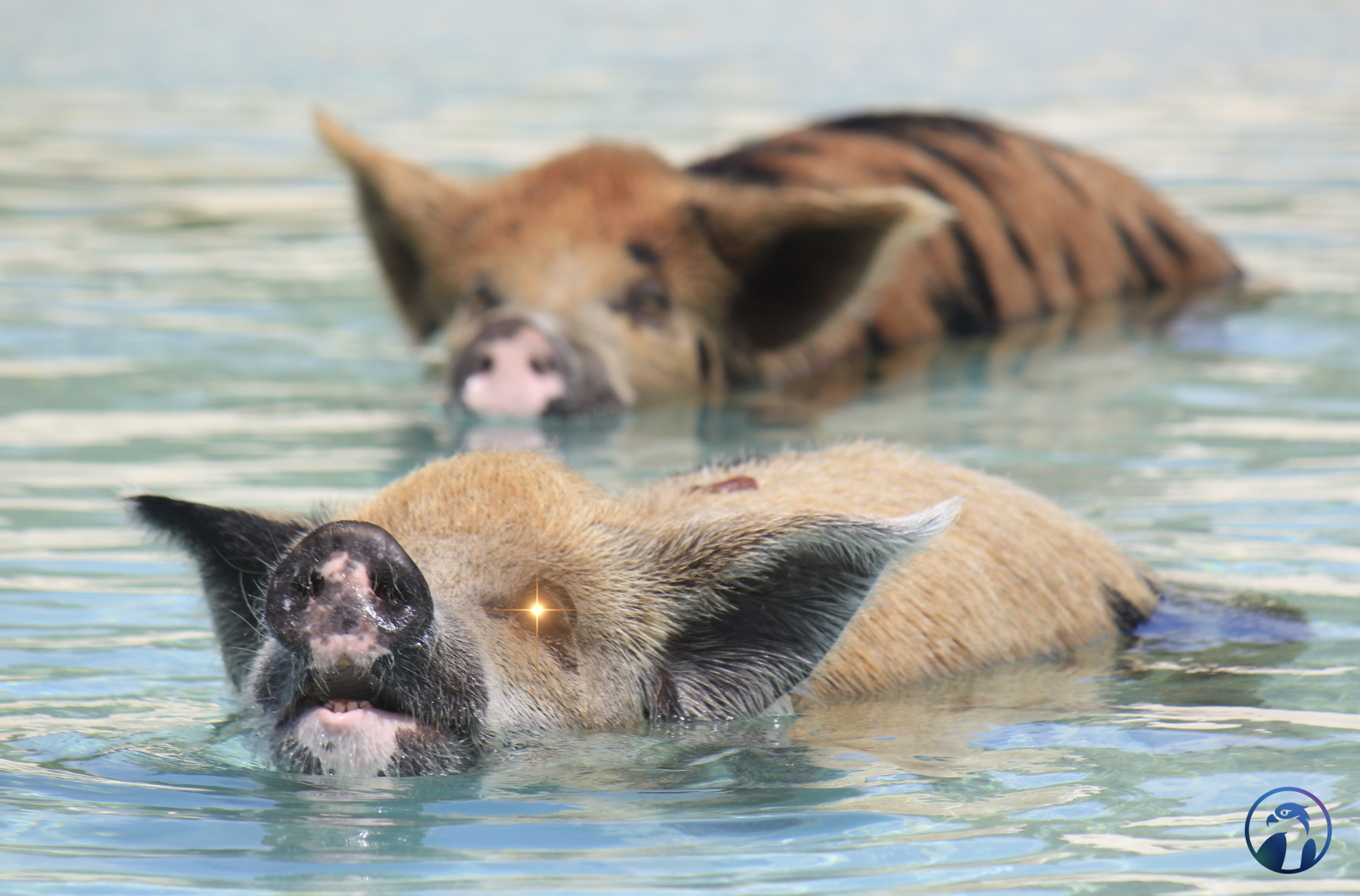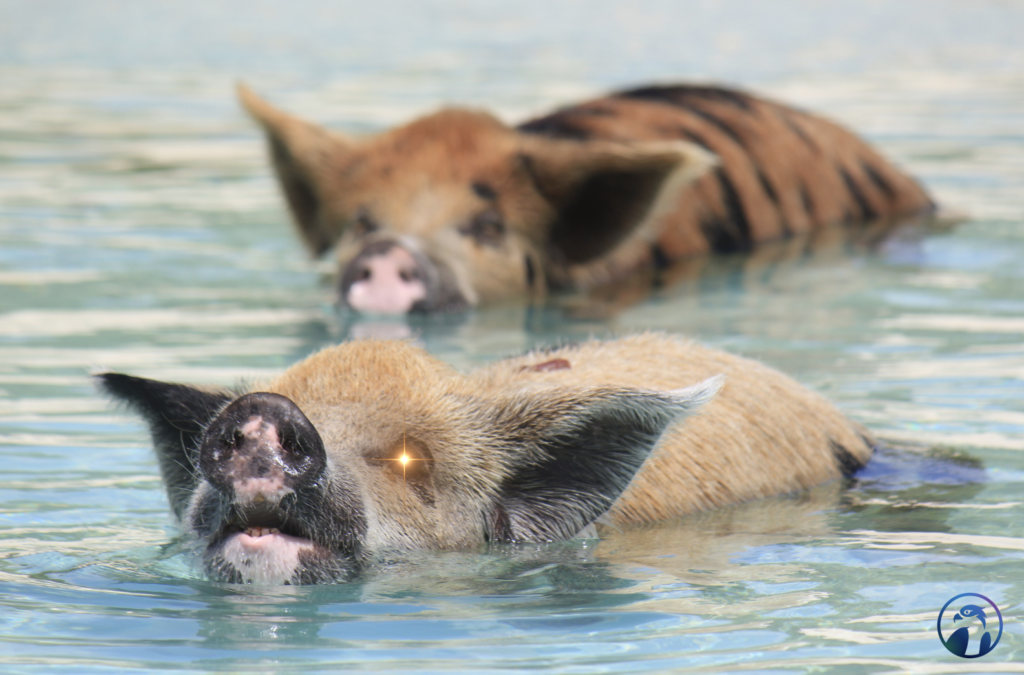 Chub Cay wants to introduce a bitcoin standard in the Bahamas. 
The private island in the Berry Islands district of the Bahamas is looking to partner with a wallet provider to make the digital idea a reality. 
Traditional finance channels can be inaccessible so bitcoin and the lightning network may offer a solution. 
Here's Bitcoin Magazine with more.
🚔 Insiders Indicted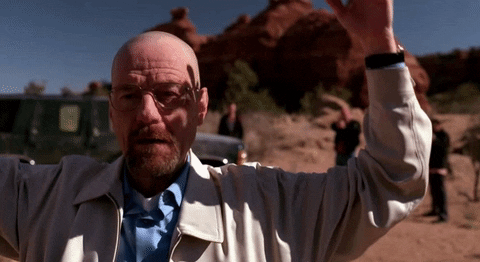 Ishan Wahi, former product manager at Coinbase, and two others were charged with wire fraud in the first cryptocurrency insider trading case. 
Prosecutors said Wahi shared confidential information about upcoming announcements of new crypto assets that Coinbase would list on its exchange. 
U.S. Attorney Damian Williams shared, 
Today's charges are a further reminder that Web3 is not a law-free zone. Just last month, I announced the first ever insider trading case involving NFTs, and today I announce the first ever insider trading case involving cryptocurrency markets. Our message with these charges is clear: fraud is fraud is fraud, whether it occurs on the blockchain or on Wall Street. 
Given it's the first insider trading case involving cryptocurrencies, we'll likely see precedent set and we hope that ushers in some regulatory clarity.
Read the U.S. Attorney for the Southern District of New York's official statement here. 
Following the indictment, the SEC listed 9 cryptocurrencies as securities. Here's the Block with more. 
💜 Layer-2 Scaling Unveiled
On Wednesday, Polygon introduced Polygon zkEVM, its layer-2 scaling solution for Ethereum. 
Polygon zkEVM is a zero-knowledge proof system that rolls up a batch of transactions into a single Ethereum transaction. As a result, users will experience reduced gas fees and greater speed. 
Here's a visual via Polygon: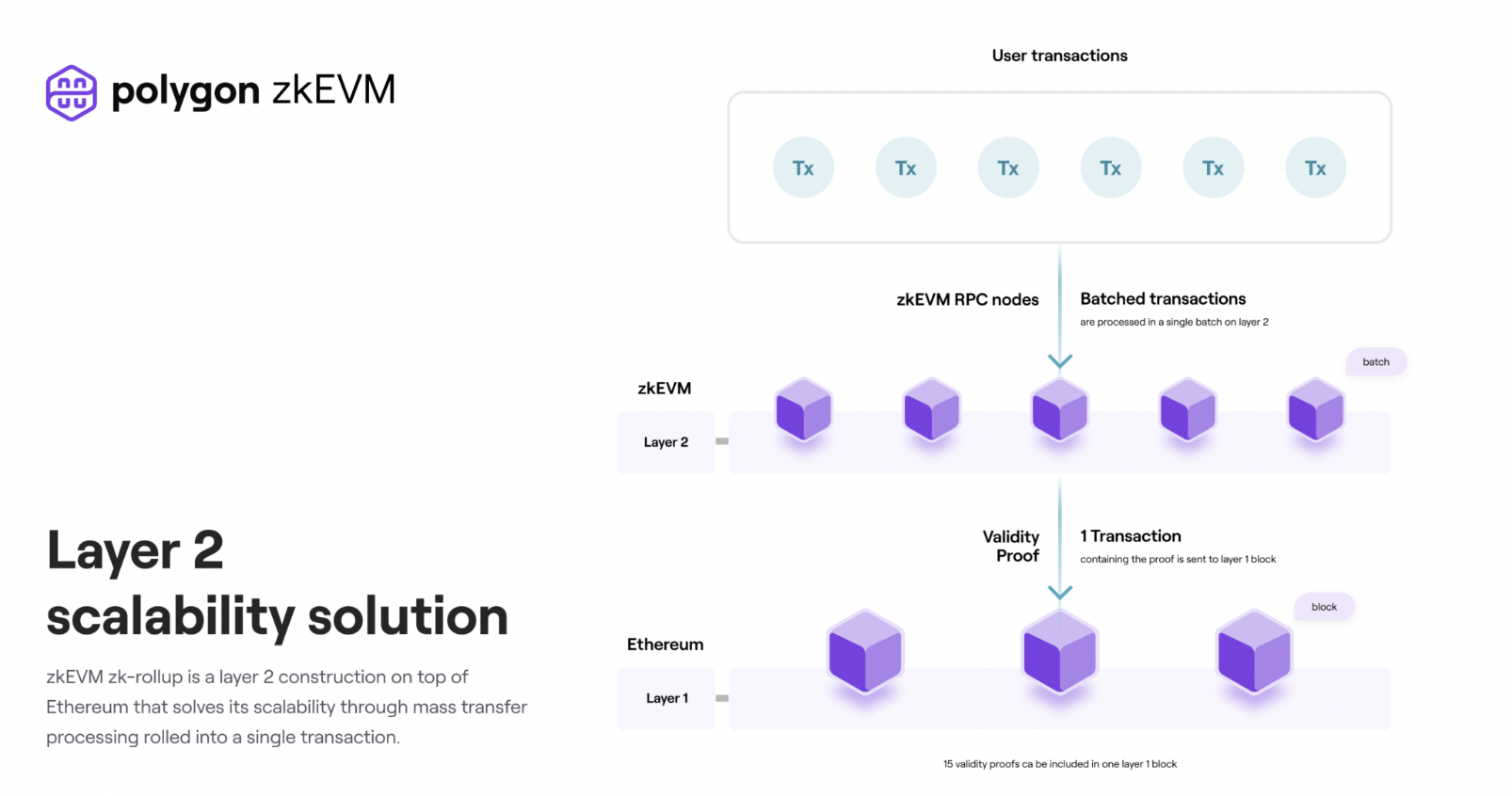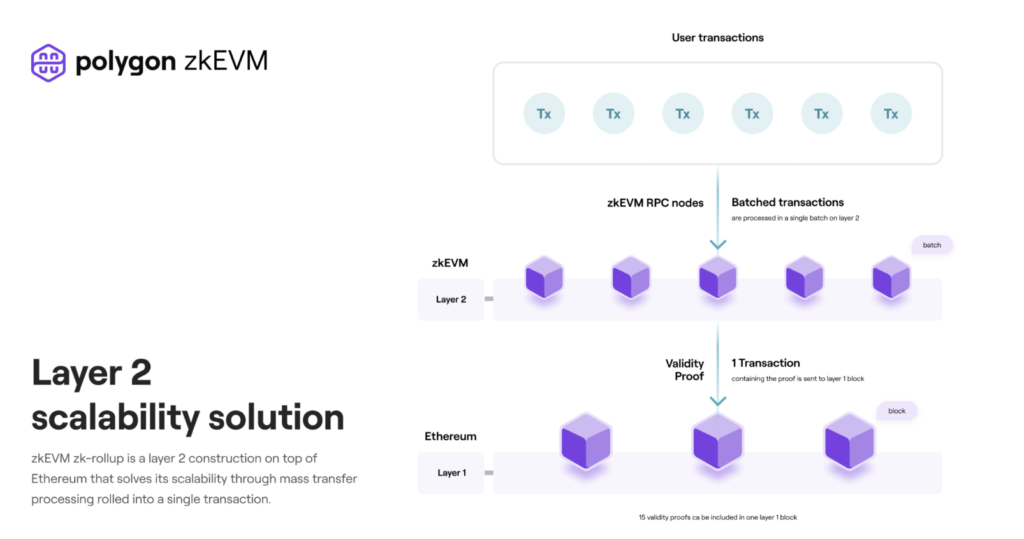 And read the official press release here. 
For more on Zero Knowledge Proofs, check out our previous post — Zero Knowledge Proofs and the Cusp of Applied Crypto
🏹 Three Arrows Breaks Silence
After five weeks of silence, Su Zhu and Kyle Davies, the founders of Three Arrows Capital have spoken out about the implosions of their crypto hedge fund. 
Here's a brief excerpt via Bloomberg, 
Su Zhu —
It's not a surprise that Celsius, ourselves, these kind of firms, all have problems at the same time. We have our own capital, we have our own balance sheet, but then we also take in deposits from these lenders and then we generate yield on them. So if we're in the business of taking in deposits and then generating yield, then that, you know, means we end up doing similar trades.

It was very much like a LTCM moment for us, like a Long Term Capital moment. We had different types of trades that we all thought were good, and other people also had these trades. And then they kind of all got super marked down, super fast.
It's cliche and hindsight is always 20-20, but the big lesson here is to manage risk when times are good.
👎 Bah Humbug!
This week, Minecraft banned NFTs and blockchain technologies. 
The sandbox video game shared, 
To ensure that Minecraft players have a safe and inclusive experience, blockchain technologies are not permitted to be integrated inside our client and server applications, nor may Minecraft in-game content such as worlds, skins, persona items, or other mods, be utilized by blockchain technology to create a scarce digital asset…

The speculative pricing and investment mentality around NFTs takes the focus away from playing the game and encourages profiteering, which we think is inconsistent with the long-term joy and success of our players.
Bah Humbug!
Meanwhile, Epic Games, creator of Fortnite, said it definitely won't ban NFTs. Here's Cointelegraph with more.
📺 LG's Partial Screen 
As digital goods move mainstream, we'll highlight select hardware that feels like the future.
Here's a prototype of LG's Partial Screen,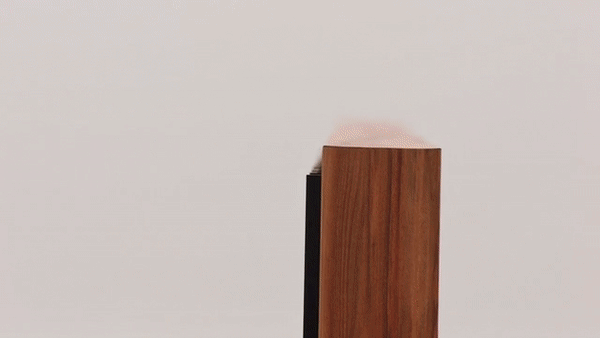 Pretty sick. Here's Designboom with details.
🎧 Listen To This
Here are two audio / video programs great for further learning.
For our developers — Hernando Castano of Parity Technologies reviewed how to write smart contracts with ink!
And Aubrey Strobel spoke with Natalie Brunell about bitcoin maximalism vs crypto, bitcoin for freedom, and Aubrey's new podcast — The Aubservation. Tune in today.
🇧🇷 Nestled in Nature
Check out this beautiful Brazilian tree house just outside Belo Horizonte, BR.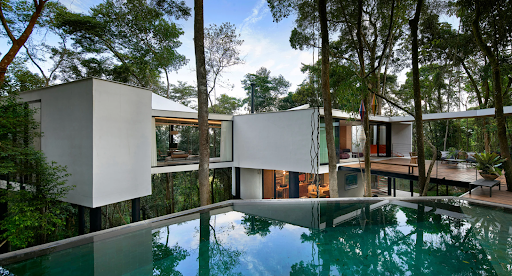 And while we're talking Brazil, stream this new album from Plinio Fernandes while you chilling or cooking this weekend. You'll be glad you did.
📰 Stories You Might Have Missed
Crypto
FTX Proposes Joint Plan to Offer Early Liquidity to Voyager Digital's Customers in Bankruptcy Proceeding
Bored Ape whale loses $150,000 of ETH in ENS listing fumble 
LinkedIn Founder Reid Hoffman Turns DALL-E AI Art Into Solana NFTs
California ends ban on crypto campaign donations
Solana NFT utility protocol Cardinal raises $4.4 million in seed funding
Christie's launches venture fund, makes first investment in web3 company 
South Korea postpones 20% tax on crypto gains to 2025 
SliceSpace: Delivering Real Estate on Algorand
Texas Bitcoin Miners Power Back Up after Voluntary Suspension During Grid Strain
Final Fantasy NFTs Coming to Polkadot in Square Enix, Enjin Alliance
Finnish Customs Sells Off $47 Million in Seized Bitcoin, Will Donate Proceeds to Ukraine
Macro
ECB Raises Rates by Half-Percentage Point in First Hike Since 2011
​U.K. Inflation Hits 9.4%, a New 40-Year High
US Mortgage Applications Drop to Lowest Level Since Early 2000
In Argentina's trash cans, less waste reflects ravages of inflation
The Pelosis' trading individual stocks must stop
Europe's heatwave reaches Poland, Greece as it moves eastwards, brings wildfires
Tech
Spotify adds more artists to its Blend tool, allows fans to buy merch via the feature
Has Google Created Sentient AI?
Volkswagen's US CEO steps down to lead its Scout EV brand
Cadillac explains why Celestiq flagship EV is its most advanced vehicle in 120 years
Volvo Moves Closer to All-Electric Goal
Marc Gerritsen wraps MAAD Peak house in Colorado in weathering steel
ETH zurich researchers design solar tower that produces jet fuel from water and light