Coinbase Launches Ethereum Layer-2
On Thursday Coinbase, the largest crypto exchange in the United States, announced plans to release an Ethereum Layer-2 blockchain called "Base":
0/ 🔵 Hello world.

Meet Base, an Ethereum L2 that offers a secure, low-cost, developer-friendly way for anyone, anywhere, to build decentralized apps.

Our goal with Base is to make onchain the next online and onboard 1B+ users into the cryptoeconomy.https://t.co/Znuu3o3pJw

— Base (@BuildOnBase) February 23, 2023
Layer-2s are scaling solutions that are friendlier to developers, improve transaction speed, and reduce fees all while maintaining the security offered by their Layer-1 counterparty, which in Base's case is Ethereum. Base is being built on OP Stack, which is the open-source software development stack that powers the Optimism blockchain. According to the Senior Director of Engineering at Coinbase and Lead at Base, Jesse Pollak, the blockchain is looking "to create an environment where thousands of actually useful dapps emerge that can bring 1B+ users into the global crypto economy". Unlike other Ethereum Layer-2s, like Arbitrum and Optimism, Base does not plan on launching a native token and will use $ETH to pay for gas on the network. The top Ethereum scaling solutions including Optimism, Arbitrum, and Polygon have had enormous user growth over the past year:
Today Coinbase announced Base, their layer 2 blockchain using the Optimism Stack. $OP has exploded in new address growth vs its competitors:

1-Year Unique Address Growth
🔴 OP +843%
🔵 Arbitrum +640%
🟣 MATIC +61%
⚪️ ETH +18%

Here's more on the https://t.co/jk29DQq33w… https://t.co/2jmItdMOxi

— Osprey Funds (@OspreyFunds) February 23, 2023
Only time will tell if Base can achieve the billion-plus users they are looking to onboard, but they have already partnered with more than 50 crypto companies to aid them on the journey.
Audius Further Integrates with TikTok
Audius is a Web3 music streaming platform founded in 2018. According to the Audius Protocol Dashboard, the protocol has had over 6.25 million unique users this month and is "the largest non-financial crypto application ever built". Audius allows artists to choose how they'd like to monetize their work including offering a one-time fee for unlimited access to their music or selling individual songs as NFTs all while maintaining full ownership of their content. The platform removes traditional streaming "middlemen" like Spotify or Apple Music which take large cuts of artist revenues. Audius does not take any sales revenue which allows artists to keep 90% of their sales revenue and the other 10% goes to node operators for supporting the network. The platform's governance token, $AUDIO, can also be used to tip users' favorite artists.
📢 Introducing $AUDIO Tipping!

You can now send $AUDIO tips to your favorite artists & curators on Audius! pic.twitter.com/u7n05N0fZ4

— Audius 🎧 (@AudiusProject) July 19, 2022
On Thursday, Audius announced that it will be increasing integration with social media giant TikTok. The integration will allow TikTok users to easily create Audius accounts by linking their profile, and verified TikTok creators will automatically be verified on Audius. Additionally, Audius users will now easily be able to use their favorite songs on the platform on their TikTok videos. In the hours following the announcement the price of $AUDIO appreciated more than 33% from a Thursday low of ~$0.30 to a Friday high of ~$0.40.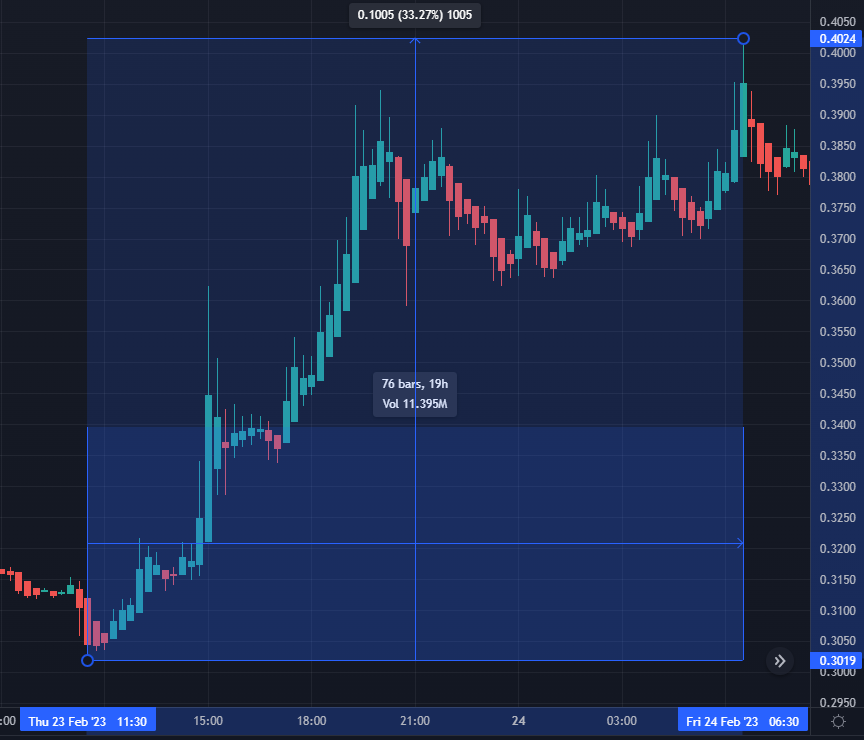 Fetch.ai Partners with Bosch to Launch Foundation
If you haven't been living under a rock you've probably heard about ChatGPT and the greater AI narrative that has been playing out in 2023. Fetch.ai is a protocol working to converge the emerging technologies of AI and blockchain. On Tuesday, Fetch.ai announced that they would be collaborating with technology company Bosch on "forming a new Fetch.ai Foundation to boost development of industrial application based on AI and Web3 technologies".
We are thrilled to announce that @Fetch_ai, in collaboration with our partner @BoschGlobal, are forming a new https://t.co/kJ9URVpOul Foundation to boost development of #industrial applications based on #AI and #Web3 technologies!

👉 https://t.co/w1JDSrG2lo pic.twitter.com/AuL6S1RuSL

— Fetch.ai (@Fetch_ai) February 21, 2023
Fetch.ai outlined "smart cities" as a use case for the technologies they're building in a blog post. The Fetch.ai team describes smart cities as "billions of devices [that] find and communicate with each other to make the best decision for users. This will revolutionize the way we consume energy, water and dispose of waste, how we move around within cities, as well as making them safer places to live in". An example of how this could work is outlined with parking spaces. As cars become more digital, Fetch.ai believes they will be able to communicate with "parking agents" that will notify your car where the nearest spot is, allow you to book it, navigate you to the spot, then pay for it automatically when you leave. For more potential use cases of the technology read the blog post linked above.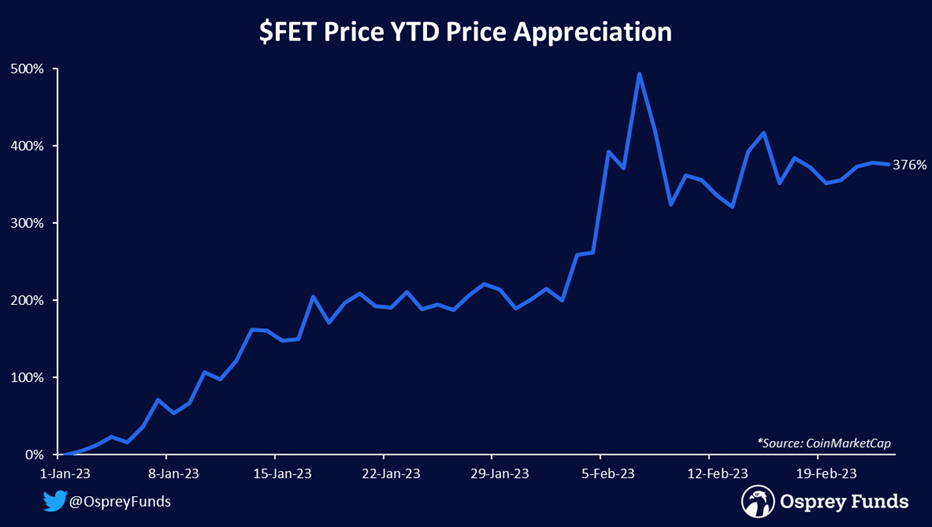 Fetch.ai's native token, $FET, has ridden the coattails of the hype behind AI so far in 2023, appreciating in price by ~376% year-to-date as of midnight UTC on 2/23.
ICYMI:
Crypto & Blockchain Education Becomes Priority at Top Universities
EA Founder Trip Hawkins Joins a Web3 Studio as Chief Strategy Officer
Blur Still Sees Record NFT Volumes Even After Crypto Airdrop
Peloton's Robin Arzón Is Building a Web3 Community Around Working Out
Before We Go:
In 1971, President Richard Nixon took the United States off the Gold Standard. Click on the image below to check out some interesting charts on what has happened since: