What's Next for Ethereum Post-Merge?
Ethereum's Next Upgrade
Ethereum developers met on Thursday to discuss the next round of improvements to the network. The group decided on eight Ethereum Improvement Proposals (EIPs) to be considered in Ethereum's upcoming hard fork, dubbed Shanghai. The most anticipated of the proposals is Beacon Chain withdrawals or EIP 4895, which will allow users to access ETH that was staked prior to the Merge.

It remains to be seen when these changes will be put into action — some developers have called for this upgrade to prioritize beacon chain withdrawals and smaller EIPs which could be completed by March 2023. "Having EIPs "considered for inclusion" (CFI) means that the developers will commit to developing these proposals and will run them through tests on developer networks (devnets). However, there's no guarantee that all these proposals will make the final cut for inclusion in Shanghai."
There are other proposals to consider including EIP 4844 or proto-danksharding which would enhance Ethereum's scalability through sharding — Shanghai's timeline will depend on which proposals are chosen in this round of upgrades. For information on Ethereum's upgrade process, check out this Medium article.
Osprey Publishes Public Address for OBTC's Bitcoin Holdings
As part of our commitment to transparency, Osprey CEO Greg King shared the Osprey Bitcoin Trust wallet with the public via Twitter on Monday. The BTC is held in cold storage at Coinbase — it is segregated on-chain, in deep cold storage, from both the property of Coinbase Custody and the assets of other Coinbase clients ensuring there is no comingling of assets. The Bitcoin blockchain allows for anyone to confirm the assets held by a wallet as long as you have the wallet ID. You can use this link and check for yourself.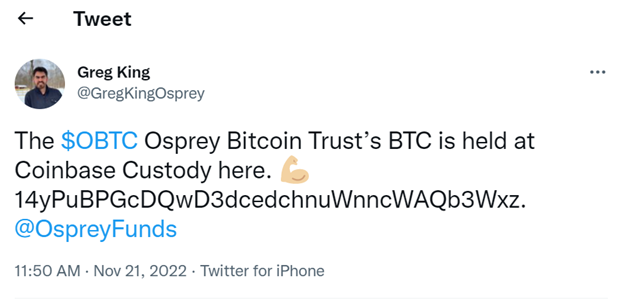 El Salvador Proposes Bill for Digital Assets Commission
The country has emerged as a leader for Bitcoin adoption after President Nayib Bukele made the cryptocurrency legal tender last year. They have doubled down on their stance with the Minister of Economy, Maria Luisa Hayem Breve, presenting a bill to establish a National Digital Assets Commission to the Legislative Assembly of El Salvador. If passed, this new governing body "would oversee the regulation of digital asset issuers, service providers and other participants involved in the 'public offering process' of digital securities" This includes the oversight of the country's previously announced Bitcoin-backed "volcano" bonds. El Salvador's plan is to issue $1 billion of the bonds and invest half directly into bitcoin and the other half into building out energy and mining infrastructure in the region. Investors in the bond will receive a 6.5% yield and allow for a fast-tracked path to citizenship.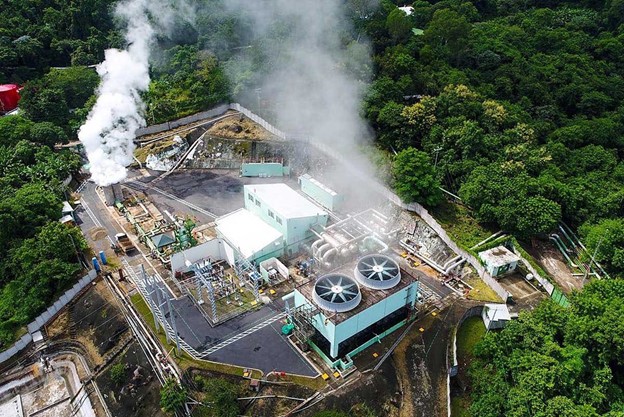 ICYMI 
Crypto entrepreneur Justin Sun eyes FTX assets
NFT marketplace Magic Eden integrates with Polygon to grow blockchain gaming
Bitcoin steadies after hitting two-year low
Binance Allocates Another $1B for Its Crypto Recovery Fund
Before We Go:
 Teddy DAO utilizes the blockchain and NFTs for philanthropic fundraising