Moody's Makes Sure Collateral Isn't (Terra)ble
Moody's Working on Stablecoin Scoring System
Moody's Corporation is part of the "Big Three" credit rating agencies who, along with Standard & Poor's and Fitch Group, constitute approximately 95% of the global credit rating industry. On Thursday, Bloomberg reported that Moody's is working on developing a scoring system for stablecoins. The rating system is looking to support up to 20 stablecoins and will take into account the quality of reserve attestations. Many stablecoin providers are trying to build trust in the space by posting third-party audited reserve attestations on a monthly or quarterly basis. These reports give the public insights into the collateral backing the stablecoin.
2022 was a year to forget for stablecoins as one of the largest players, TerraUSD ($UST), collapsed, wiping out nearly $18 billion in a matter of days. With the proposed rating system Moody's is looking to bring more confidence to the stablecoin market, which is currently valued at approximately $145 billion.
Polygon Has Seen Continuous User Growth
In the period from 6/1/2022 to 1/26/2023 the number of users on the Polygon PoS Chain has increased by 50.47%. Over the past year, Polygon has entered many high-profile partnerships with companies including Disney, Adidas, and Starbucks which, along with announcement that their highly anticipated zkEVM is coming soon, has likely driven increased adoption.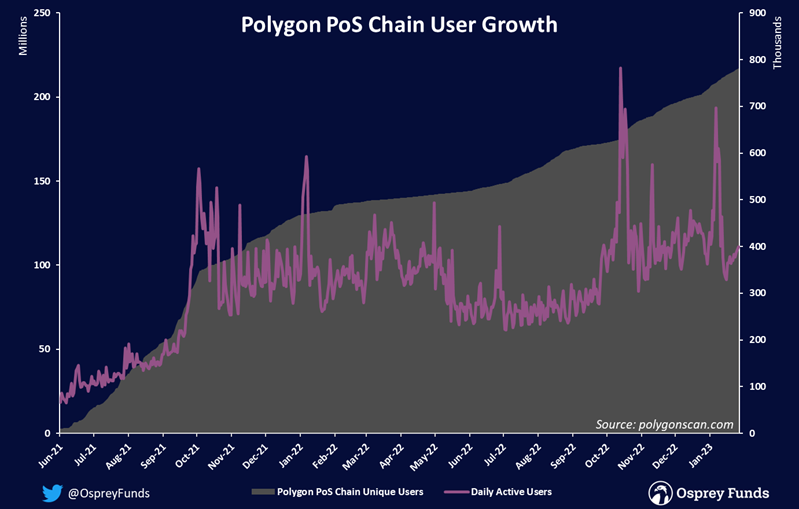 As of 4pm on Friday $MATIC, the native token of the Polygon ecosystem, was trading at $1.16, up 56.63% from its $0.76 4pm close on 12/30/2022. According to CoinMarketCap $MATIC is currently the 10th largest coin by market cap (~$10.2 billion).
U.S. Institutions Likely Driving Latest Bitcoin Rally
So far in 2023 Bitcoin has appreciated in price by approximately 40%. This is the best start to a year for BTC prices since 2013. According to research from Matrixport, about 85% of BTC's price movement in 2023 has come during hours where U.S. markets are open.
3) #Bitcoin is up +40% year-to-date with +35% of those returns occurring during US #tradinghours. That's an 85% contribution of the #rally associated with US based #investors. Hence, we interpret this as a clear signal that US institutions are buyers of #Bitcoin right now. pic.twitter.com/RnIlvBEkyn

— Matrixport (@realMatrixport) January 27, 2023
Matrixport believes that the large share of Bitcoin price movements during U.S. market hours is a "signal that U.S. institutions" have been buyers of Bitcoin in 2023.
ICYMI:
SEC Rejects ARK/21Shares' Second Bitcoin ETF Proposal
BlockFi Secret Financials Show a $1.2 billion Relationship with Sam Bankman-Fried's Crypto Empire
White House Calls on Congress to 'Step Up Its Efforts' on Crypto Regulation
Bitcoin Logo Lights Up the Tallest Building in Berlin
Before We Go:
The U.S. Money Supply (M2) contracted for the first time in recorded history in 2022.

Prior to last year, the closest M2 came to a contraction was in 1994 with 0.3% growth.

The next year, 1995, the S&P 500 saw its largest % gain in the last 60 years (+34%) 👀 pic.twitter.com/314USdyLXv

— Osprey Funds (@OspreyFunds) January 25, 2023