Is Bitcoin Becoming a Store of Value?
Old School Polar Temp Cold Wall Outdoor Ice Merchandiser, Photo by thena.
Mass adoption takes time.
People are slow to process new information, especially when it's novel, unexpected, and complex.
So where are we on the path towards universal acceptance of bitcoin as a store of value?
People are skeptical. Many do not fully understand the technology, while others lack even general awareness. Intelligent people are still debating whether acceptance is even warranted. There is no clear answer yet.
But there are signposts along the adoption curve and it's worth having a closer look.
A Look at the Data
The great thing about clean data well visualized is that it tells a story based on evidence.
Osprey Funds' Index Provider, Coin Metrics, gathers and visualizes all kinds of data related to digital assets and they do a good job of it. We reached out to them for updates on two trends that might offer insight regarding the trajectory of the acceptance of bitcoin as a store of value.
First this one: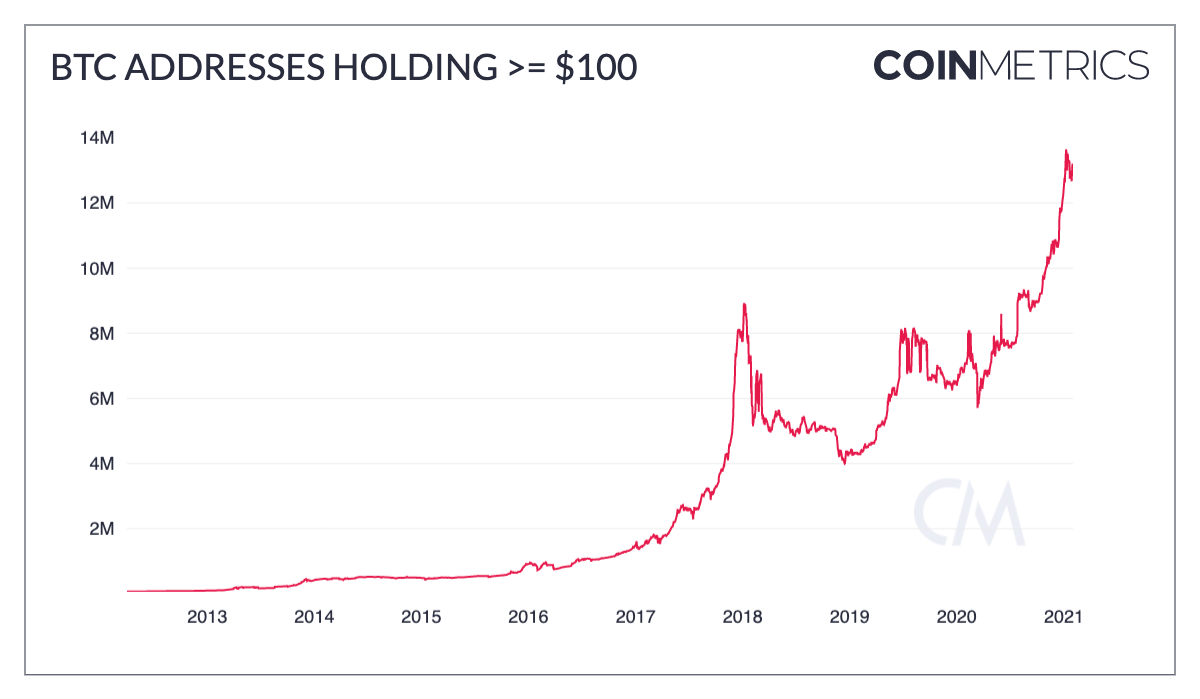 The number of addresses* holding $100 or more of bitcoin is increasing dramatically. This metric made a new all-time high on October 22, 2020 above 9.74 million and never looked back. As we're writing this, there are over 13.41 million addresses holding bitcoin.
An increasing number of addresses are holding at least $100 worth of bitcoin and the chart above visualizes the strength of the trend. Not only are more addresses holding, but that number is increasing at an accelerating rate.
Next, this one: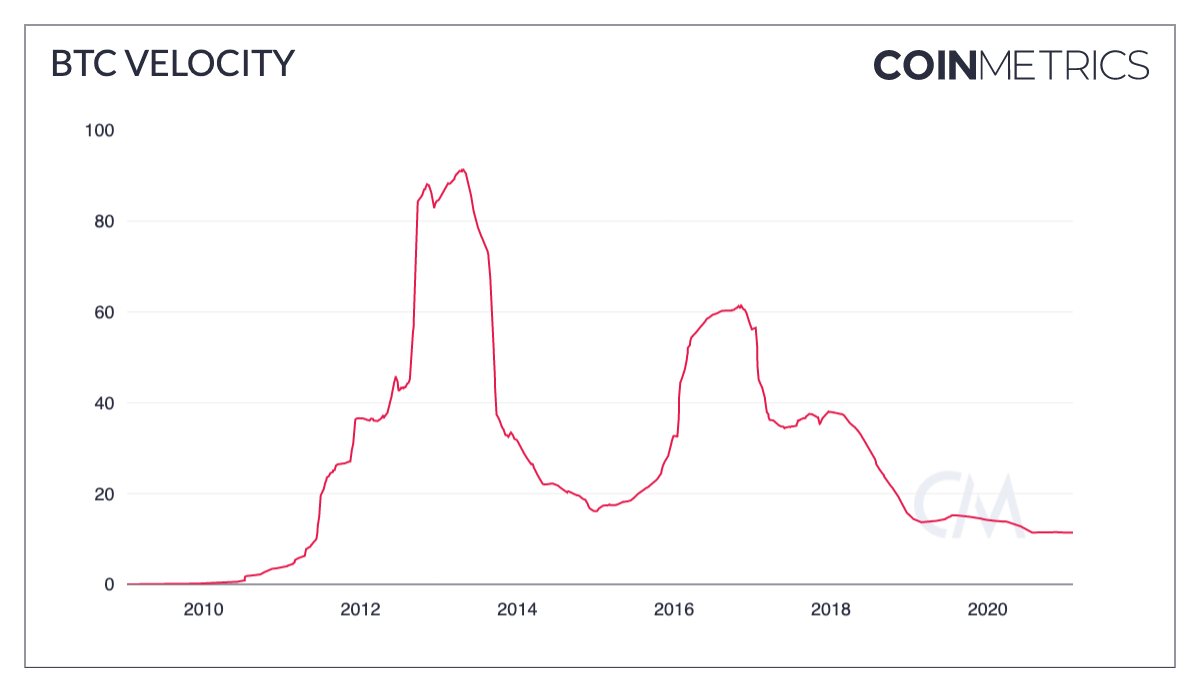 BTC Velocity measures how often people transfer bitcoin. It measures turnover.
Velocity is at its lowest level since 2011, incredible given how many more addresses are holding bitcoin and how much easier it has become to buy and sell.
The low Velocity reflects the fact that people are selling bitcoin less frequently and holding for longer periods of time. People are storing it.
We asked Nate Maddrey, Senior Analyst at Coin Metrics for comment and he added:
As new people enter the crypto ecosystem we're also seeing holding behavior increase. The digital gold and store-of-value narratives are gaining wider adoption which is a great sign for BTC's long-term valuation.
So there are more bitcoin holders than ever before and that number is increasing rapidly. Meanwhile, this record number of bitcoin holders is turning it over less and less frequently.
From these two trends, it appears that bitcoin is being utilized more than ever before as a store of value.
Check out Coin Metrics' excellent Substack for these types of charts and a lot more.
*We use addresses as a proxy for people and recognize this is an imperfect approach. We think of it more as a tendency and assume that it is good enough to reflect the trend.
Phil Pearlman is the Chief Behavioral Officer at Osprey Funds.
This information should not be relied upon as investment advice, or a recommendation regarding any products, strategies, or any investment in particular. This information is strictly for illustrative, educational, or informational purposes and is subject to change. The author of this article owns bitcoin, directly and through the Osprey Bitcoin Trust.