A limited-edition Cyberwhistle, inspired by the Cybertruck, sold out within hours on Friday. 
Tesla listed it for 300 DOGE (about $60) following Elon's Tweet on Thursday, 
Tesla merch buyable with Dogecoin.
This guy can sell anything, but struggles to deliver on time — Tesla delayed the Cybertruck to 2023.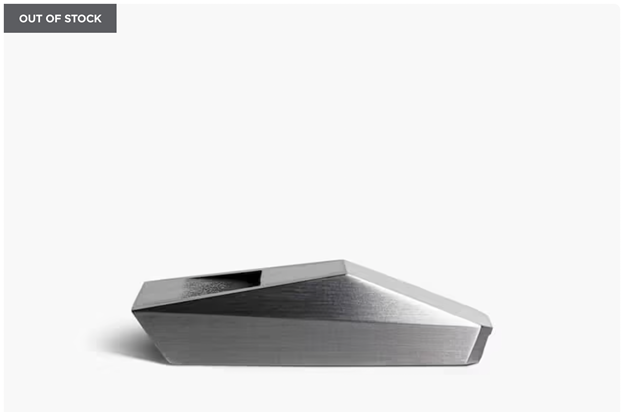 Rio To Allocate 1% To Bitcoin 
Rio de Janeiro Mayor, Eduardo Paes, wants to make the city a crypto kingdom. 
Paes announced that Rio intends to invest 1% of its municipal treasury in various crypto projects. 
The city also said it's looking at providing tax breaks if citizens pay with Bitcoin. 
We love to see it.
Rio is the 6th most populous city in the Americas, with 6.75 million people. That's more people than Los Angeles and Houston combined.
Unrelated, Brazil is home to some of the greatest music in all the world, perfect for a relaxing Saturday morning or whenever you might be reading.
Consumer Prices Through the Roof
The road to hyperinflation has to go through 7%. 
Kidding. 😉
US consumer prices increased to their highest levels since 1982, a year the Fed Funds Rate touched 21.5%.
Used cars and trucks were the greatest culprits, ramping a grotesque 37%. 
Here's a chart via CNBC: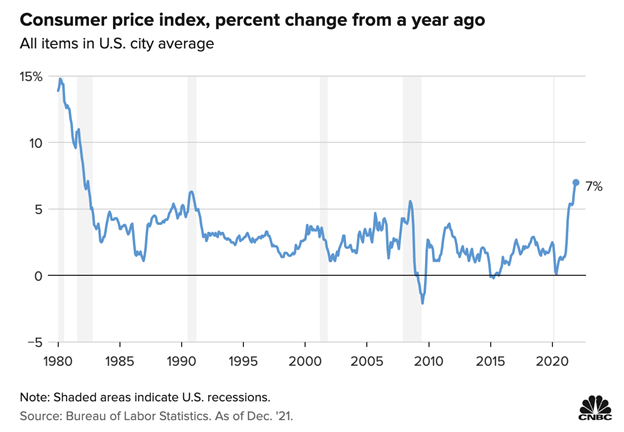 This is probably nothing and all those fiat dollars printed since the early days of COVID will get digested no big deal. Still, we'd be remiss not to share that doozy of a chart.
Institutional Capital Pours In 
This week, FTX unveiled its latest trick, FTX Ventures — a $2B venture fund focused on crypto startups. 
FTX Ventures lead, Amy Wu, suggested that the fund could deploy the entire bag within a year.
Wu shared that she's interested in crypto gaming, insurance, and security products. 
Here's the Wall Street Journal with more.
Cash App Adds Lightning
Cash app integrated the Lightning Network to reduce the cost and increase the speed of Bitcoin transactions.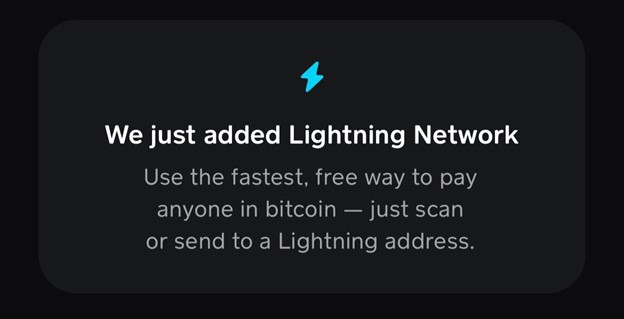 As of January 12, 2022, the Lightning Network has 19,291 nodes, up more than 100% from this time a year ago.
This feels like such a sleeper story.
What's New In NFTs?
Here's a heartwarmer for you —
Ghozali Ghozalu staked his face in NFT history. 
The 22-year old Indonesian snapped selfies everyday starting when he was 18 and listed the photos on OpenSea. 
The NFT collection of 933 photos has a total trading volume of 321 ETH and has a floor price of 0.202.  
Ghozali shared, 
It's really a picture of me standing in front of a computer day by day.

LooksRare, an emerging NFT marketplace, recorded more than $110M in NFT trading volume on its opening day. 
The OpenSea competitor airdropped its LOOKS token to select OpenSea users prior to launch in an attempt to court new users. It may have worked, but it's too soon to tell. 
Here's Decrypt with the details. 
China is set to launch a state-backed blockchain, Blockchain Services Network (BSN), to support NFTs. 
The Asian nation banned crypto last year and now seeks to capitalize on NFTs. So weird.
And here's a feature NFT of the week — Sun Signals #0830 by Kevin Abosch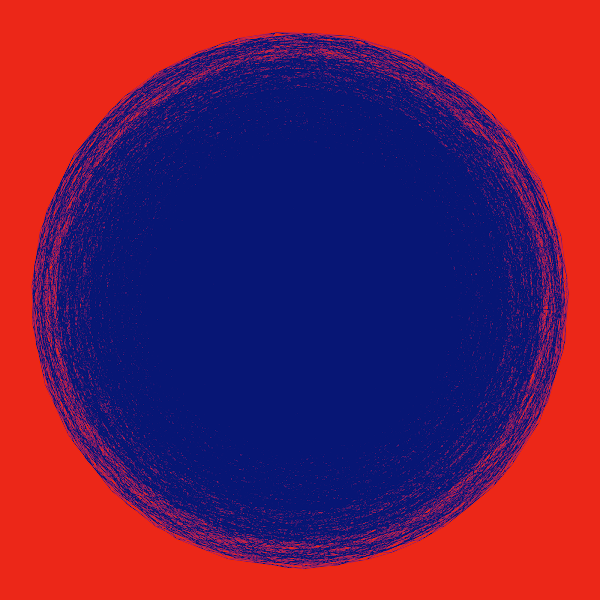 A Fund To Defend Bitcoin Developers 
Jack Dorsey announced the development of a legal defense fund for Bitcoin developers. 
In an open-email the Bitcoin Legal Defense Fund Board shared, 
The main purpose of this Fund is to defend developers from lawsuits regarding their activities in the Bitcoin ecosystem, including finding and retaining defense counsel, developing litigation strategy, and paying legal bills. This is a free and voluntary option for developers to take advantage of if they so wish.
Read the full note here and here's a great tweet that captured the event: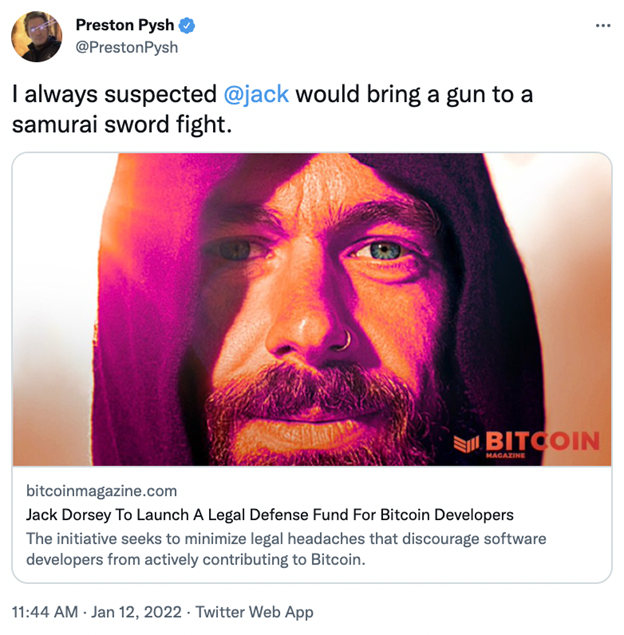 If that wasn't enough — Block (formerly Square) shared that it will mine Bitcoin. 
Federal Crypto Reports Coming Soon. We promise. 
The US House Energy and Commerce Oversight Subcommittee announced that it will hold a crypto hearing next Thursday entitled, Cleaning up cryptocurrency: The energy impact of blockchains.
Meanwhile, Fed Chair Jerome Powell said that the Fed will release it's crypto report "within weeks." 
Solana NFT IRL 
Here's a slick clip from Rob Petrozzo, co-founder of Rally Road, purchasing his first Solana NFT. 
He shared, 
Bought my first Solana NFT.

From a vending machine.

w/ Apple Pay.

90's nostalgia 🤝 digital future

✨ ✨ ✨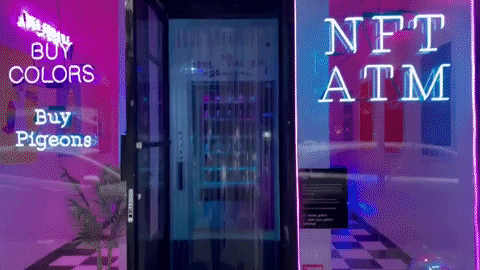 And check out our lightpaper on Solana here.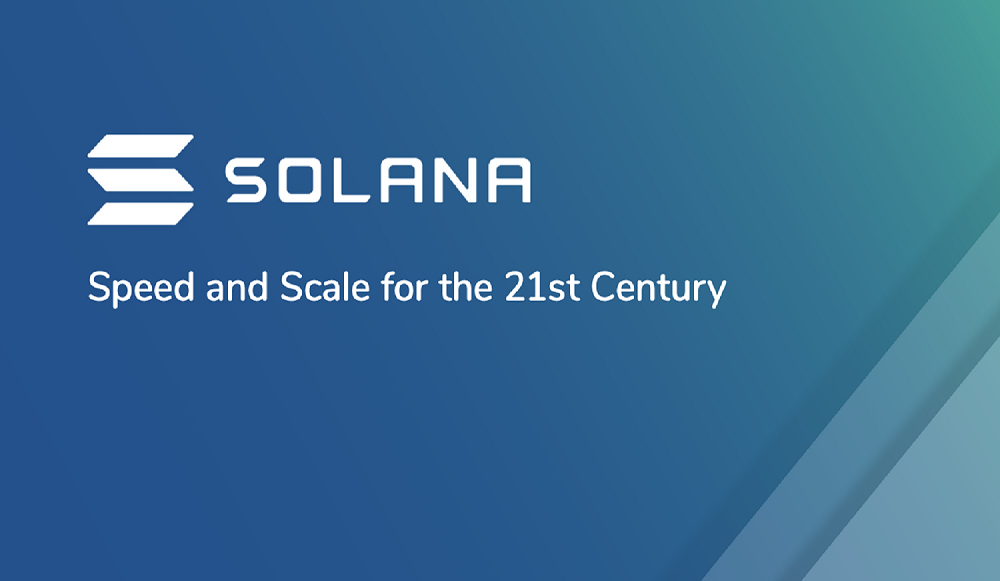 10,000 Reasons To Move To Arkansas??
Northwest Arkansas wants you to relocate. 
The southern state has offered $10,000 in Bitcoin + a free bike to "tech professionals and other entrepreneurs looking to relocate to the region." 
Nelson Peacock, president and CEO of the Northwest Arkansas Council commented, 
Northwest Arkansas is one of the fastest-growing regions in the country, and we're now seeing more explosive growth in our tech sector. This expanded incentive offer — Bitcoin and a Bike — not only embraces the growing trend toward the use of cryptocurrency as a payment option by employers, but also helps increase our pipeline of talent to benefit tech employers, startups, cities, local businesses and the region overall.
A Gorgeous Greenside Glass House
Check out this open home in Argentina.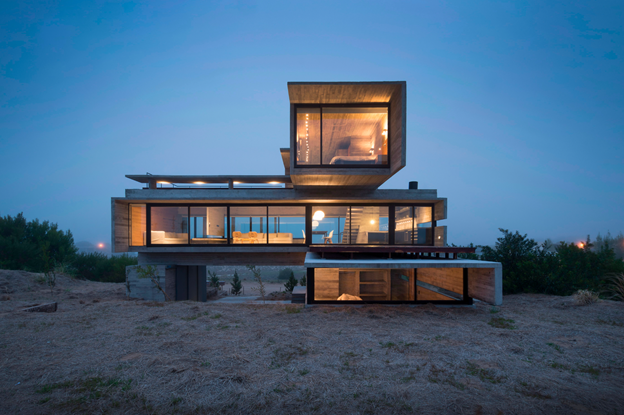 The cubular concrete glasshouse rests greenside. It's gorgeous.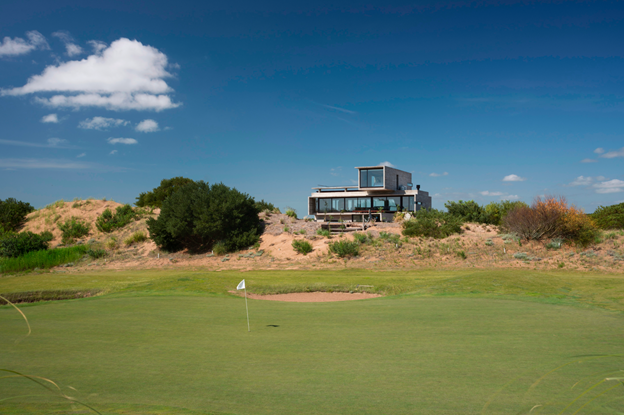 Stories You Might Have Missed 
Billionaire Investor Bill Miller Now Has 50% of His Personal Wealth in Bitcoin
How to standardize on UTC to support remote work – TechRepublic
NFT sales hit $25 billion in 2021 | Reuters
There's a Reason Bitcoin's Worth 500 Barrels of Oil: Bloomberg's McGlone
Quentin Tarantino's 'Pulp Fiction' NFT Battle With Miramax Heats Up – WSJ
NEAR raises $150 million as it looks to become a hub of web3 development
Swiss central bank trials wholesale CBDC with BIS and commercial lenders
TransUnion wants to bring credit checks to the crypto lending market
Pakistan Plans to Ban Cryptocurrencies as Stance Hardens: Reports
Cryptocurrency Exchange Coinbase Offers Employees Four Weeks Off To 'Recharge' And 'Recover Between Sprints'
Ford's market cap tops $100 billion for first time ever
San Francisco's Luxurious New Skyscraper Is Tilting 26 Inches | Architectural Digest
State of the DAOs #7: Social Tokens and the Future of Work

In the coastal woods of maine, artist's handcrafted dome home is for sale
After the Beanie Baby bubble burst
Checkout.com's valuation hits $40 billion with $1 billion raise
Take-Two Interactive to buy FarmVille creator Zynga for $12.7 billion
Peer-to-peer car-sharing company Turo files IPO to go public
JPMorgan's Quarterly Profit Drops 14% – WSJ
These TikTok Stars Made More Money Than Many of America's Top CEOs – WSJ
Tiger Woods-Backed SPAC Files for IPO – WSJ
The Great Wave by Hokusai: Great Art Explained
Hennessy's First NFT Buys You a Rare Cognac and a VIP Visit to the Estate
Candy Digital launches marketplace for Major League Baseball NFTs
AP to launch NFT photography marketplace built by Xooa
Clothing retailer Gap launches NFT collection on Tezos