📉 "Decline In The US Dollar Is Inevitable"
Credit Suisse Global Head of Short-Term Interest Rate Strategy, Zoltan Pozsar, shared comments on the US dollar. 
Pozsar stated, 
Inflation borne [sic] of shortages is a whole different ball game. You can't QT or hike your way out of it easily… and if you can't, credibility gets damaged, a decline of the U.S. dollar is inevitable, and shorting U.S. rates, the U.S. dollar, and some FX pegs make logical sense.
Here's a 100-year chart of the purchasing power of the U.S. Dollar —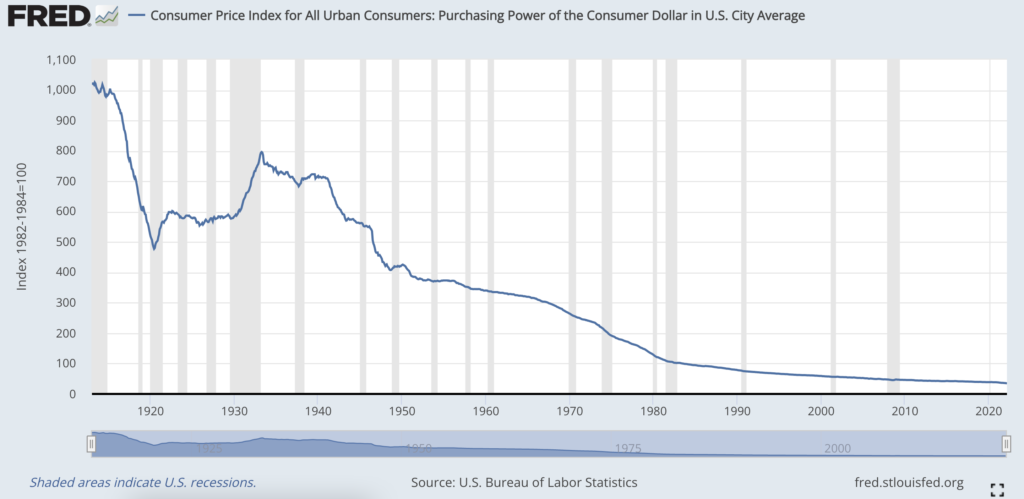 And here's The Deep Dive with more. 
💸 Highest Inflation In 40-Years
Speaking of inflation, this week the U.S. reported its highest YoY change in the Consumer Price Index in 40 years. 
Check out this chart via CBS News — it's wild.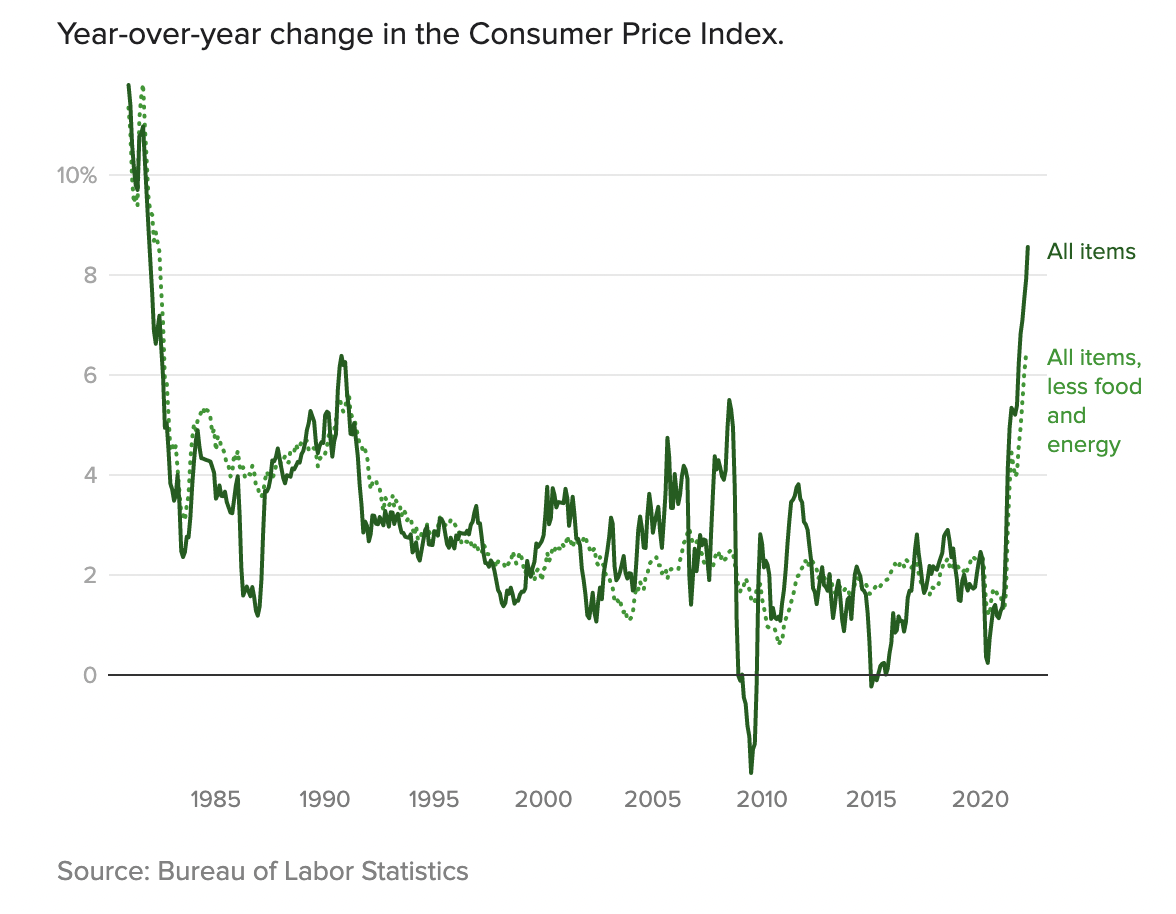 🎧 Listen To This
Late last week, U.S. Secretary of the Treasury, Janet Yellen, shared remarks on digital assets at American University. 
Here's a great quote, 
New technologies build on older ones and a chain of innovation has transformed financial services over time. Seventy years ago, most Americans used coins, cash, and checks to manage most aspects of their financial lives… recently, computers, the internet, and mobile phones have driven the explosive growth of electronic payments and online commerce. 
Watch her statement here and read the written remarks here. 
Micheal Saylor spoke with Lex Friedman about bitcoin, inflation, the future of money, information, and energy.
Saylor shared, 
The bigger trick is not to move $1B from here to Tokyo. The big trick is to move $1B from here to the year 2140.  
Catch the 4-hour conversation here.
🟠 CNBC Sends Bitcoin
CNBC sent bitcoin from Miami to a Ukrainian in Poland, exhibiting the power of the lightning network. 
CNBC writes,
The process of downloading a crypto wallet onto Vorobiova's phone, transferring bitcoin over the Lightning Network from the U.S. to Poland, and withdrawing the equivalent in Polish currency from a bitcoin ATM from the southwest city of Wrocław took less than three minutes… 

The bottom line? It really does work as well as bitcoin boosters say it does.
🐦 Musk Makes An Offer
On Thursday, Elon Musk made an offer to take Twitter private. The social media app turned into a frenzy as Musk tweeted —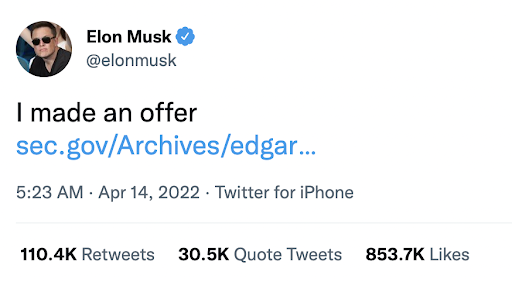 Elon also appeared in an unedited TED Talk on Thursday where he discussed his bid on Twitter, his biggest regret of his career, and how he envisions the future of the world. 
It's fascinating and worth the watch. 
And speaking of social media, Om Malik shared a timely piece titled, What is the future of social media? 
Here's the money quote, 
It is pretty straightforward that the future of the social Internet is not in scale but intimacy. I have found myself turning more and more to private Discord servers and Telegram Groups for conversations, especially in groups with established identities. For deeper domain-specific conversations, I find myself engaging in arcane Reddit communities, whether they are about Leica cameras, fountain pens, or the art of journaling.
☀️ Solana Surpasses 4M Signers
Matty Taylor, Head of Growth at Solana Labs, shared the following chart citing daily unique signers on Solana surpassed 4,000,000.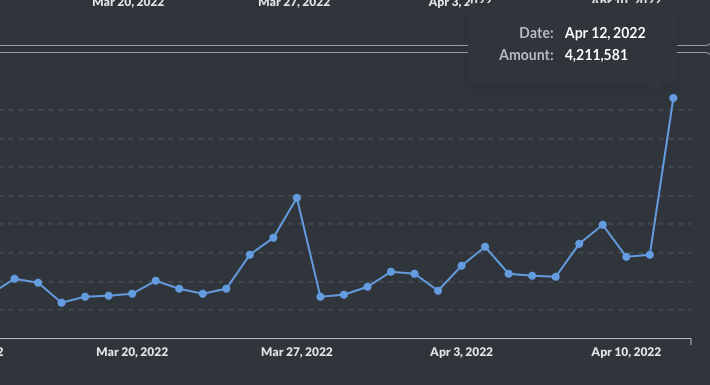 We love to see it. 
😬 Ethereum's Merge Is Delayed, Again
On Monday, Ethereum developers performed a stress-test on the new software for its upcoming merge from Proof-of-Work to Proof-of-Stake. 
The test was dubbed, 
A huge success. 
However, the merge from PoW to PoS has been delayed until at least Q3 2022. Here's a tweet from ETH developer, Tim Beiko —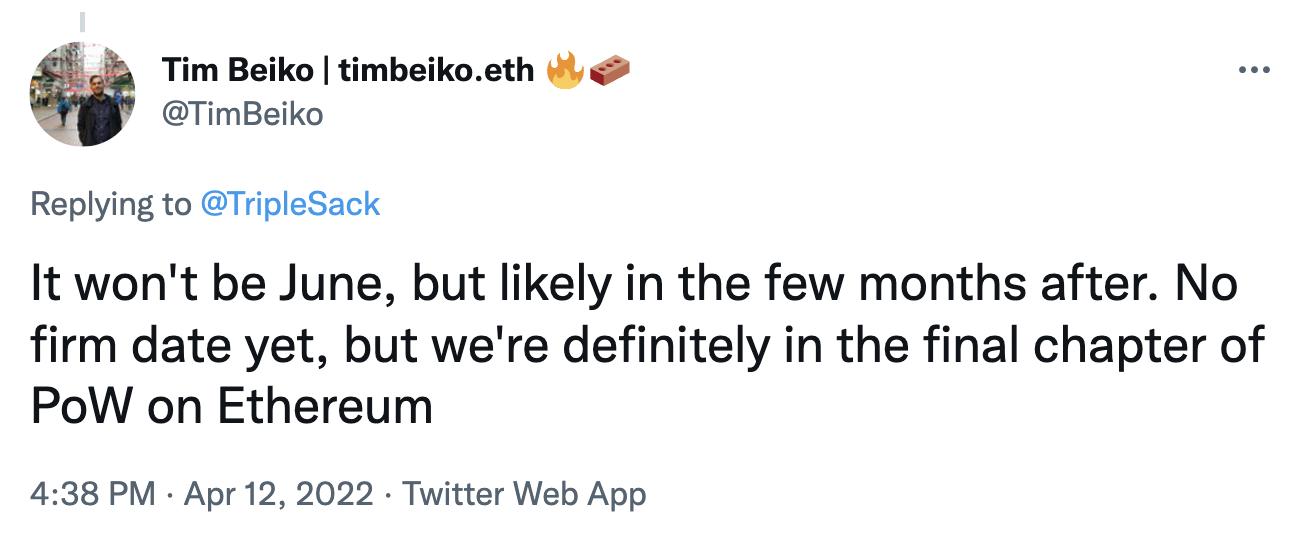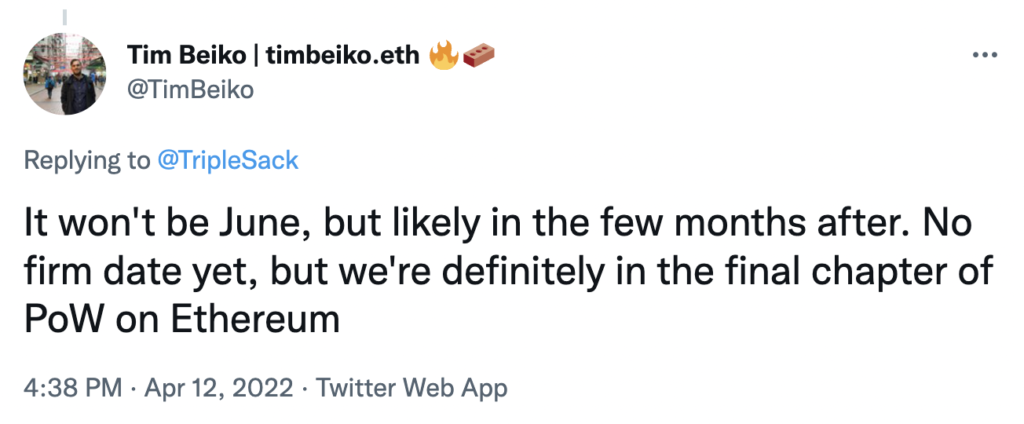 This isn't the first time the ETH update has been delayed. We'll wait and see for Q3.
Here's Bloomberg with details. 
🖼 What's New in NFTs?
Amazon CEO, Andy Jassy, shared his first Amazon shareholder letter since taking over Bezos' position last July. 
In a follow-up interview with CNBC he mentioned Amazon "could potentially sell NFTs in the future."
Meta (formerly Facebook) shared that it will charge creators ~47.5% on sales of digital assets and experiences. That seems expensive. 
Jack Dorsey's "first tweet NFT" which sold for more than seven-figures in 2021, was relisted on the NFT-marketplace, OpenSea.
The highest bid was less than $280. Oof.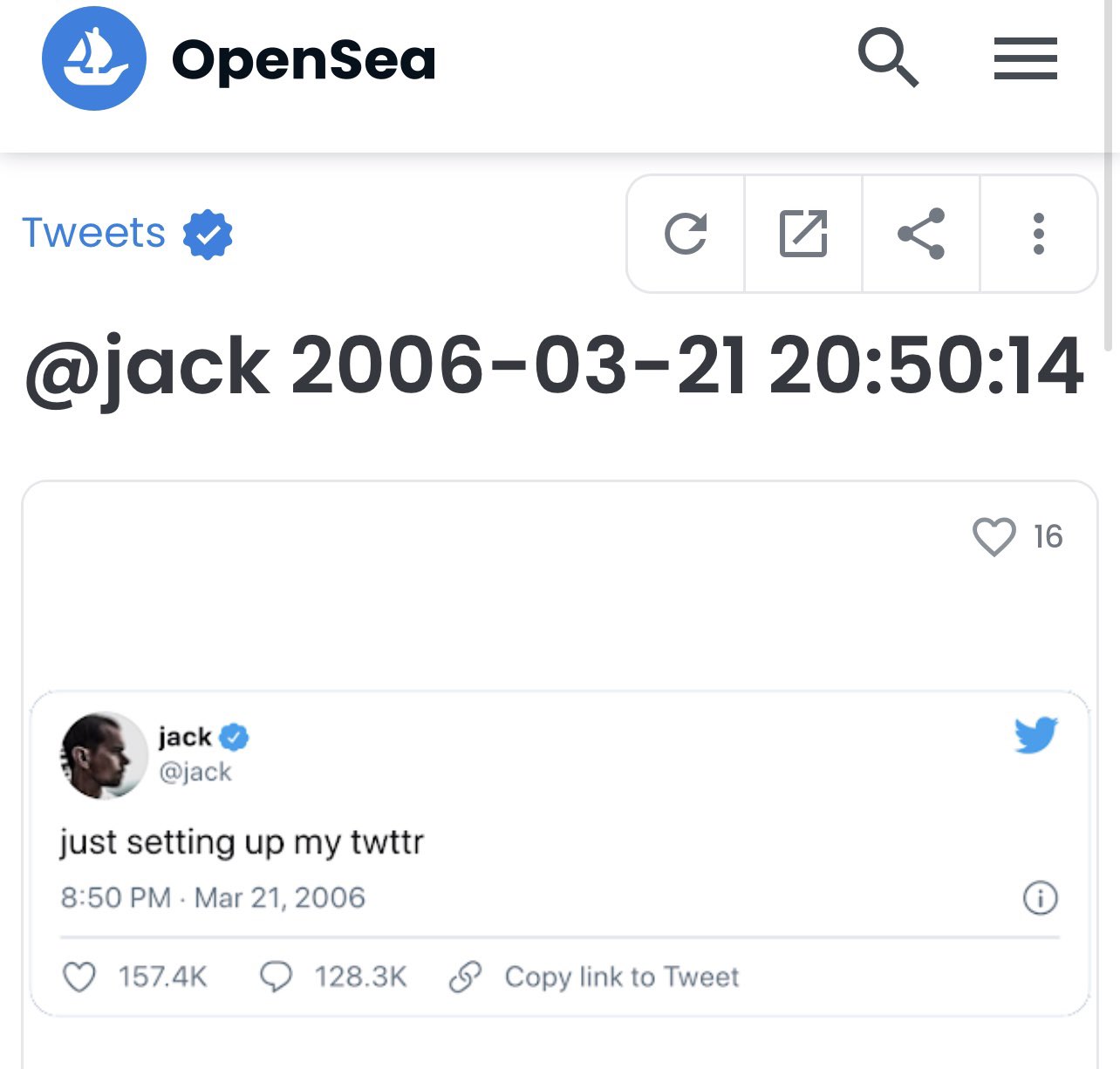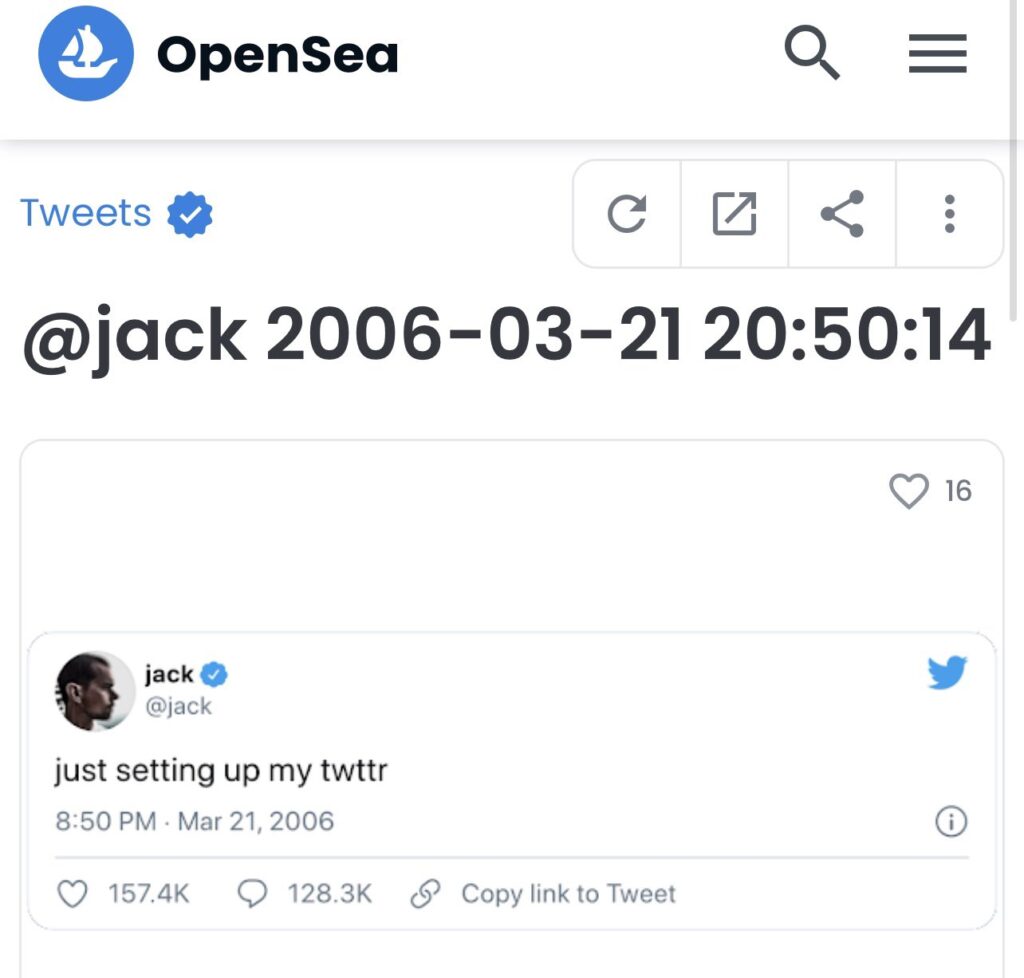 Propy, a real estate platform using NFTs to settle in-real-life transactions, shared that it sold a condo NFT in Tampa for 215,000 USDC and will live forever on-chain.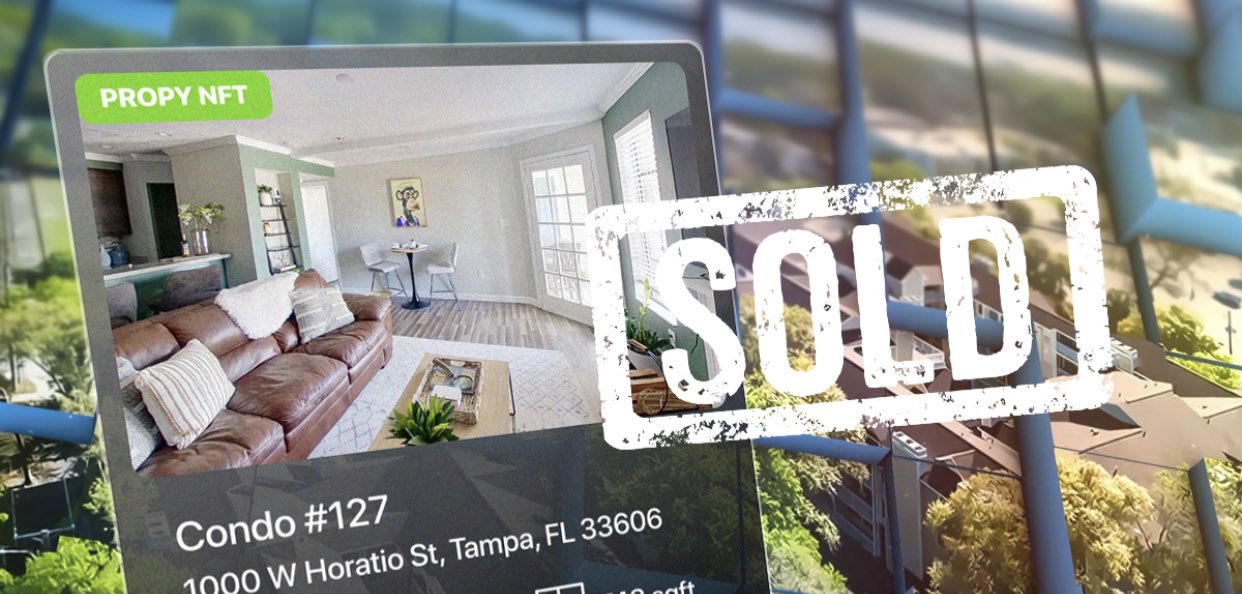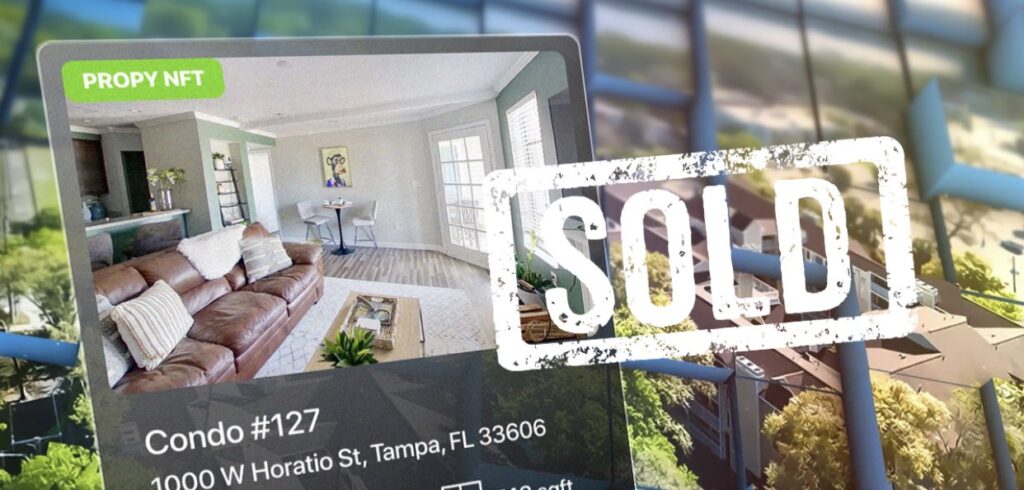 The NFT grants ownership rights to an LLC which owns the physical property. Here's web3wire with more and here's a webinar to recap the Tampa Condo NFT sale. It's interesting stuff. 
👀 Robinhood Adds Additional Crypto Assets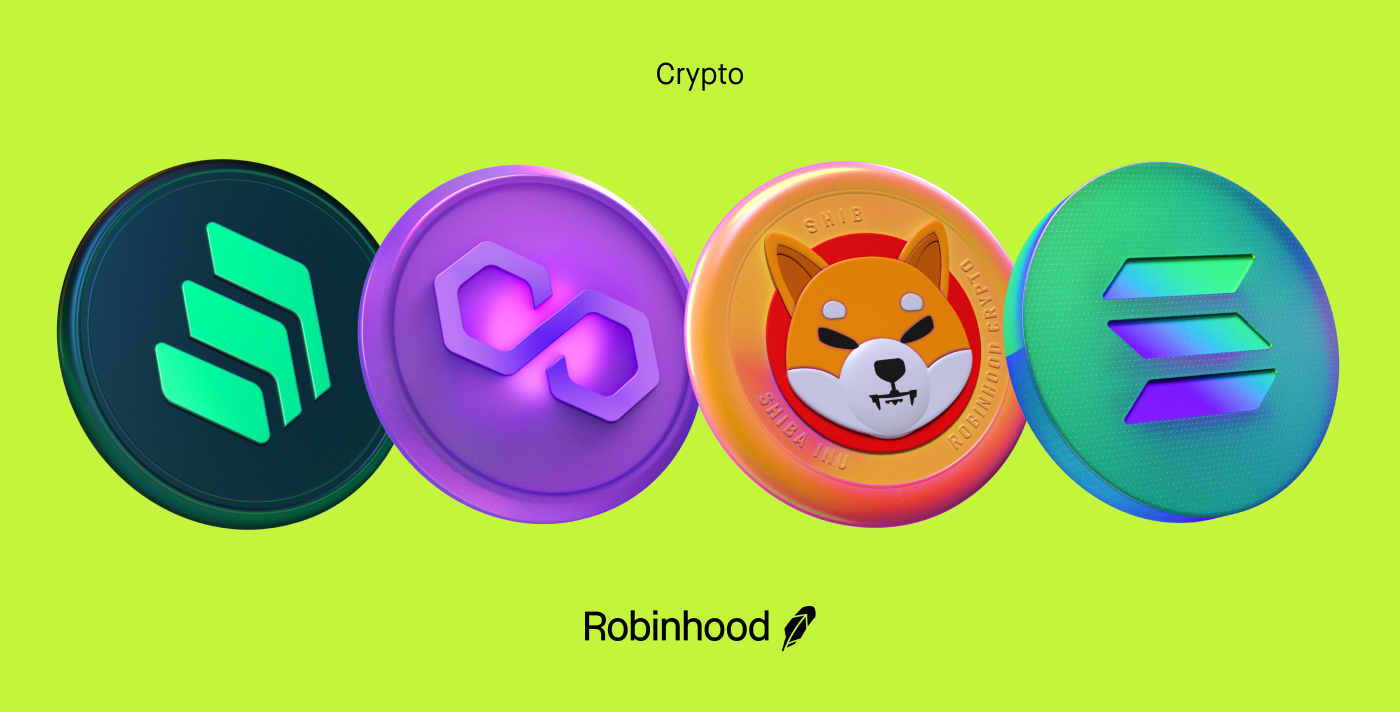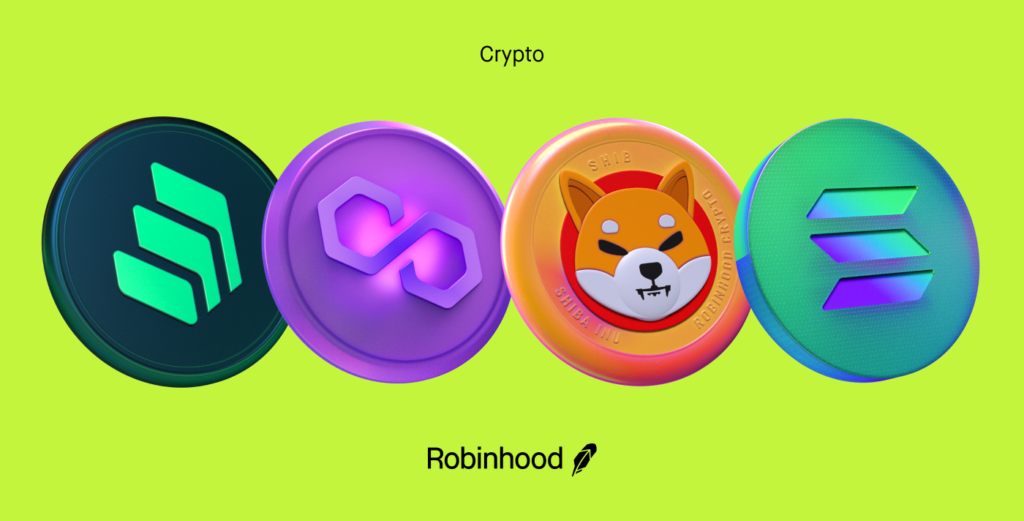 On Tuesday, Robinhood listed 4 new digital assets on its crypto platform. 
The company writes, 
Over the past year, our crypto customers have consistently asked for two things: the ability to send and receive their tokens, and a broader selection of cryptocurrencies. Addressing their first ask, we rolled out wallets to every eligible person on a waitlist of more than two million. Now, we're happy to address another top request by adding additional cryptocurrencies.
The new assets include — 
Compound (COMP)
Polygon (MATIC)
Solana (SOL)
Shiba Inu (SHIB)
Read more from Robinhood here.
♻️ A Net-Zero Retreat
Here's a great net-zero retreat located a few hours west of Mexico City.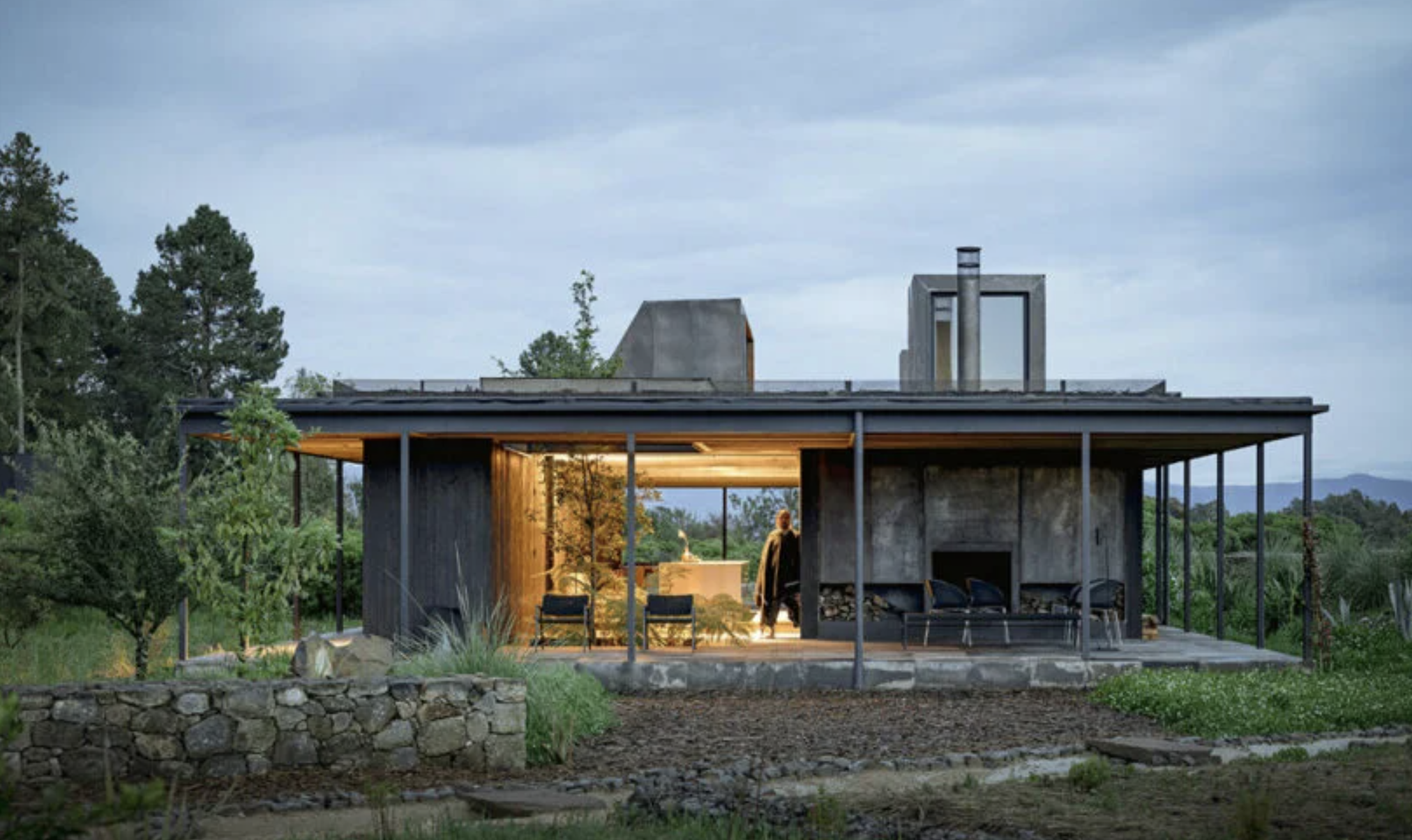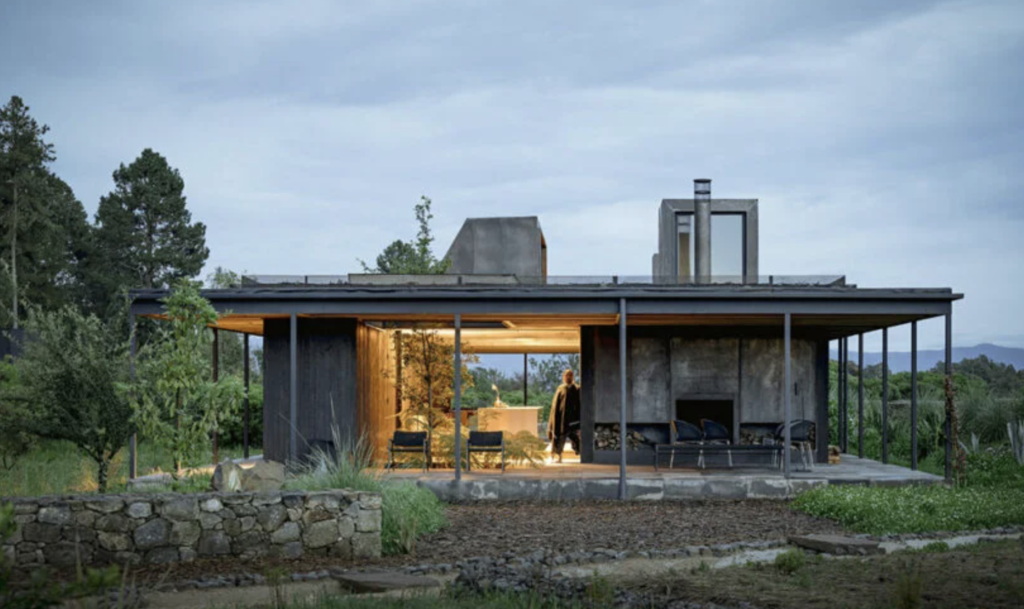 It serves as a home, studio, and off-grid bathhouse. It's magnificent.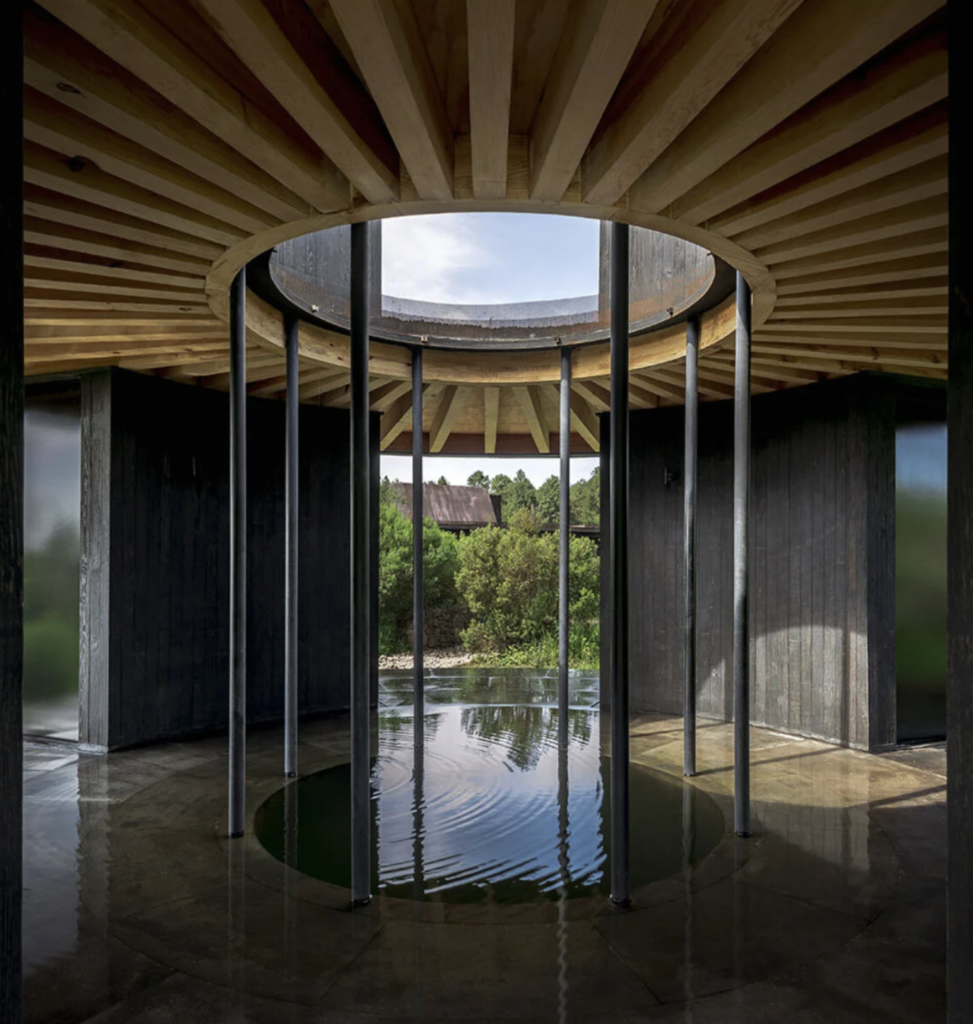 📰 Stories You Might Have Missed
Phantom, the Solana-based wallet released its beta for Android users
US Officials Tie North Korea's 'Lazarus' Hackers to $625M Crypto Theft
Meet the winners of the Solana Riptide hackathon
Algorand founder Silvio Micali wants to usher in the democratization of finance
a16z's Chris Dixon tops 'Midas List' by turning $350M into $6B in 2021
Emirates plans to launch NFTs and expand experiences in metaverse
Nigel Eccles – Co-Founder & CEO, Vault Laboratories — Solana Podcast Ep #63
Consensus on CBDC design among central banks not a priority, Bank of Canada says
New crypto-backed Super PACs launch as midterms loom 
Texas, Alabama securities regulators serve a casino NFT scheme cease-and-desists 
Crypto: Exclusive: How Anatoly Yakovenko's blockchain startup Solana Labs is building what investors think will be a core layer of Web3
Anchor Protocol and Acala Integrating to Unite Terra and Polkadot DeFi Ecosystems and Grow Decentralized Stablecoin Market | by Dan Reecer
Snoop Dogg And Drake Among Celebrities Who Invested In Crypto Firm MoonPay's $87M Funding Round
Redfin Reports Demand Slips, Pushing More Sellers to Drop Asking Prices | Business Wire 
Scoop: VC firm Accomplice raises its last-ever fund
'Please Don't Tell': Essex Boys' Texts Spur Judge to Allow Lawsuit
Schmidt Hammer Lassen unveils design for world's tallest timber building
Space Perspective reveals design for "world's first" space lounge
Spaceship-like wallywhy200 superyacht floats folding terrace over water
2020: A Recap of My 1270%, $18.2 million trading year | by John F Carter
For the first time, wind power eclipsed both coal and nuclear in the U.S.
Federal agency weighs emergency action as Colorado River demand outpaces supply