On Tuesday, Senators Kirsten Gillibrand (D-NY) and Cynthia Lummis (R-Wyo.) introduced a bipartisan proposal for crypto regulation. 
The senators seek to treat cryptocurrencies like commodities rather than securities. 
Check out the official 69-page document here, but first, here are a few takeaways — 
It's still early and the bill will likely evolve before it's signed into law. 
It's refreshing to see bipartisan action from Washington and we can't wait for the findings on crypto in 401k's, crypto energy consumption, and its official tax status. 
Treating crypto as a commodity makes sense. It might not be a perfect analog, but it's the best we have for now. Plus, it provides the opportunity for this young asset class to mature and establish its own character.
👀 Highest Inflation in 40 Years
On Friday, The Bureau of Labor Statistics released May's Consumer Price Index. 
The CPI inched up 1% last month and is up 8.6% YoY — its highest YoY mark in ~40 years.

Here are some notable numbers:

Fuel oil flew 16.9% and is up 106.7% YoY. 

Food costs climbed 1.2% and are up 10.1% YoY. 

Used Cars and Trucks are up 16% YoY. 
Check out this chart via Axios and read the official news release here.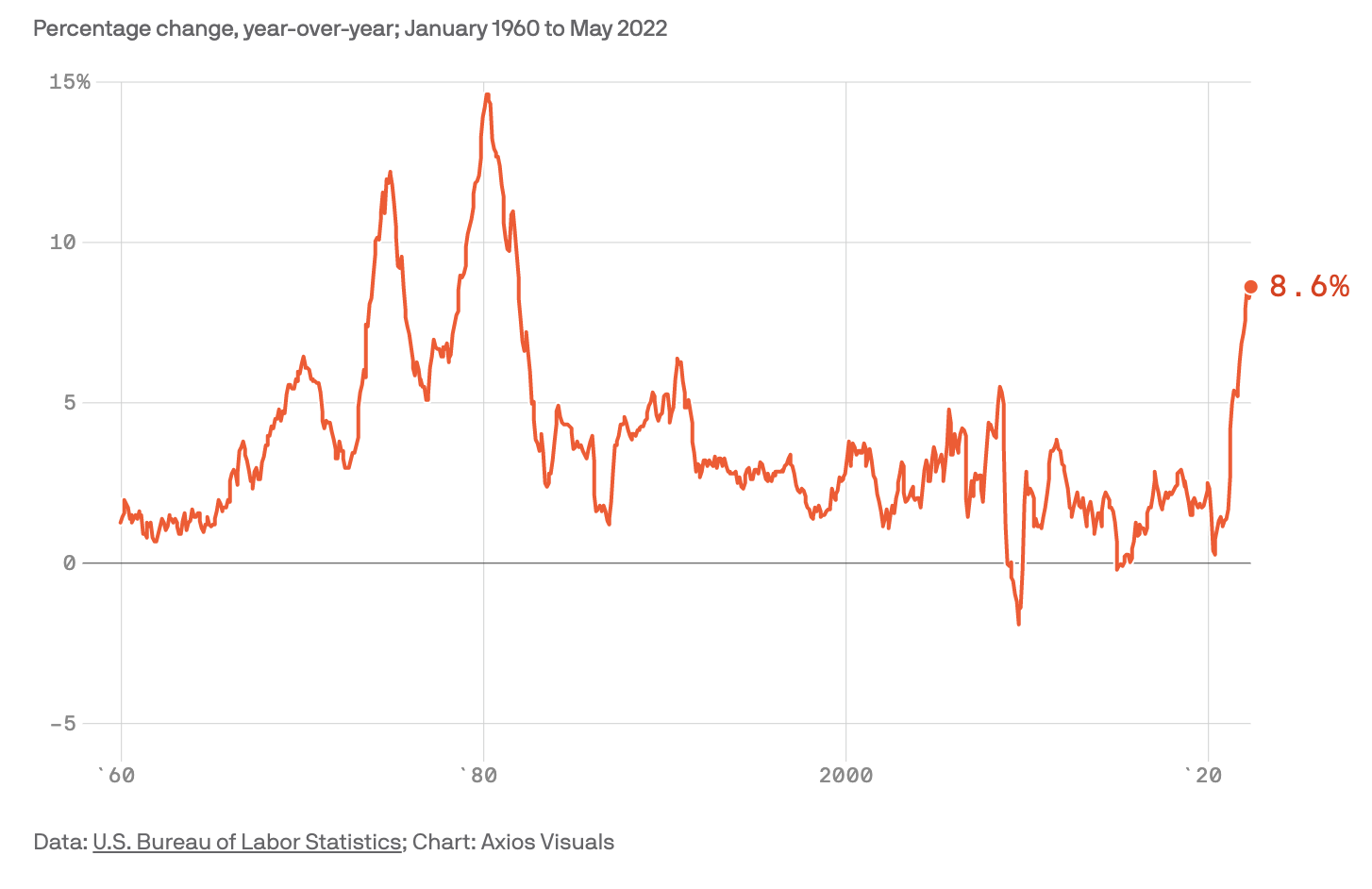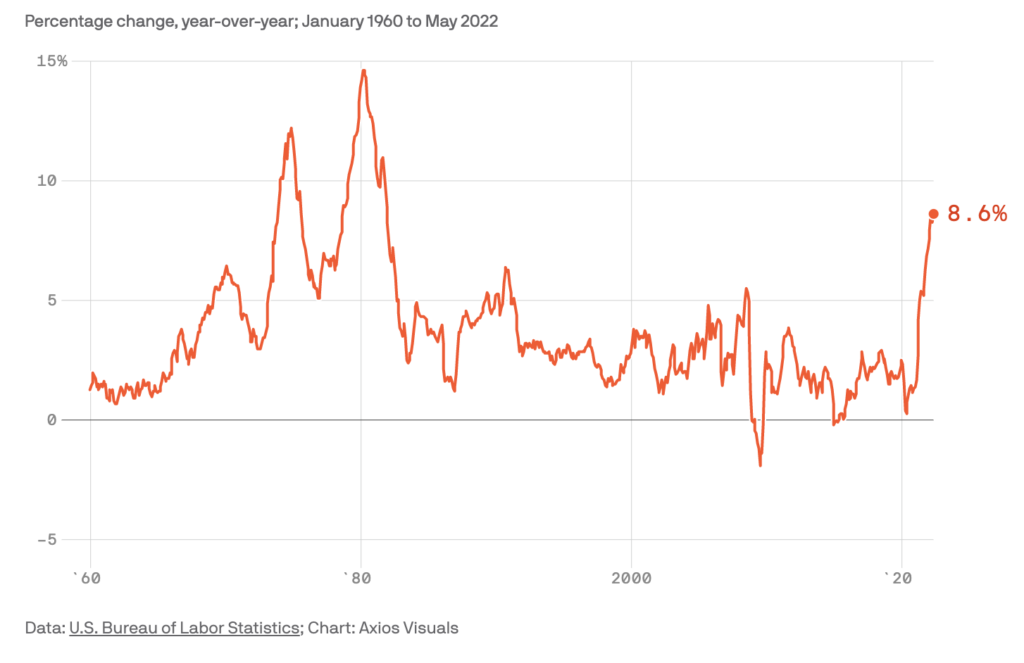 😉 Buying Eggs with Bitcoin
The St. Louis Fed shared a blog post titled Buying Eggs with Bitcoins and dismissed the digital asset due to its volatility saying, 
The (BTC) price fluctuates quite a bit which is much more than it did for the U.S. dollar price. Plus, you'd need to add a bitcoin transaction fee…
It's a fair argument, but, if you zoom out, the two charts have a different look.  
Here's the avg price per dozen eggs in USD (top) and BTC (bottom) since 2015.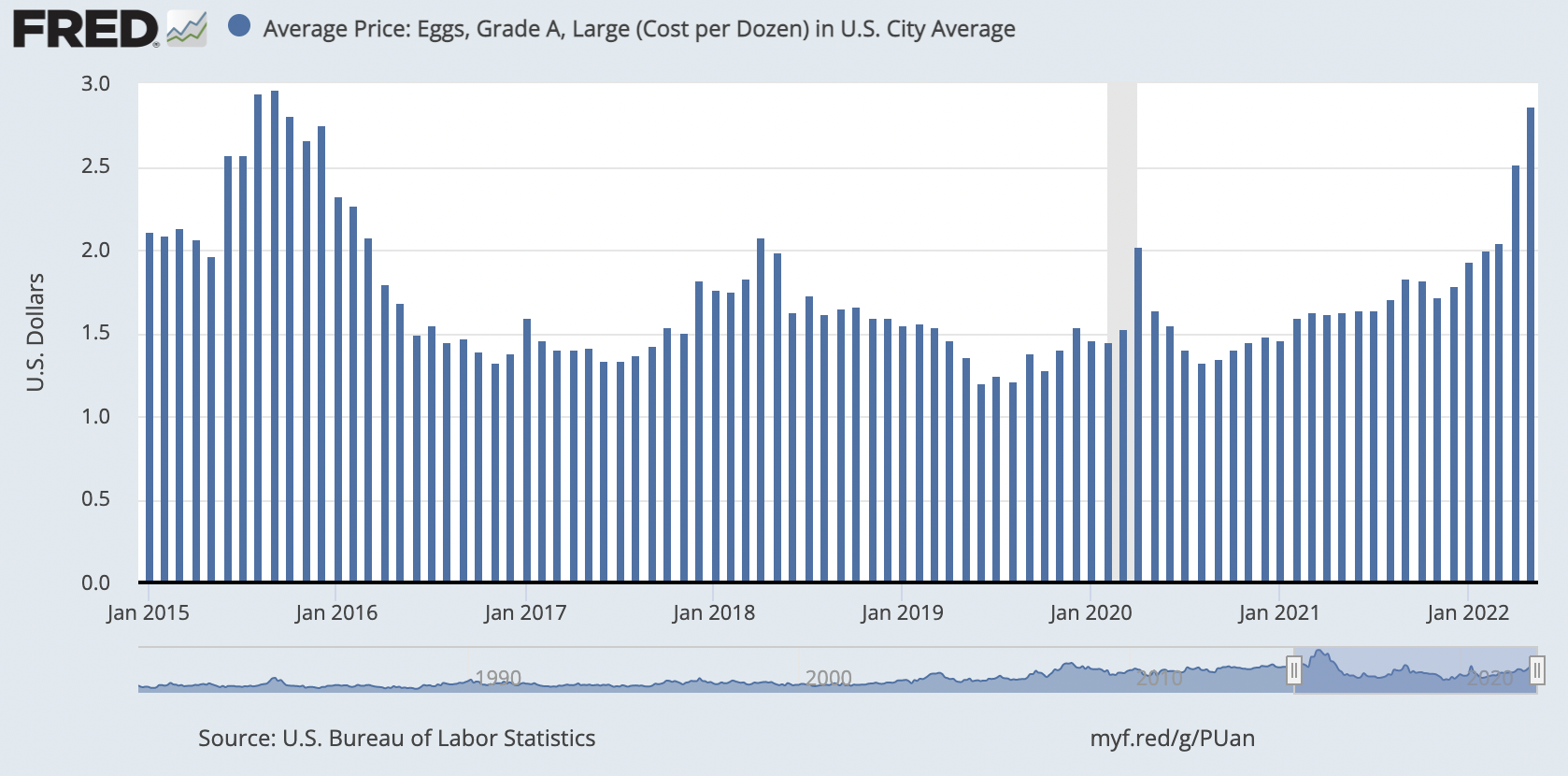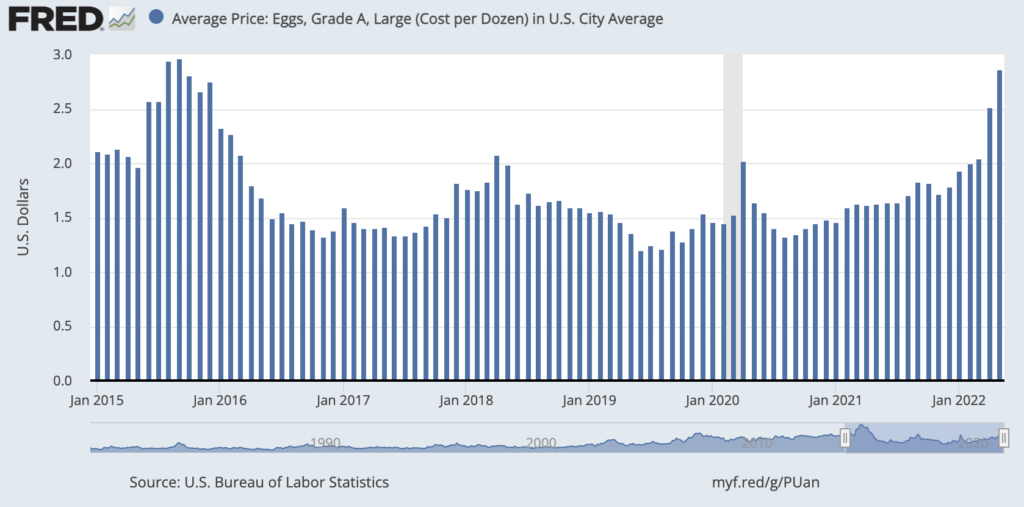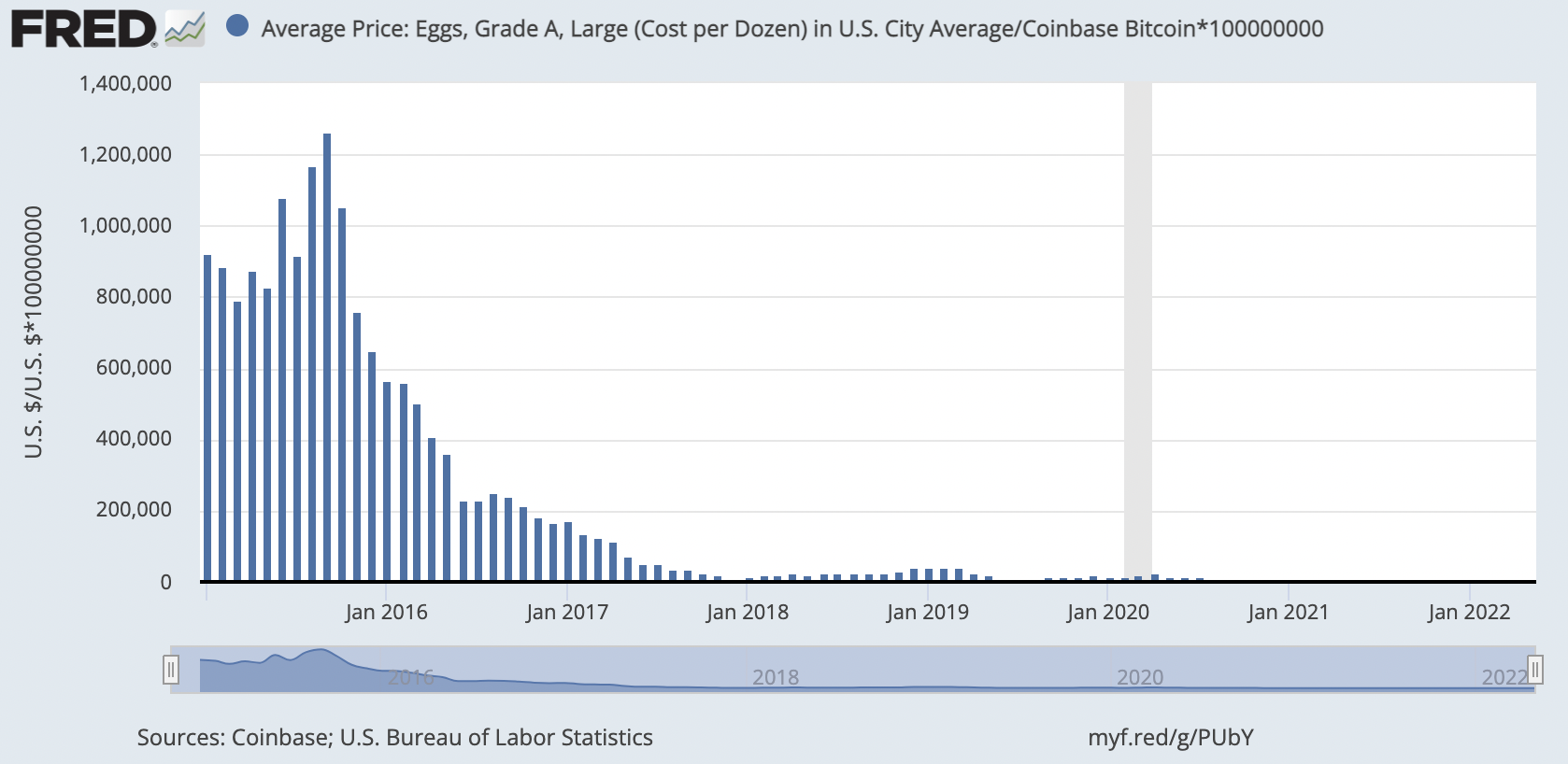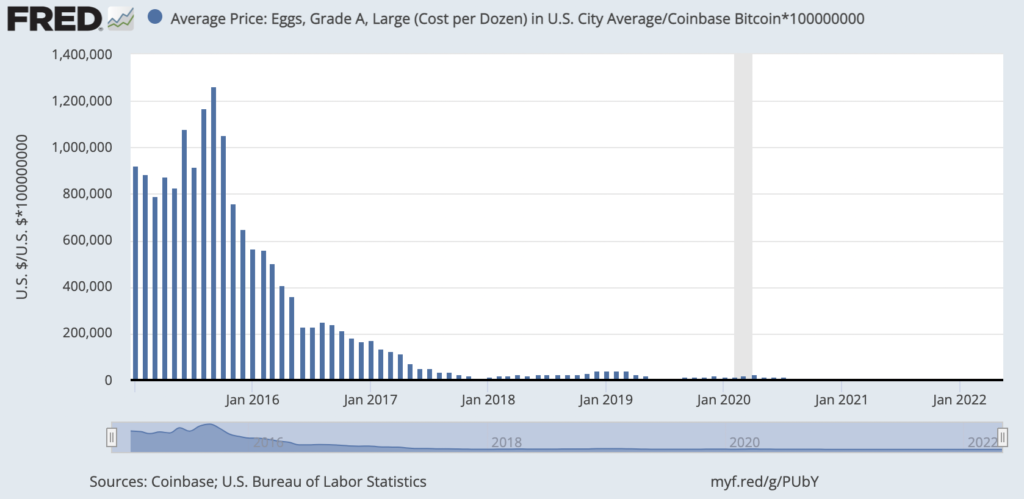 👏 ETH's Ropsten Completes Test Merge
On Wednesday, Ethereum's Ropsten Test Network successfully merged its proof-of-work layer with a proof-of-stake consensus chain. 
The Ropsten merge is one of many tests before the main Ethereum network is slated to merge. 
CoinDesk writes, 
The Merge is a long-awaited milestone in Ethereum's journey toward a new proof-of-stake (PoS) consensus mechanism… 

The complexity of such a change to Ethereum's code requires multiple tests on various testnets.
Ethereum is expected to conduct additional test merges in the coming months. 
⛓ Mint n Sell on Salesforce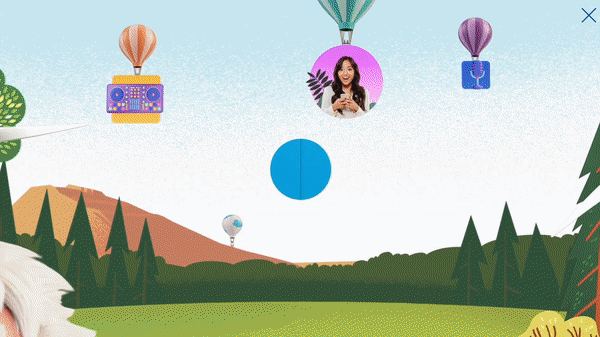 This week Salesforce introduced NFT Cloud, a secure and sustainable NFT platform. 
Users can now effortlessly build web3 relationships with their clients. 
The company shared a blog post, Why your brand needs a Web3 Strategy, and states, 
There's not one business that's not going to be affected by it. Just like the web, just like mobile.
And here's TechCrunch with additional coverage. 
🟠 Bitcoin in Bed-Stuy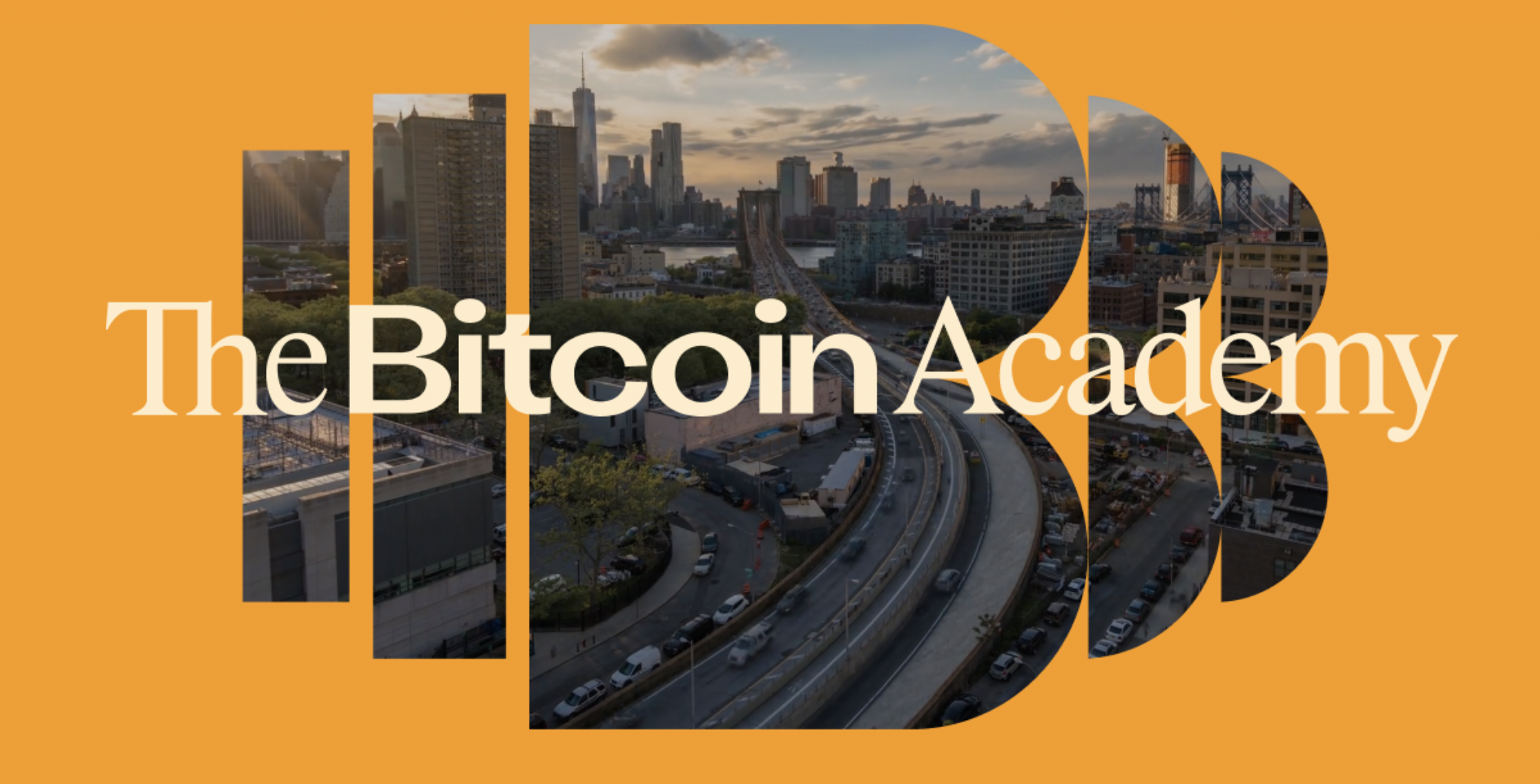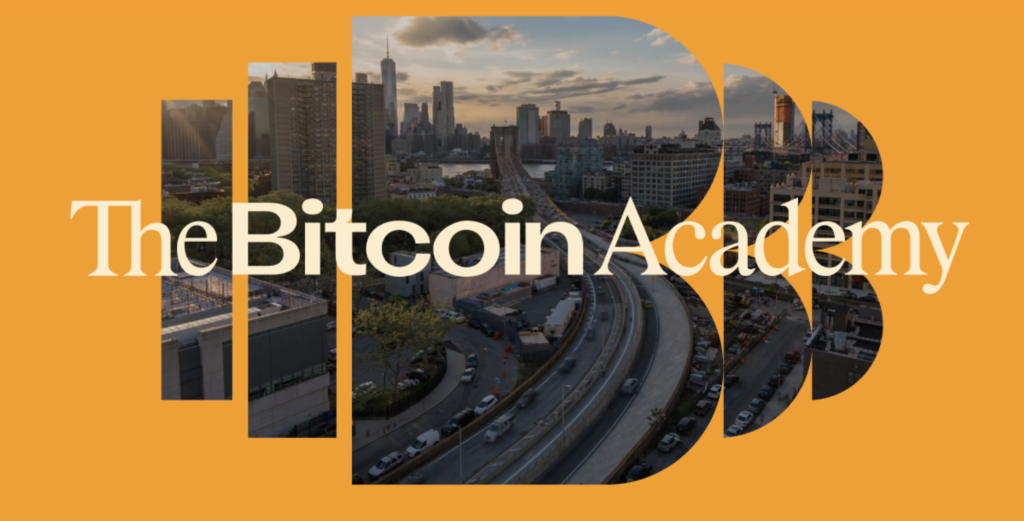 Jack Dorsey and Jay-Z partnered to fund The Bitcoin Academy, a bitcoin education program enabling individuals greater independence. 
The Academy will provide more than just bitcoin education… Dorsey tweets, 
Education is where we start. This isn't just about bitcoin… it's about long-term thinking, local economies, and self-confidence.
Residents of Marcy Houses in Bed-Stuy, Brooklyn, NY, Jay-Z's native roots, are eligible to receive free classes and access to devices and data plans if needed.
We love to see it. Check out the official website here.
🕔 Time For Web5…?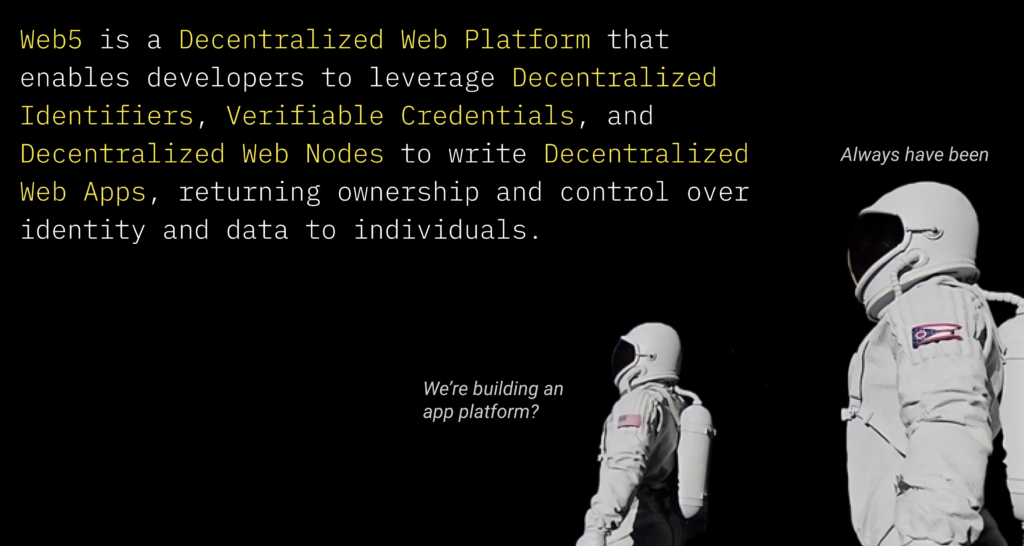 Jack Dorsey also made headlines on Friday when his digital brand, TBD, unveiled its plans to develop a decentralized web platform dubbed, Web5.
We know — they skipped Web4. 
See the Google Slides with project details here. 
5️⃣ Deloitte Looks Five Years Out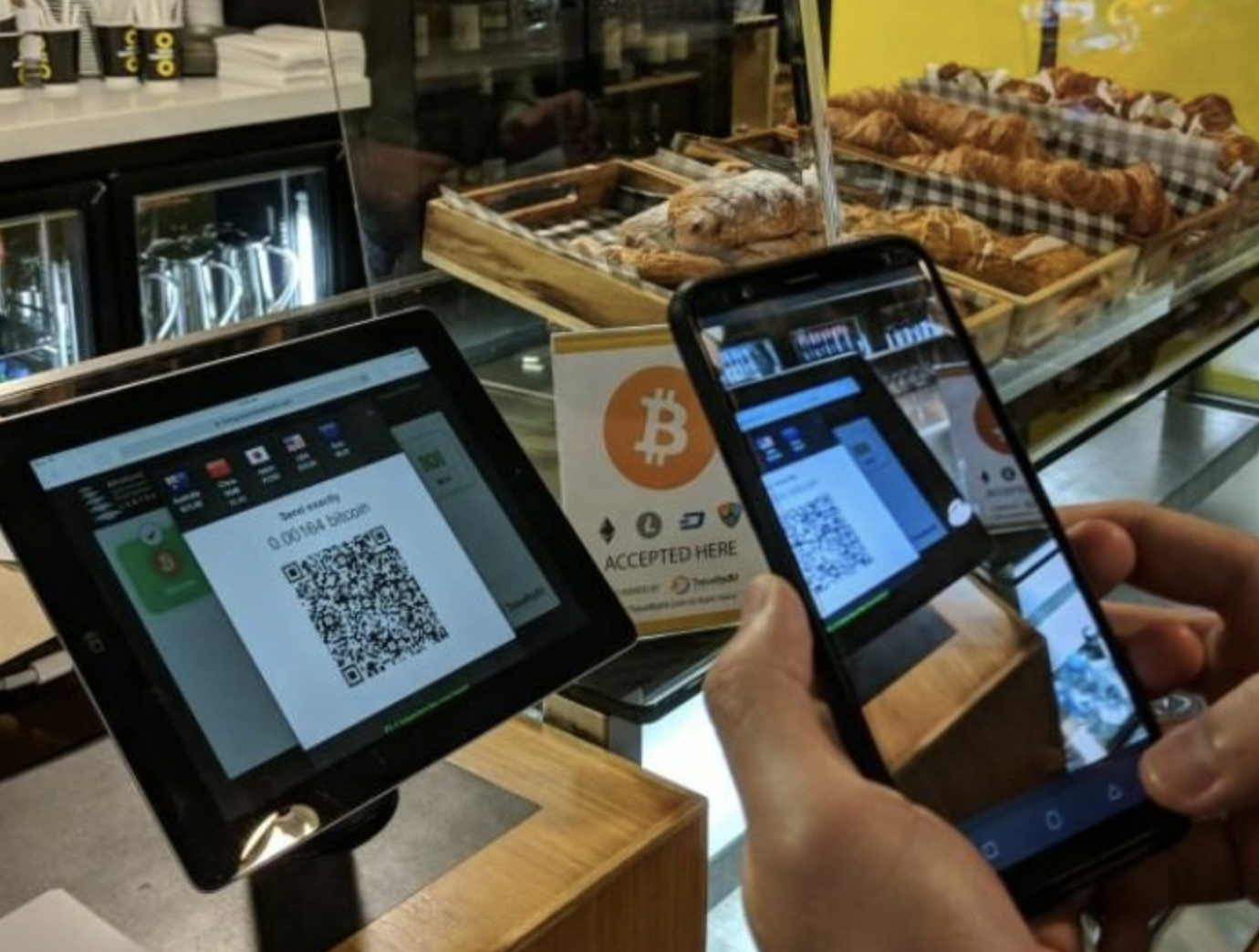 Deloitte and PayPal joined forces in a survey asking retail executives about crypto payments. 
The survey asked 2,000 executives in industries including, cosmetics, digital goods, electronics, fashion, food & beverage, home/garden, hospitality, leisure, and transportation.
85% of respondents expect digital currency payments to be ubiquitous in the next 5 years. 
75% of respondents shared that they have plans to accept crypto payments in the next 2 years. 
Our survey confirms the direction and strength of the trajectory toward broad adoption of digital currency payment solutions across US retail organizations. Respondents understand the value and benefits of such capability and have taken steps toward enablement.
🌄 A Mediterranean Mountain House 
Check out this Mediterranean mountain house. What a view.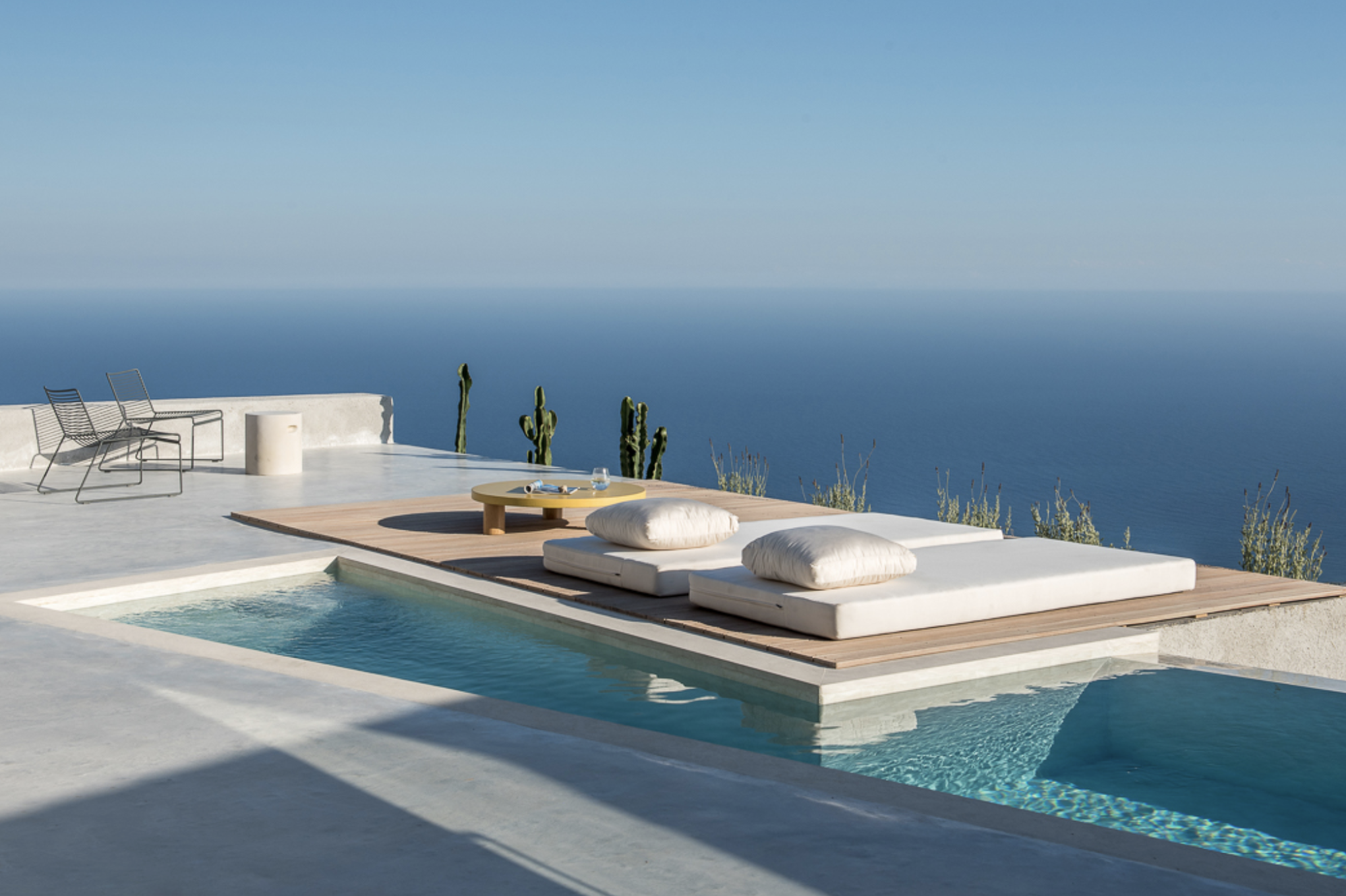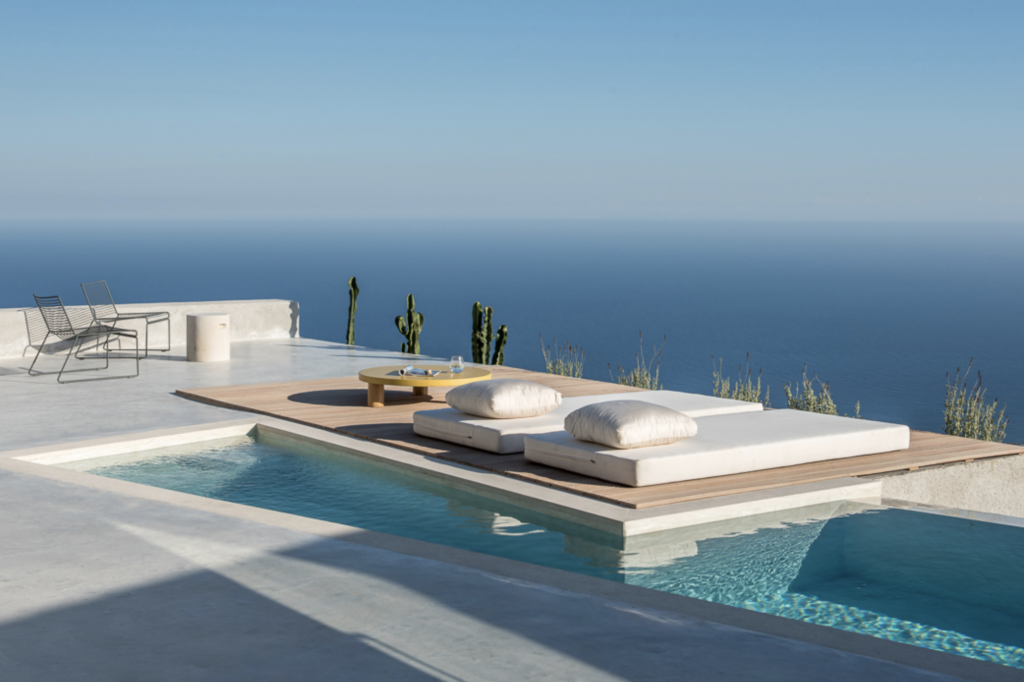 📰 Stories You Might Have Missed
Has JPMorgan Become Bitcoin's Best Friend?
Lessons for Crypto from The Gilded Age — Investor Amnesia
White House office report on crypto mining expected in August: Bloomberg
Jack Ma's Ant Group launches digital bank in Singapore
Mastercard Adds The Sandbox, Nifty Gateway, Mintable to 'Simple' NFT Purchase Scheme
Press Release: PayPal Users Can Now Transfer, Send, and Receive Bitcoin, Ethereum, Bitcoin Cash, and Litecoin
Budweiser's Clydesdales Zoom Into Ethereum NFT Racing Game Zed Run
The Sandbox Publisher Animoca Brands' Reports $5B in Crypto, Cash Reserves
Never Buy New Lows, Never Short New Highs | TCAF 39
Learn Solana NFTs With Magic Eden
Bitcoin Miners Will See 29% Rate Hike on Hydroelectric Power in Washington
Solana NFT Platform Fractal Aims to Simplify Web3 Gaming With Google Sign-In
Digital asset bank Custodia is suing the Federal Reserve over an application delay
Solana sets up $100 million fund for Korean crypto startups
A Billion-Dollar Crypto Gaming Startup Promised Riches and Delivered Disaster 
Nigerian Bourse to Adopt Blockchain for Settling Trades by 2023 
'Stranger Things' Netflix NFTs Face Fan Backlash
Citadel Securities, Virtu Build Crypto Plan With Brokerages
Optimism exploiter claims willingness to return 18 million OP tokens
Blockchain.com to offer '.blockchain' domain names to users
Epic Games Store's First NFT Game Is Gala's Wild West Shooter GRIT
BlockFi is raising a down round at $1 billion valuation: sources
Telegram says lurid Twitter claims have 'all the hallmarks of a hoax'
How extreme Texas weather impacts the bitcoin mining industry
3 Reasons Why Nuclear is Clean and Sustainable | Department of Energy.
USPS already testing mail delivery by electric bike with these neat little US-built mail bikes
Fold-up Shine Turbine offers "wind power that fits in your backpack"
Snøhetta's underwater restaurant "embraced by nature" in Norway
The World's Smartest Robot Is Living in Vancouver
Notion acquires calendar app Cron – Protocol