NBA Top Shot Was Just A Teaser
NBA Top Shot was just a teaser.
Sports and crypto have gone all in and there's no looking back.
Monday, Nike announced the acquisition of viral sneaker designer RTFKT Studios to "deliver next generation collectibles that merge culture and gaming." 
This is a move that will look definitive in the rear view mirror.
John Donahoe, President and CEO of Nike shared, 
This acquisition is another step that accelerates Nike's digital transformation and allows us to serve athletes and creators at the intersection of sport, creativity, gaming and culture. 
Sports x Crypto Continued… 
Michael Jordan jumped on board after he and his son announced their first tech venture called Heir.
Heir is a "next-generation holding company that will build culturally-inspired consumer brands rooted in tech and entertainment." 
The platform will be built on the Solana blockchain. Here's Bitcoin.com with more.
Kevin Durant's Thirty Five Ventures closed a deal with Coinbase for content and education around crypto, NFT news and creation, philanthropy, and more.
FTX partnered with the Golden State Warriors, becoming the team's official crypto platform and NFT Marketplace. 
And in case you missed it, Steph Curry broke the all-time 3-point field goals record at The Garden in NYC on December 14. 
Here's ESPN with the highlights.
Sports and crypto are a dynamic duo. 
Like Mike said, The ceiling is the roof.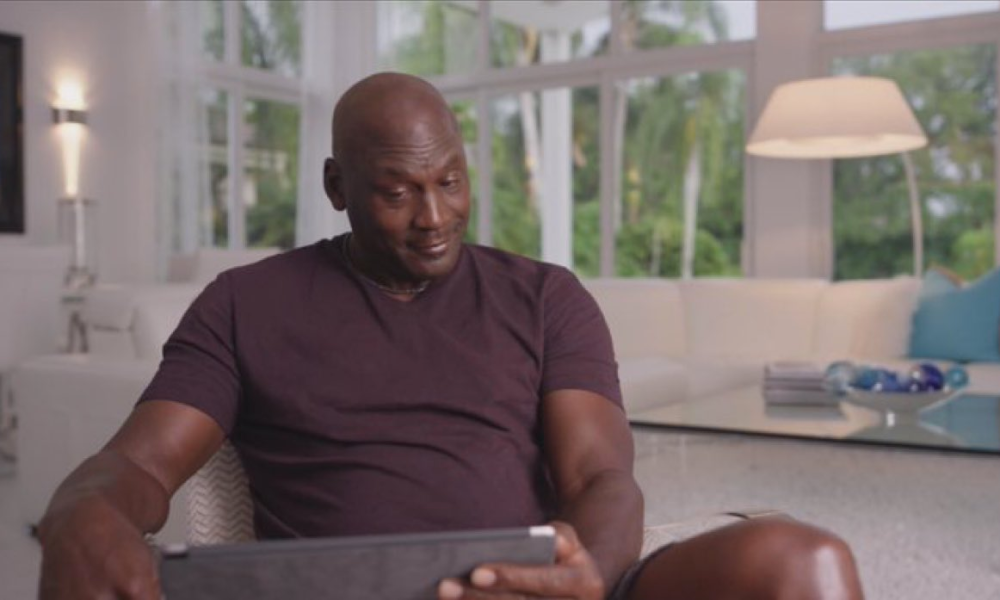 Raise The Roof
Speaking of the roof, The United States raised the debt ceiling by an additional $2.5T on Thursday to prevent the first-ever U.S. default. 
The capital is supposed to cover its obligations into 2023. 
Money printer goes brrr… and so forth.
Even More NFT News… 
Adidas Originals debuted its NFT collection on Friday. 
Here's a sneak peak —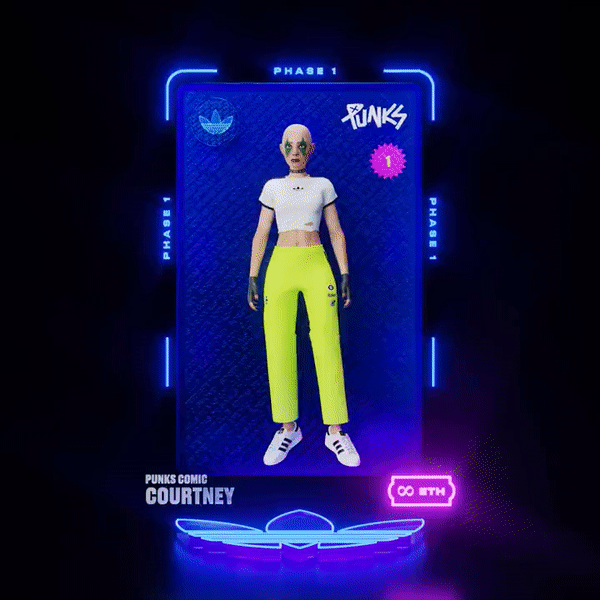 Justin Kan, co-founder of Twitch, released Fractal, a Solana-based marketplace for gaming NFTs.
Kan commented,
I believe that Solana is the future of gaming.
Here's a great write-up via TechCrunch.
And here's a curated list of resources for builders / artists hacking NFTs on Solana.
Dapper Labs helped launch a Dr. Seuss-themed NFT platform. 
Shopify now allows you to sell NFTs on its platform. Click here to join the Beta. 
Kraken plans to launch an NFT platform "in the near future."
And here's a great read via Julia Maltby, 
NFTs: The Next Killer Financial Asset
1M Followers
This week, Polkadot and Polygon's Twitter accounts surpassed 1M followers. 
It's probably nothing…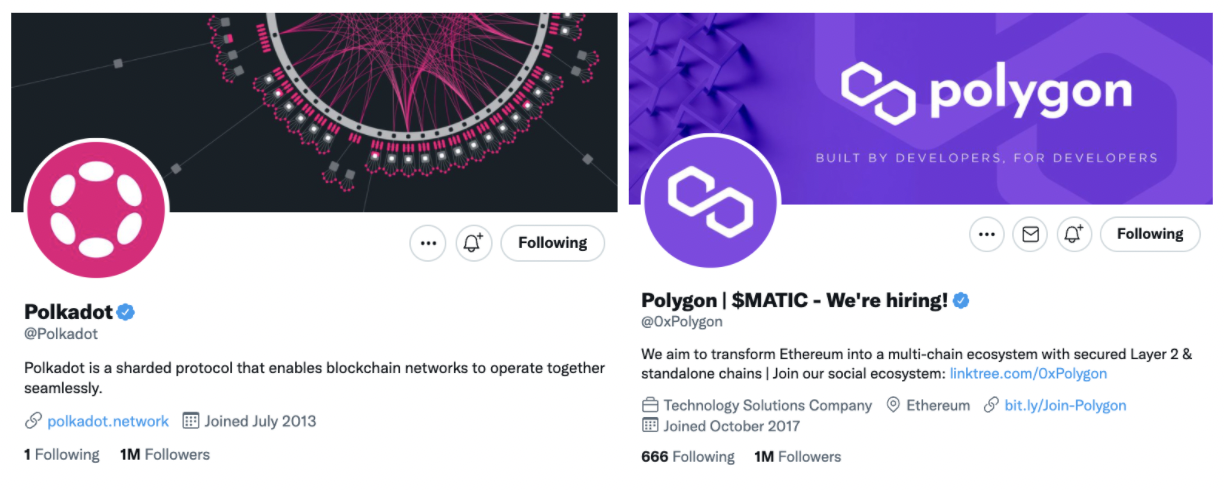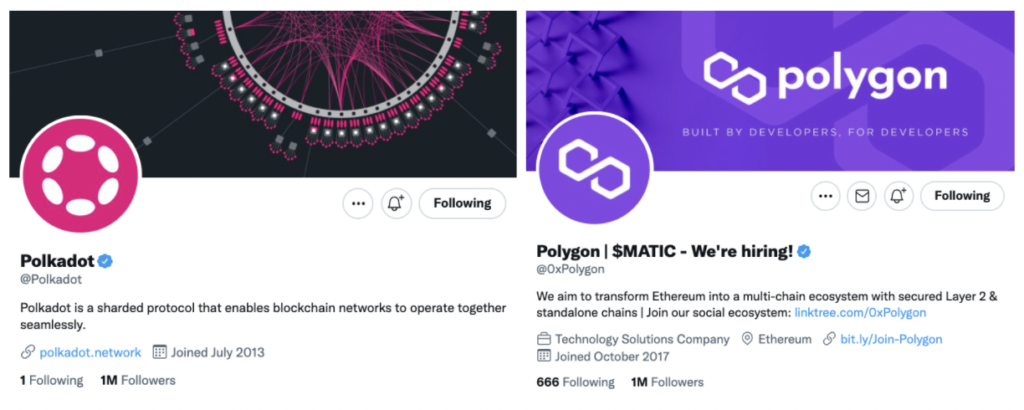 Crypto Research Reports 
As 2021 comes to a close, The Block and Messari.io shared crypto research reports looking ahead at 2022. 
Check 'em out —
Digital Asset 2022 Outlook — The Block Research 
Crypto Theses for 2022 — Messari.io 
₿itcoin Endowment 
On Wednesday, Jack Dorsey announced the board members of his Bitcoin development endowment fund in collaboration with Jay-Z.
The ₿trust fund will work on Bitcoin development initially focused in Africa and India. Check out Jack's first tweet on the matter here.
And here are the newly appointed board members — 
Carla Kirk-Cohen
Abubakar Nur Khalil
Obi Nwosu
Ojoma Ochai
We love to see it. Here's the Block with more. 
All-Time Hodlers High 
Bitcoin non-zero addresses reached a new all-time high. 
There are 39,374,638 Bitcoin addresses holding at least a little Bitcoin. 
More people own Bitcoin globally and the number continues to rise. This speaks to demand of a finite asset as well as expansion on the adoption curve.
Here's the chart via Lark Davis: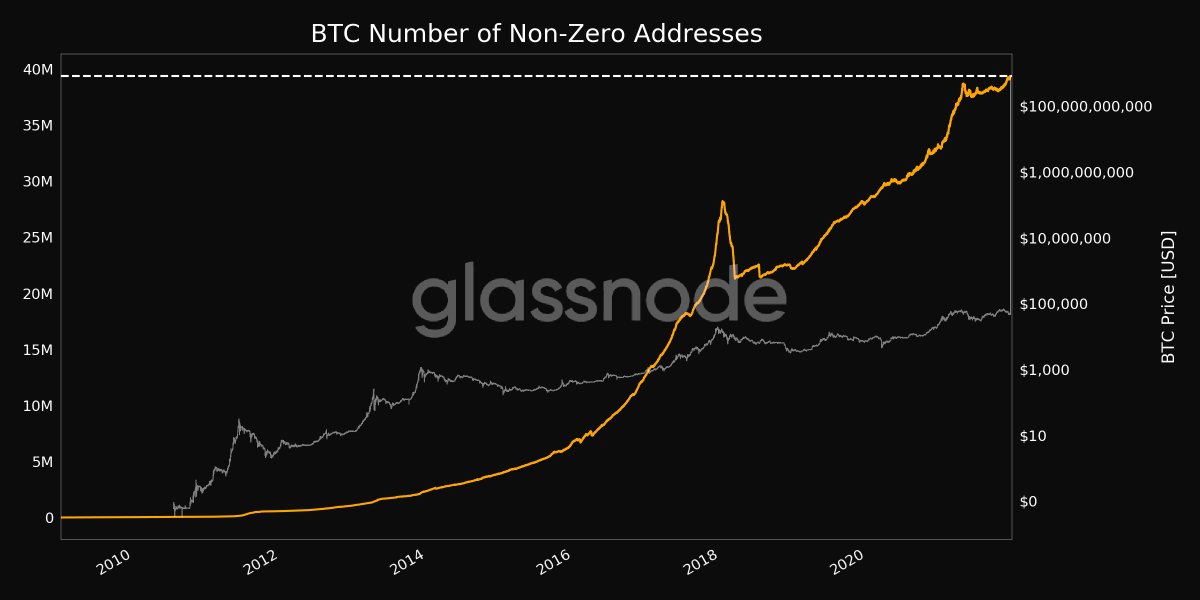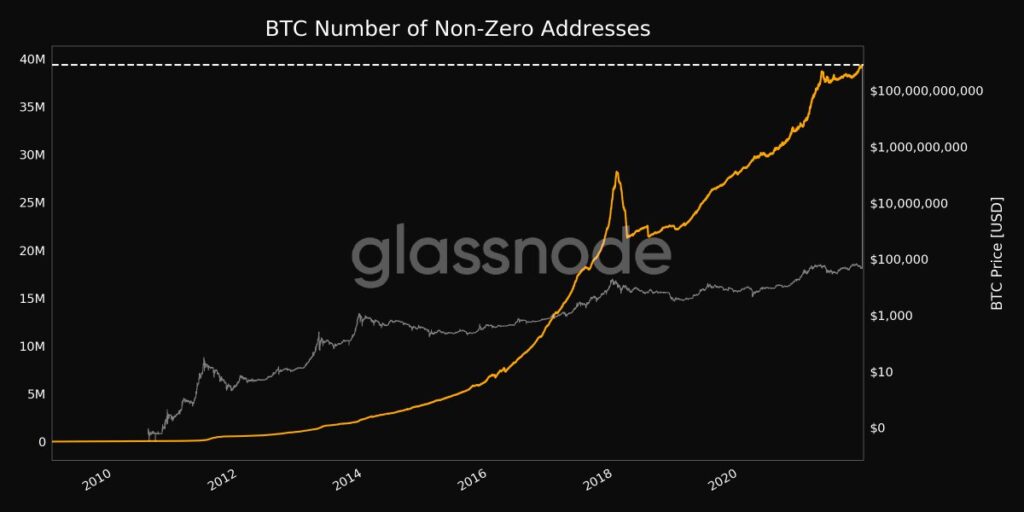 Listen to This —
Here are some great podcasts to listen to during the holiday week.
Proof provides an artist spotlight on Nicolas Sassoon. Nicolas is a Franco-Canadian artist who plays with early computer imaging processes to render visions of architecture, landscapes, and natural forces into digital animations, installations, prints, and sculptures.
The folks at Freakonomics had a fantastic episode about how The Art Market Is In Massive Disruption.
Here are a few questions they covered:
– Is art really meant to be an "asset class"?
– Will the digital revolution finally democratize a market that just keeps getting more elitist?
– And what will happen to the last painting Alice Neel ever made?
Doug Colkitt, high-frequency trader and builder of decentralized exchange, CrocSwap, joined Patrick O'Shannessy to talk about The Evolution of Markets.
Rory Sutherland and Pete Dyson talk Transport for Humans with A Load of BS (The Behavioral Science Podcast) 
The two talk about designing transport systems for humans rather than engineers. 
Happy Holidays
We're taking a holiday hiatus next week. Happy holiday's, y'all.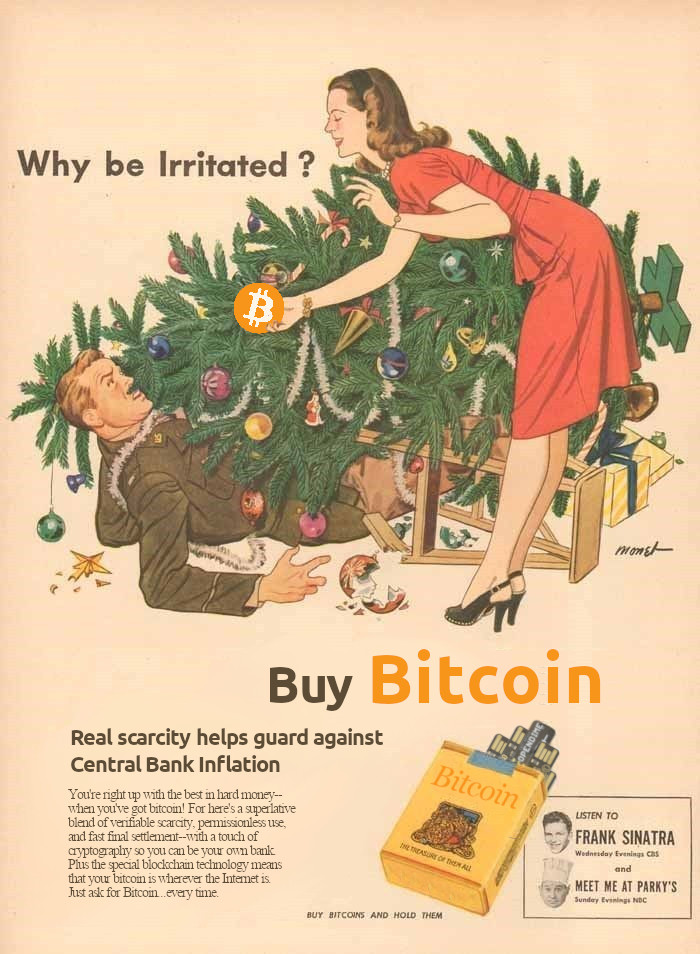 Fun In The Sun
Check out this compound on the Greek island of Paros.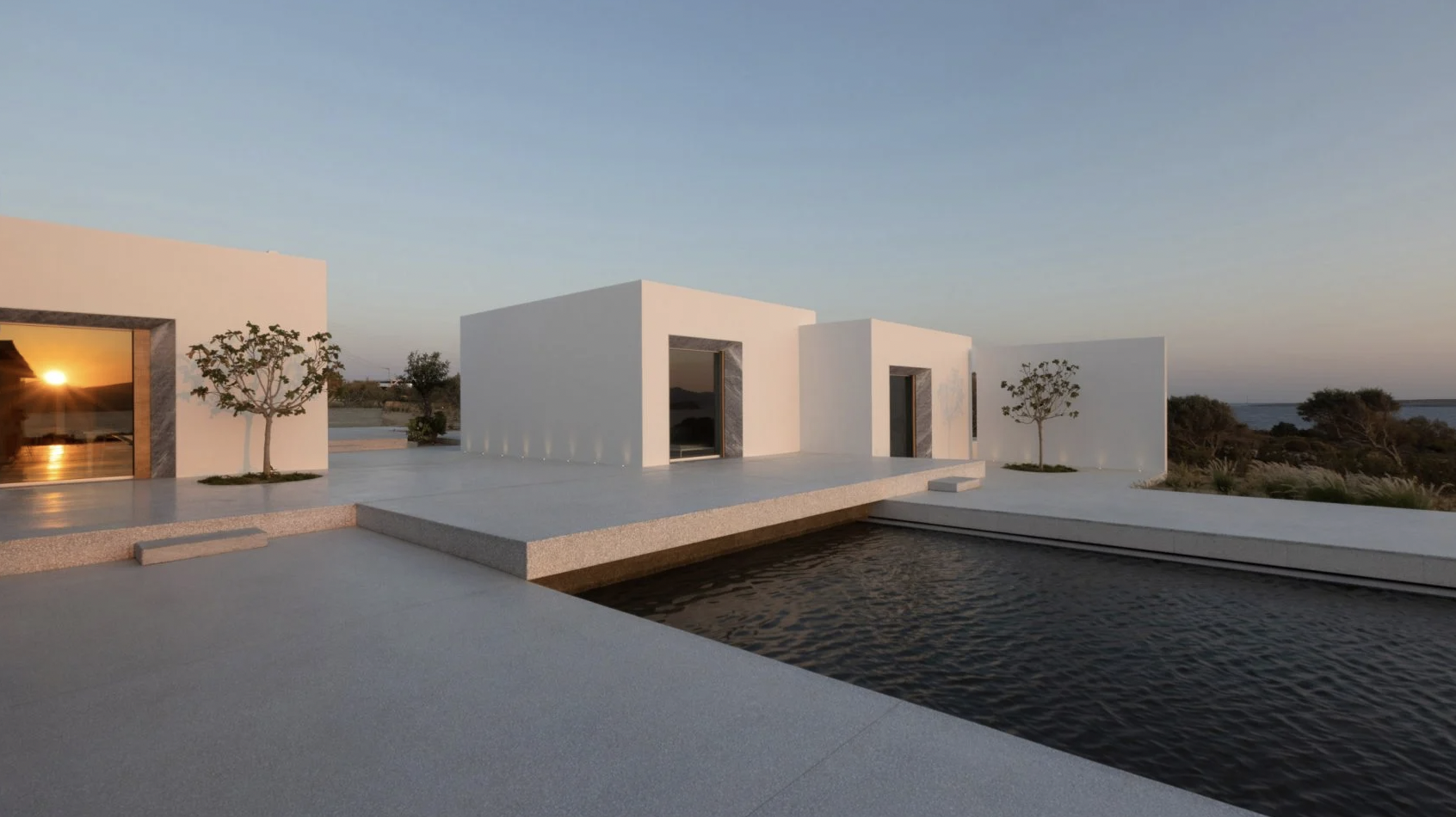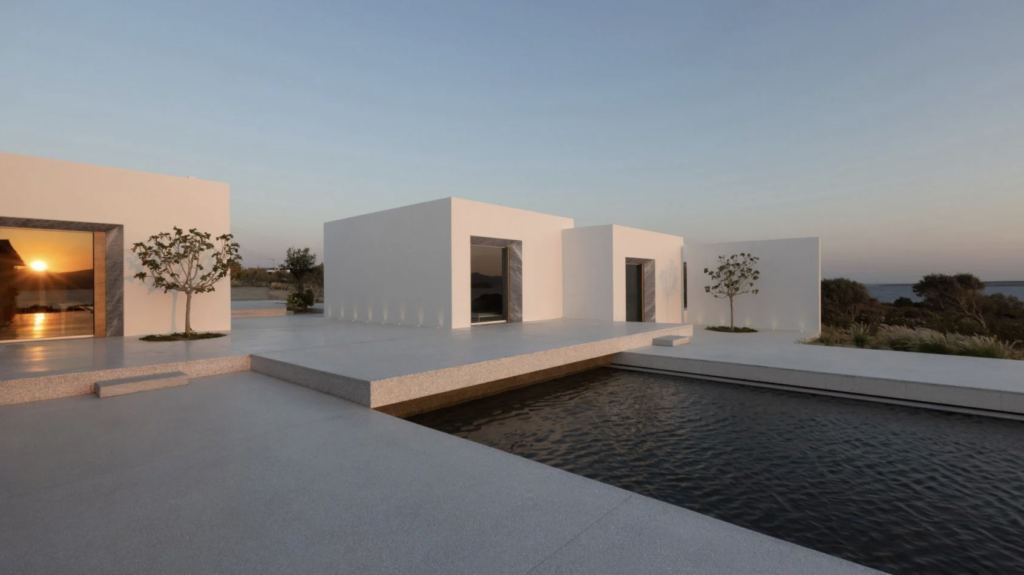 The architects placed the villa to follow the sun. How fun.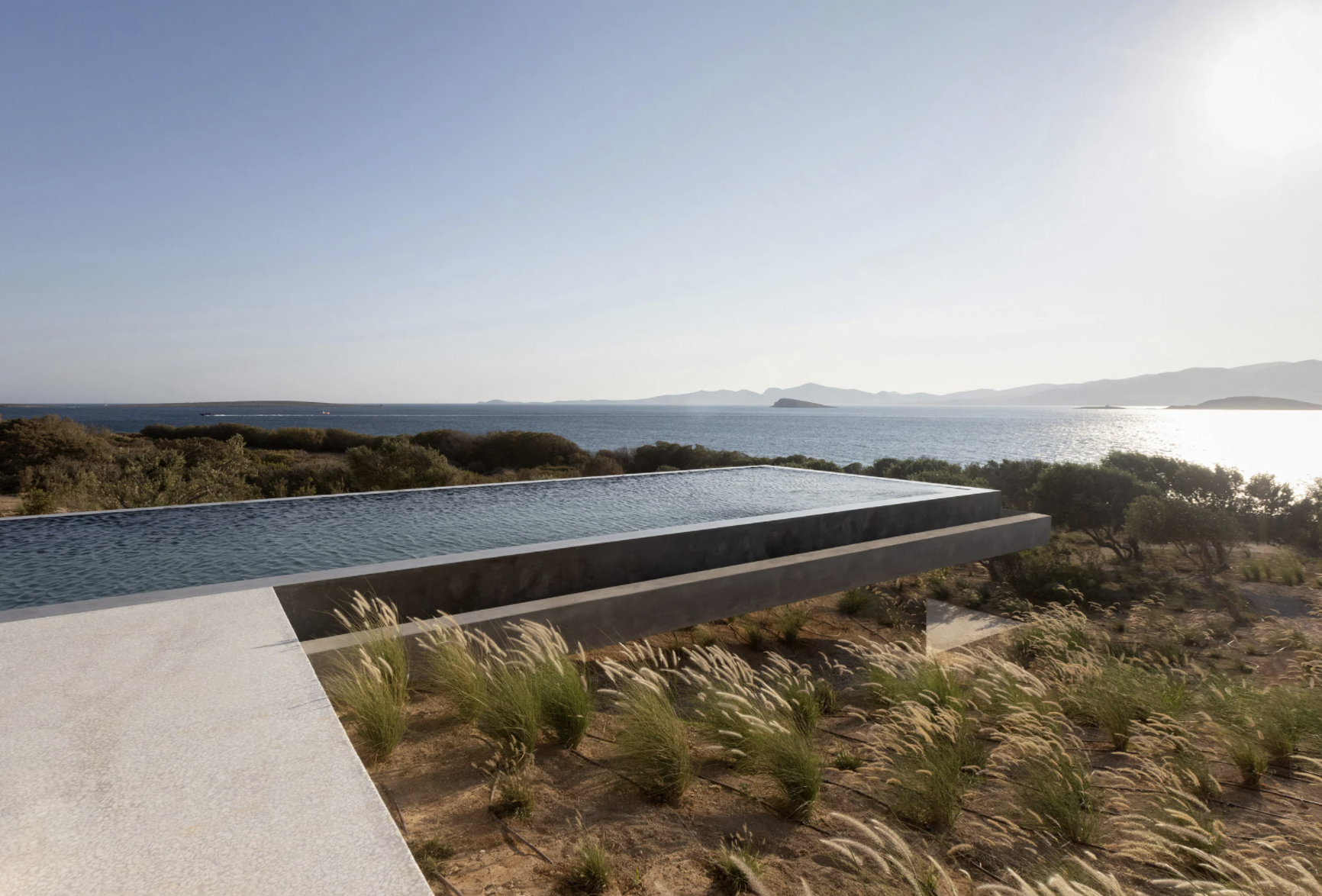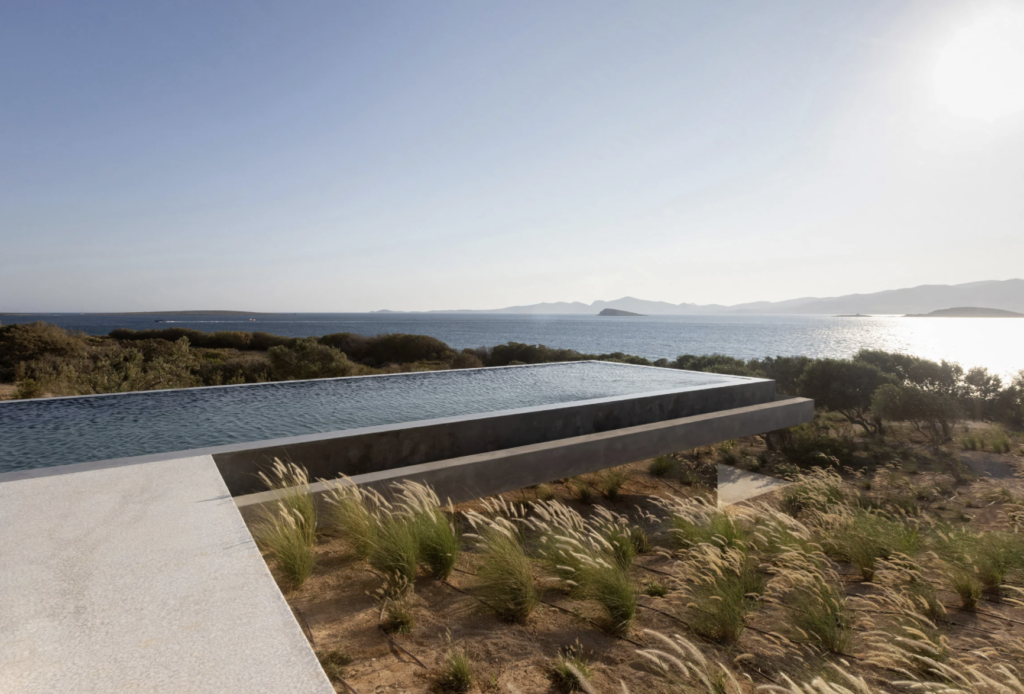 Stories You Might Have Missed
What is a Smart Contract? | Osprey Funds
The Bull/Bear Line in the Sand – Glassnode Bitcoin Onchain Analysis (Week 50, 2021)
Tyler Hobbs and the Random Power of Generative Art — DeCential
AI is learning how to create itself | MIT Technology Review
NBA Top Shot Maker Dapper Labs Commits $80M for Startup Acquisitions
Sotheby's netted $100 million from NFT sales in 2021: report
World's Money Guardians Fret Central Banks May Ruin Stocks Party – Bloomberg
Social-Media Platform Stocktwits Nabs $210 Million Valuation
Copper's Fadi Aboualfa and The Block's Larry Cermak unpack crypto markets in 2022
Institutional Custody for Digital Assets: A Primer — Commissioned by Copper
Gaming Giant Nexon America Starts Accepting Bitcoin, Ethereum For In-Game Purchases
Robinhood enables US users to gift crypto for the holidays
Tax Firm H&R Block Files Lawsuit Against Square's Rebrand – Decrypt
Nexo Will Soon Let Users Borrow Cash Against CryptoPunks, Bored Apes NFTs – Decrypt
Roman Coppola's Decentralized Pictures Is Shaking Up the Film Industry with Crypto – Decrypt
Birkin Handbag Creator Hermès Calls MetaBirkin NFTs Trademark Infringement – Decrypt
Gaming, Esports Stars Join Ethereum Game Ember Sword After $203M Metaverse Land Sale – Decrypt
The Parachain Advantage: Exploring Polkadot's Next-Generation Model
Kelly Wearstler creates modernist Gingerbread Dreamhouse
New study suggests that investing in LEGOs is more profitable than gold
Es Devlin creates labyrinth in Miami to celebrate 100 years of Chanel No.5
Russia Accelerating CBDC Efforts as US, EU Ponder SWIFT Ban of Russian Banks – Blockworks
General Catalyst leads $7M investment in AR startup selling NFT jetpacks | TechCrunch
Best Houses of 2021 | ArchDaily
After 15 Years of Infighting, James Brown's Estate Is Sold – The New York Times
Teenager Eileen Gu stomps first ever double cork 1440 at Steamboat Freeski Big Air | NBC Sports
An inside look at Michael Jordan's new course, The Grove XXIII
MVRDV creates jade-coloured Bulgari storefront from champagne bottles
Toyota offers a glimpse into their upcoming electric cars
Brian eno develops limited run of color-changing LED turntables
The hyundai MobED is a four-wheeled droid that can carry virtually anything