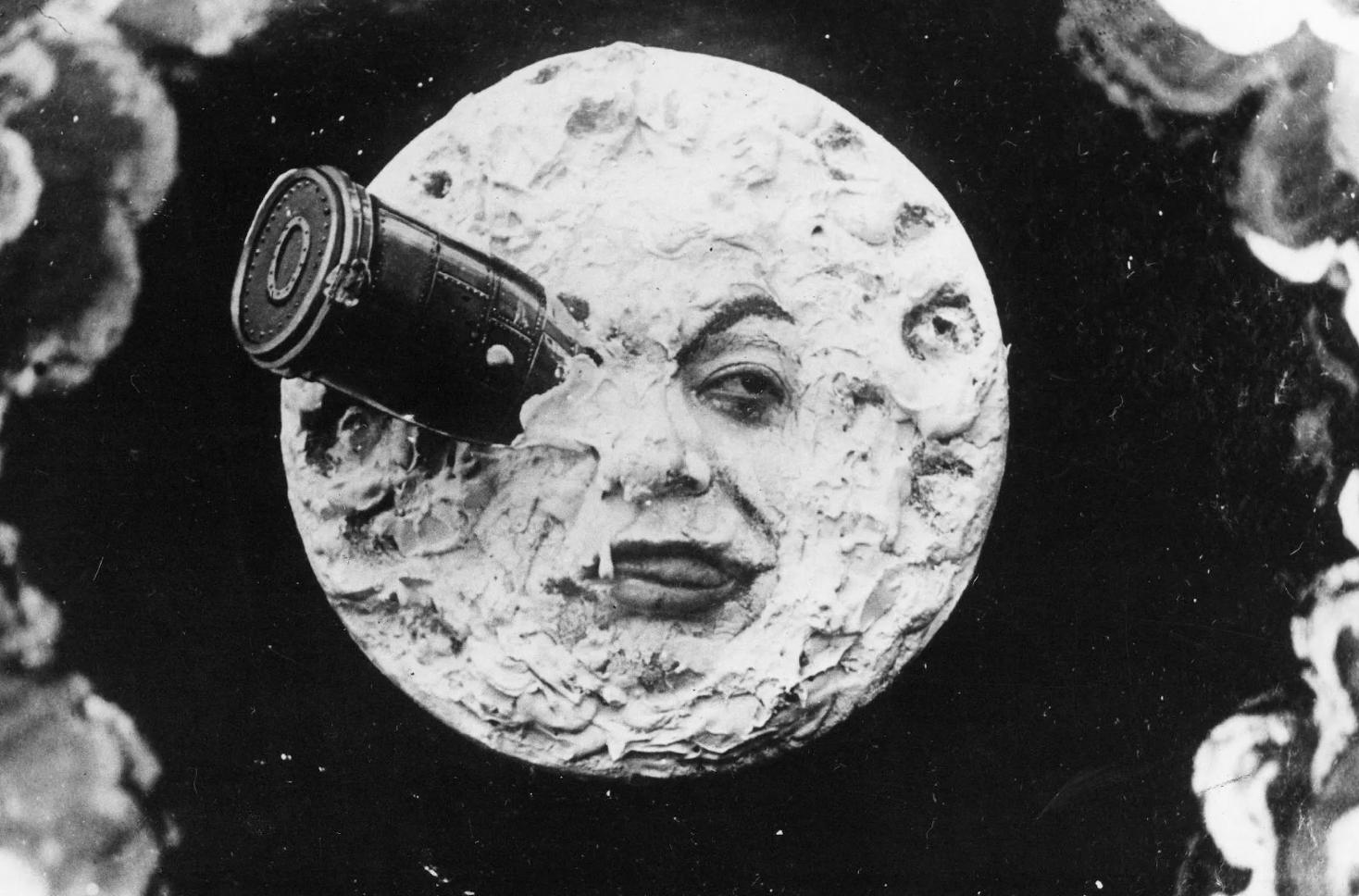 Luna, the token connected to the Terra algorithmic stablecoin, crashed from $80 ten days ago to 0. 
Louis Sykes from All Star Charts summarized, 
…the collapse in the Terra ecosystem will go down as some of the most wide-reaching, systemic stress the asset class has endured.
This Luna crash occurred amid a broader bout of selling across the crypto universe as well as traditional assets like stocks, which have fallen 18% year-to-date (S&P 500). 
There are all kinds of theories being bandied regarding what happened. We will leave such gossip to others. It will be the coming weeks and months where we gauge lasting effects, implications, and what really happened. We'll wait for the Netflix docuseries.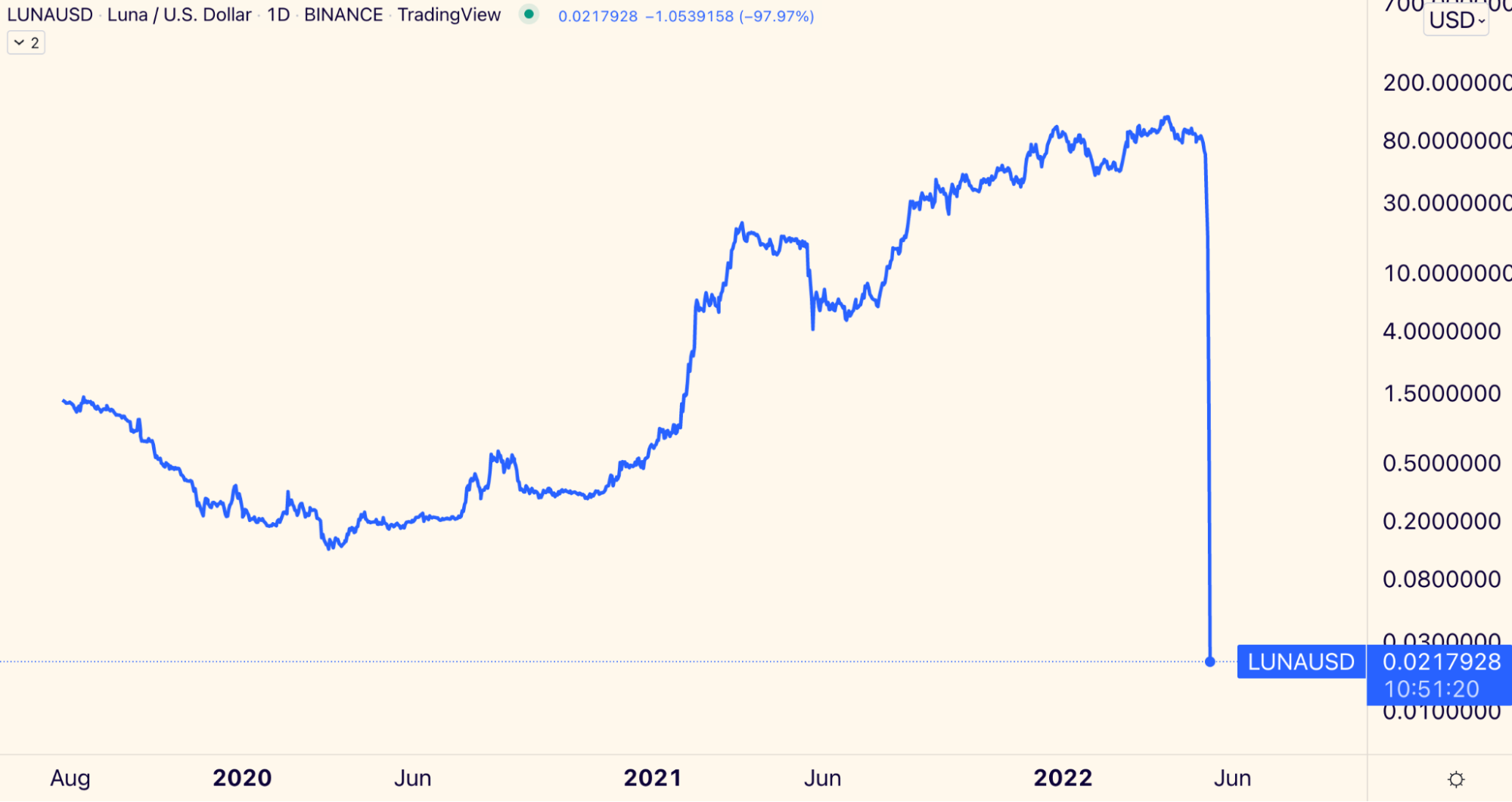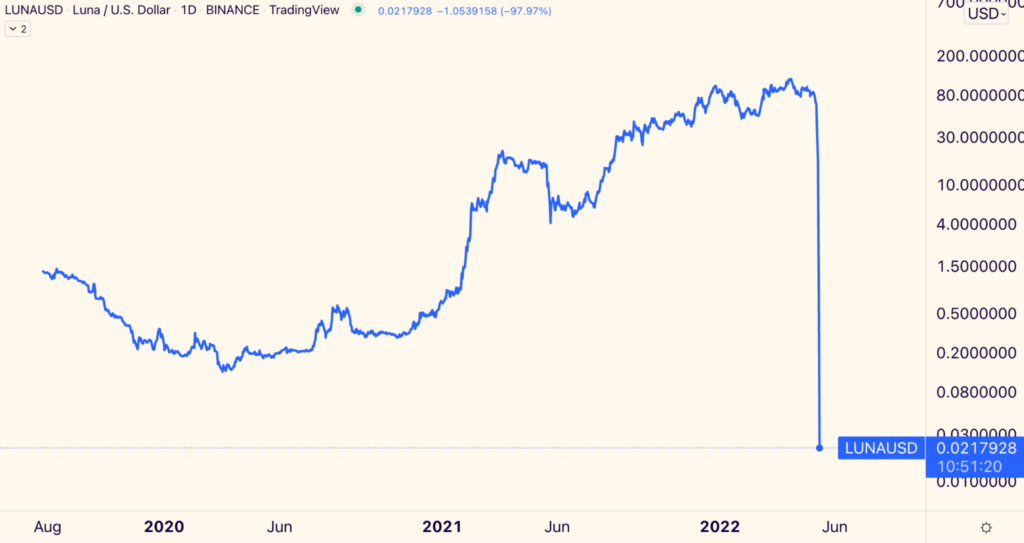 This week's events might serve as the spark for wide-spread crypto regulation. 
Reuters reports, 
The collapse of so-called 'stablecoin' TerraUSD saw the chairman of the Senate Banking Committee on Wednesday urge U.S. lawmakers to toughen up crypto regulations.
Tether De-Pegs For a Minute
Another and larger stablecoin, Tether, briefly traded below one dollar before recovering promptly.
Here's a visualization of the price action via Bloomberg's Joe Weisenthal.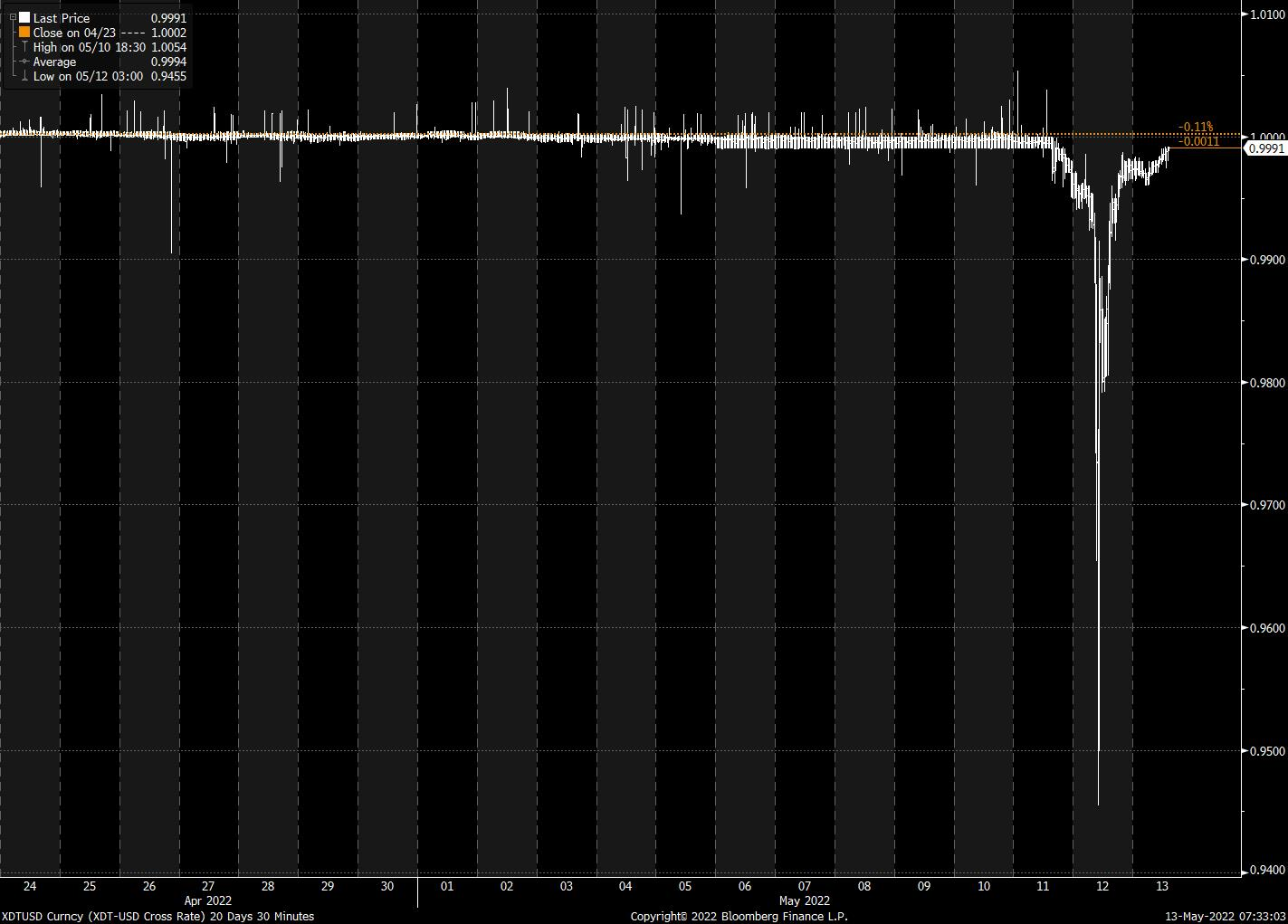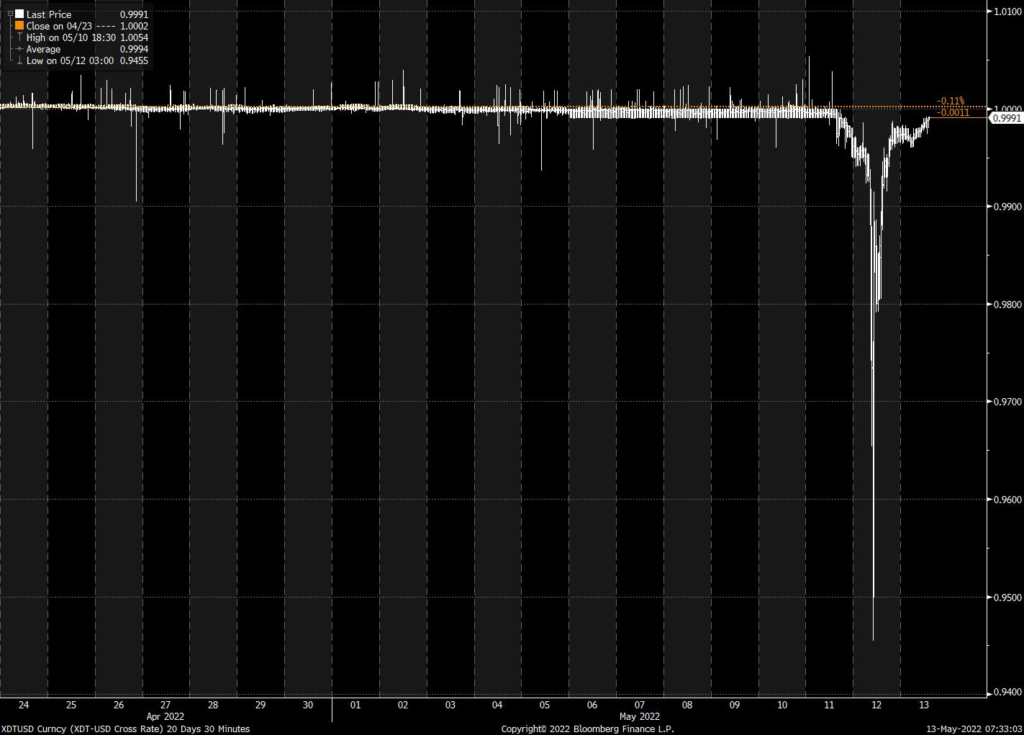 Tether CTO took to Twitter Spaces to defend the token and explain why it is more resilient than Luna. You can listen here.
Lightspark Looks To Ignite Lightning
David Marcus, former head of Meta's crypto and digital finance operations is building a new venture to help companies, developers, and merchants transact on the Lightning network.
A16z, Paradigm, Coatue, and Matric Partners are among investors, but capital raised and valuation were not disclosed. 
The new company, dubbed Lightspark, shared, 
Downturns are good moments to focus on the work and create value with mission-aligned people. We're excited to dive deeper, learn more about the Lightning Network, and to work alongside the community. We'll share more about our work as we make progress.
Inflation Ticks 8.3% 
On Wednesday, the US Bureau of Labor Statistics posted April's Consumer Price Index. 
The CPI increased 8.3% YoY, just off the 40 year high March high reading of 8.5%. 
Here's the wild chart via NYT.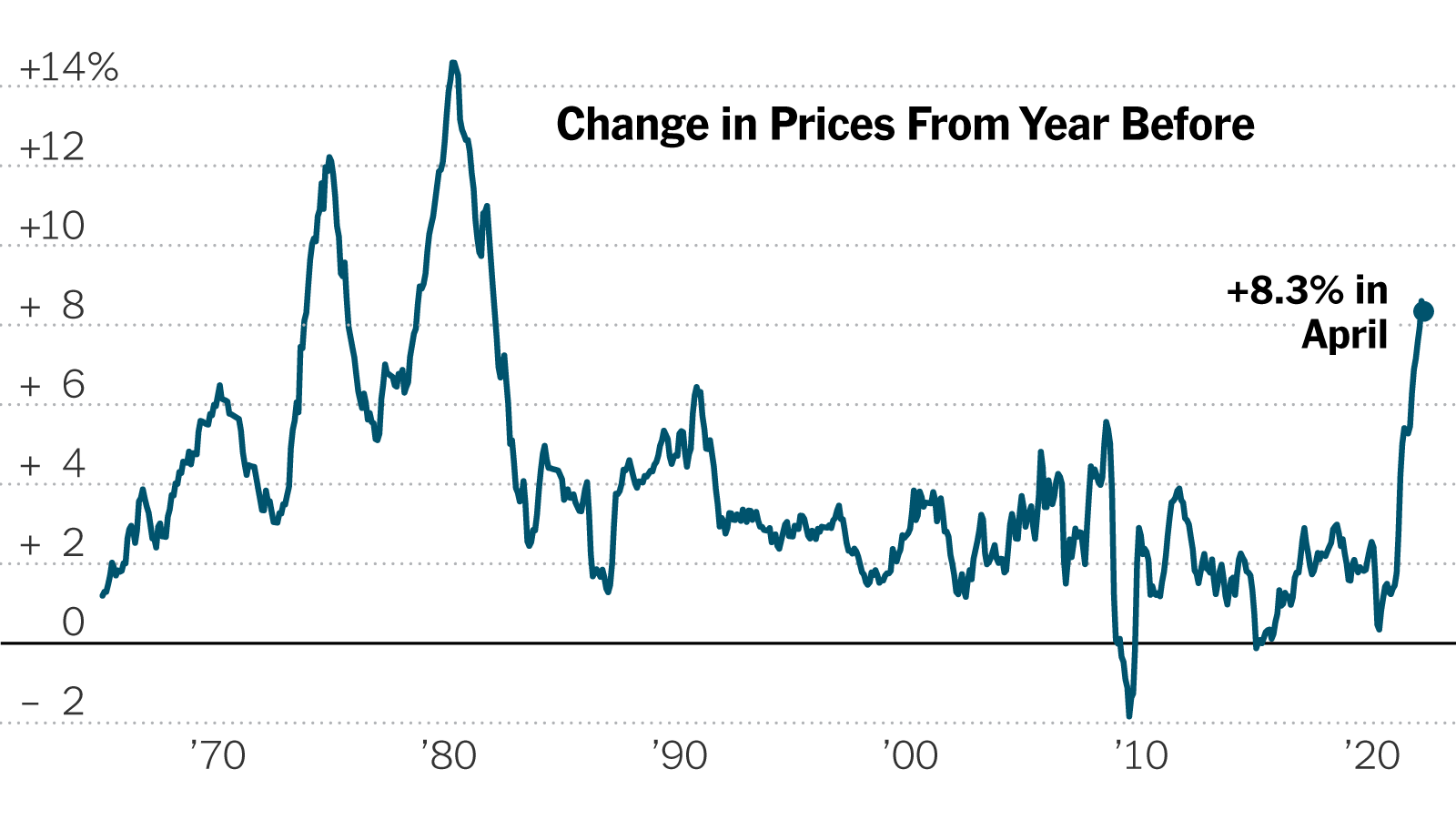 Meta Brings NFTs to IG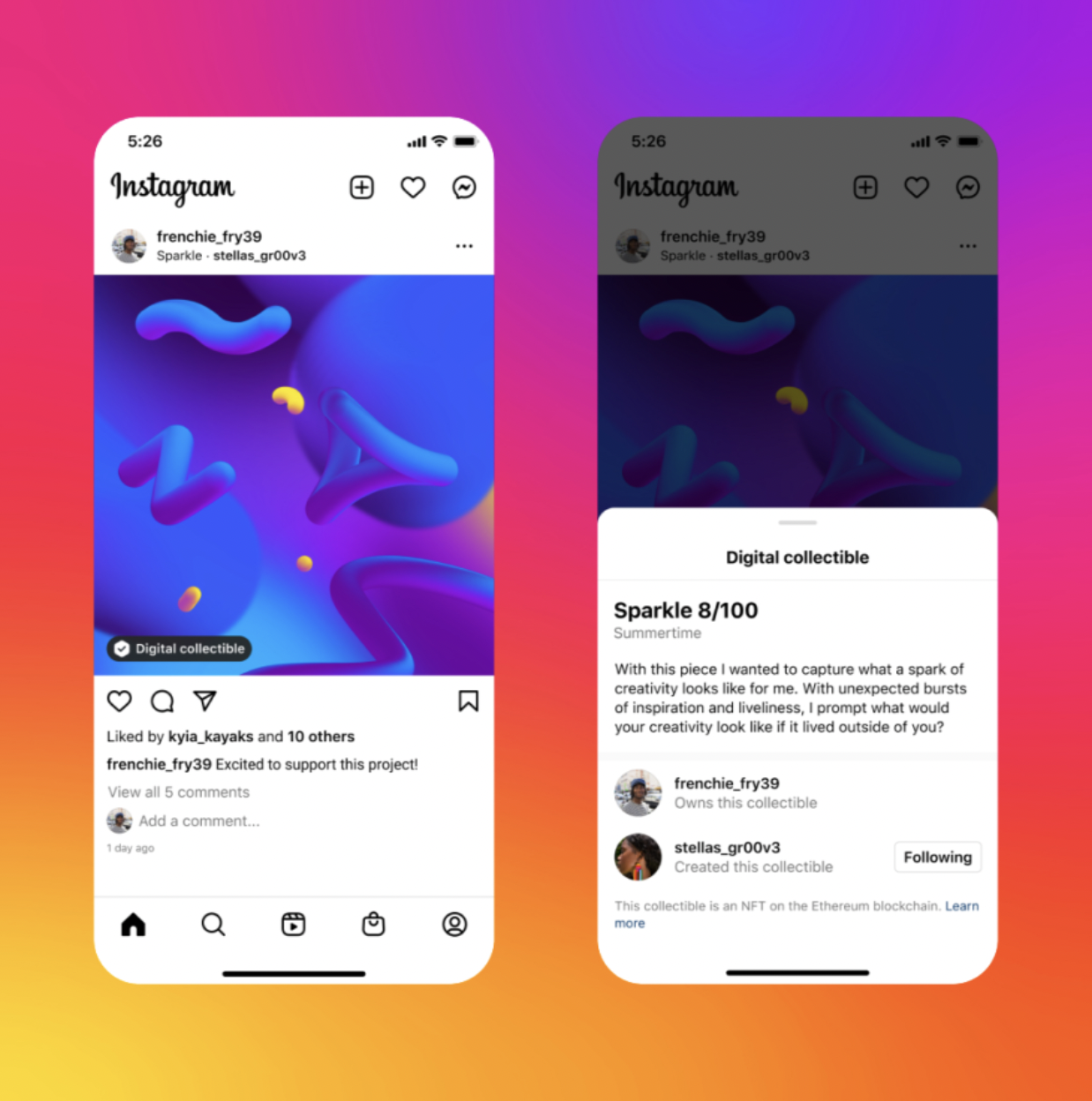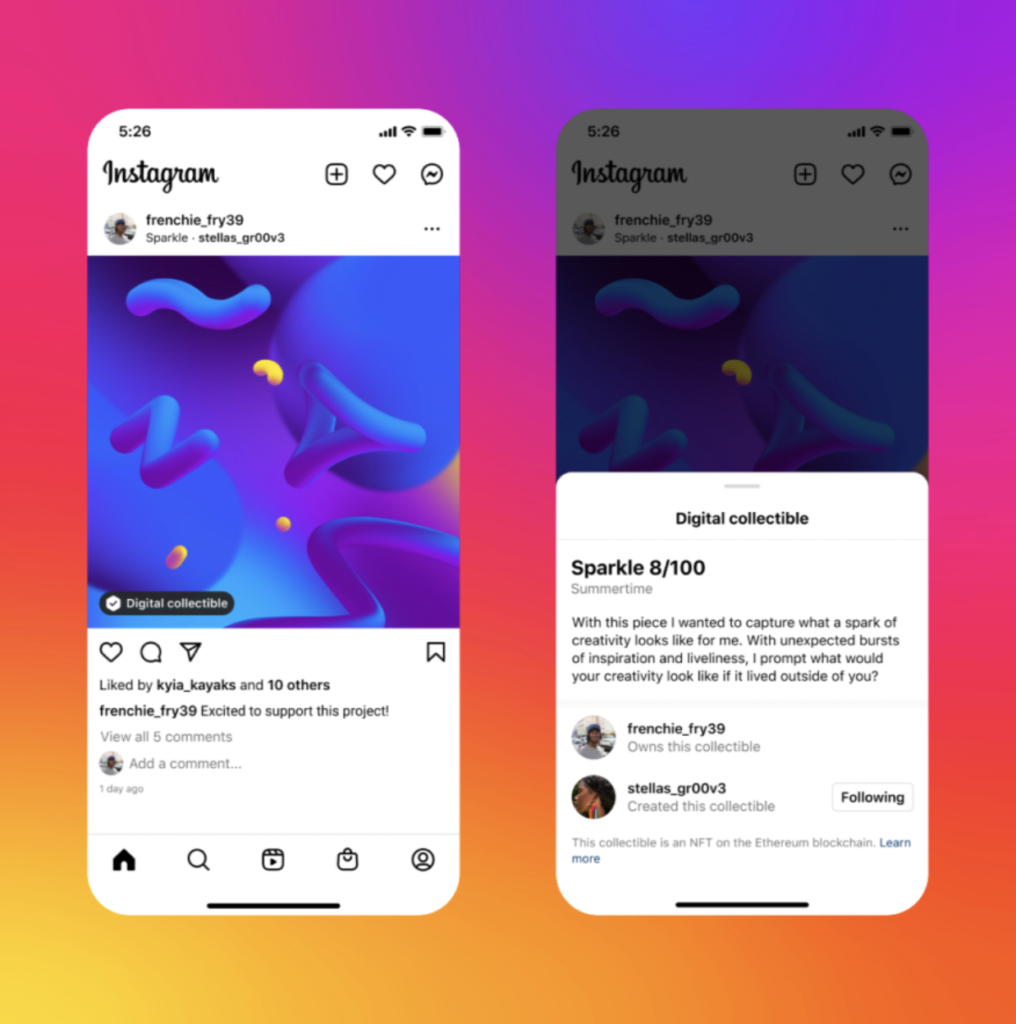 The mainstreamification of NFTs continues apace. On Tuesday, Meta began testing digital collectibles on Instagram. 
Select users may connect a digital wallet, share digital collectibles, and automatically tag the creator and collector. 
Meta will support Ethereum and Polygon at the launch and on-board Flow and Solana soon. 
The company also mentioned, 
There will be no fees associated with posting or sharing a digital collectible on Instagram.
Read the full press release here. 
Sam Bankman-Fried Takes a Stake in Robinhood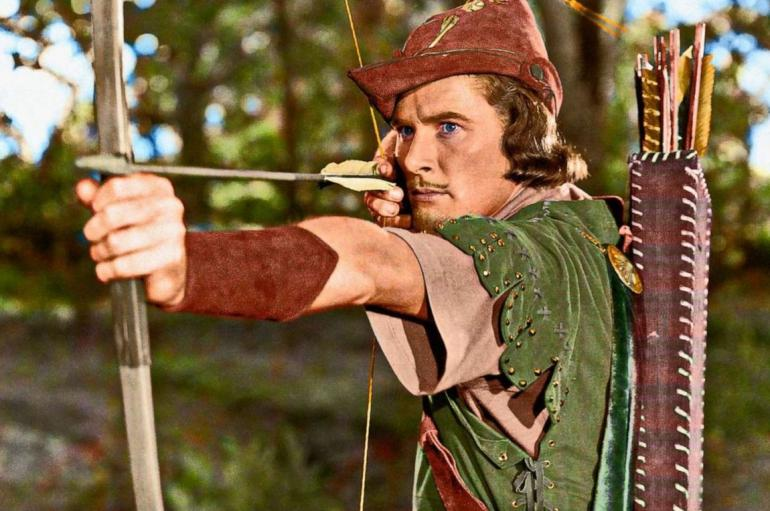 On Wednesday, an SEC filing revealed that FTX Founder and CEO Sam Bankman-Fried (SBF) took a 7.6% stake in free brokerage app, Robinhood (HOOD). 
Bold move. 
HOOD has fallen 50% this year, but it has over 31 million users, so SBF sees value there. 
The stock was up 23% on the news on Friday.
Warhol Sets an American Record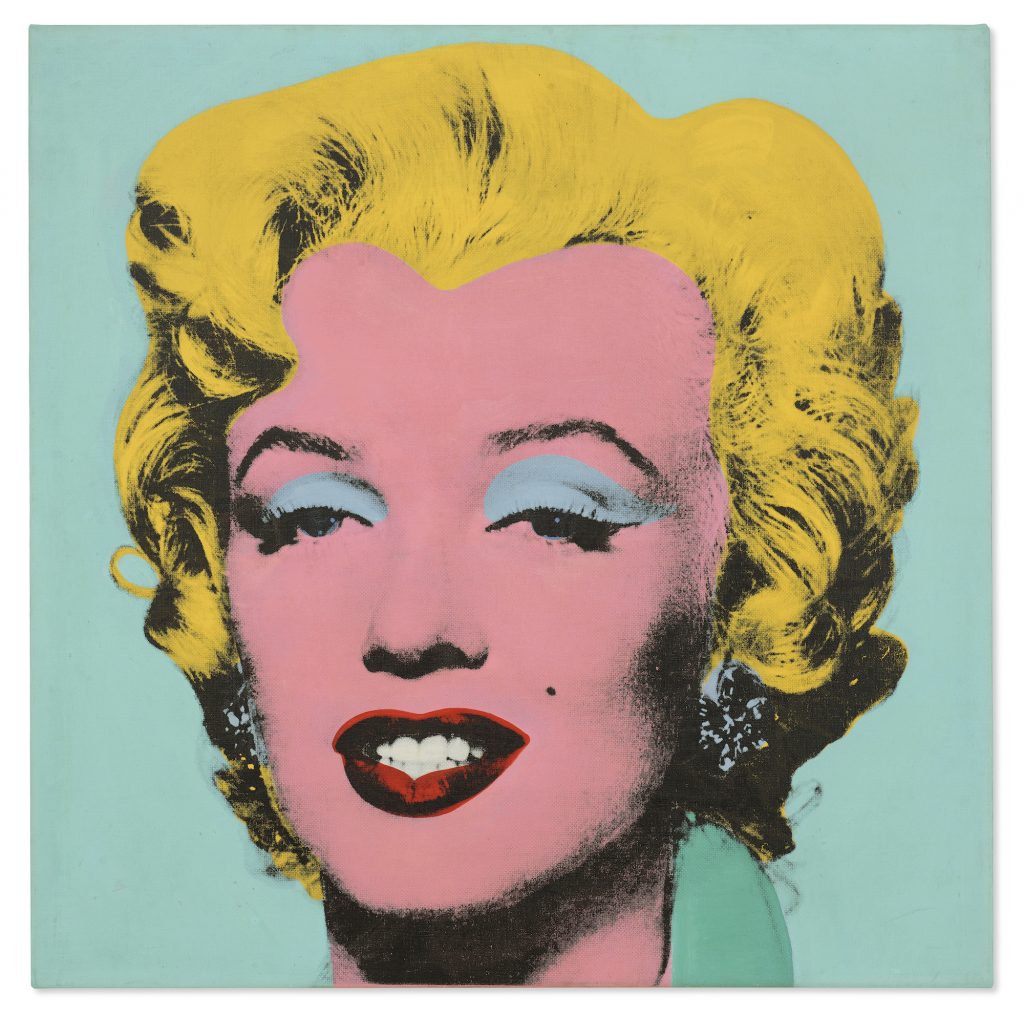 On Monday, Andy Warhol's 1964 silk-screen Shot Sage Blue Marilyn, sold at Christie's auction for $195M.
This set the art price record for a work by an American artist, smashing the $110M sale of Basquiat's Untitled Skull.
Here's NYT with the full rundown.
Meanwhile, on the Oaxaca Coast
Check out this neat retreat at the southernmost point of the Mexican Pacific coastline.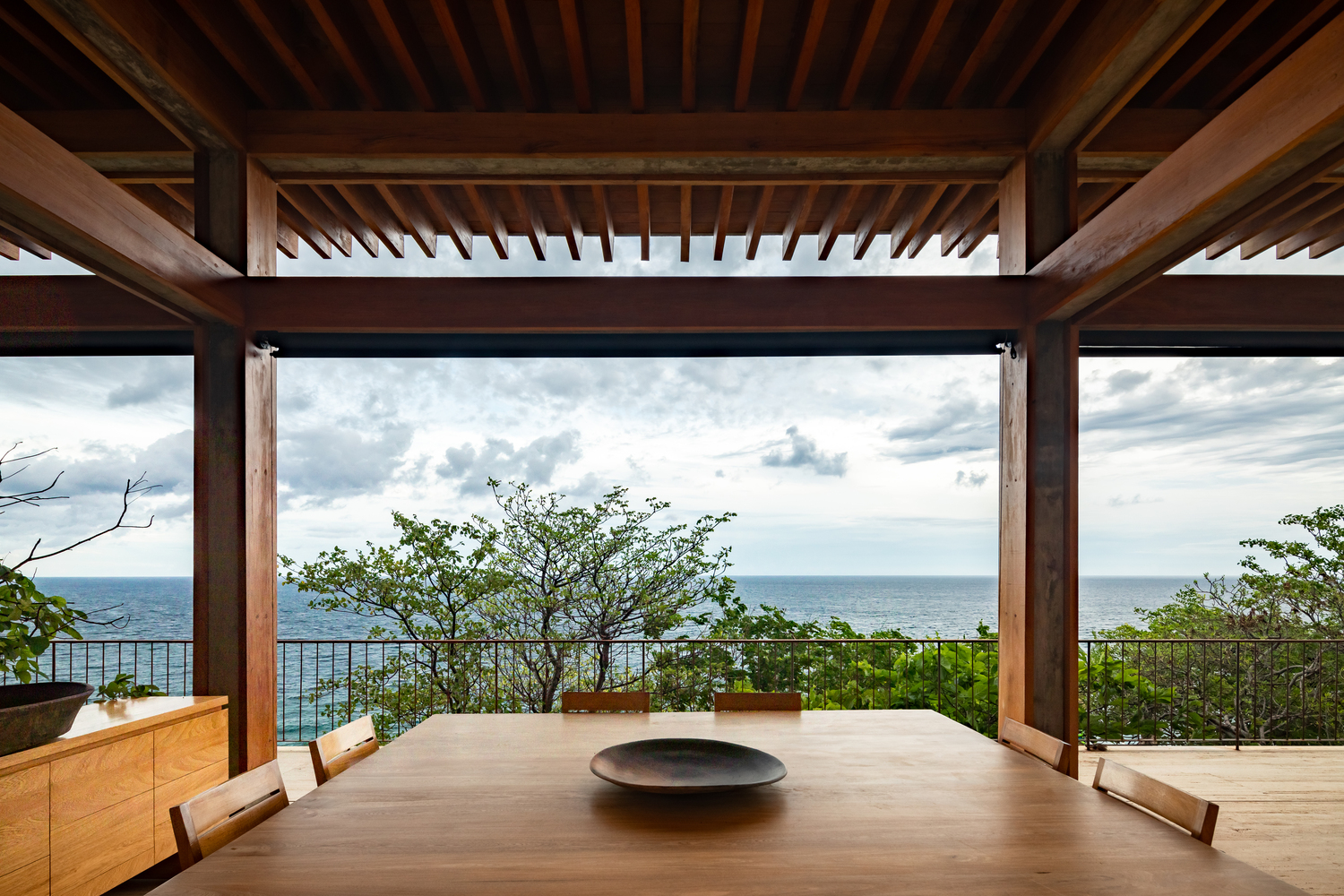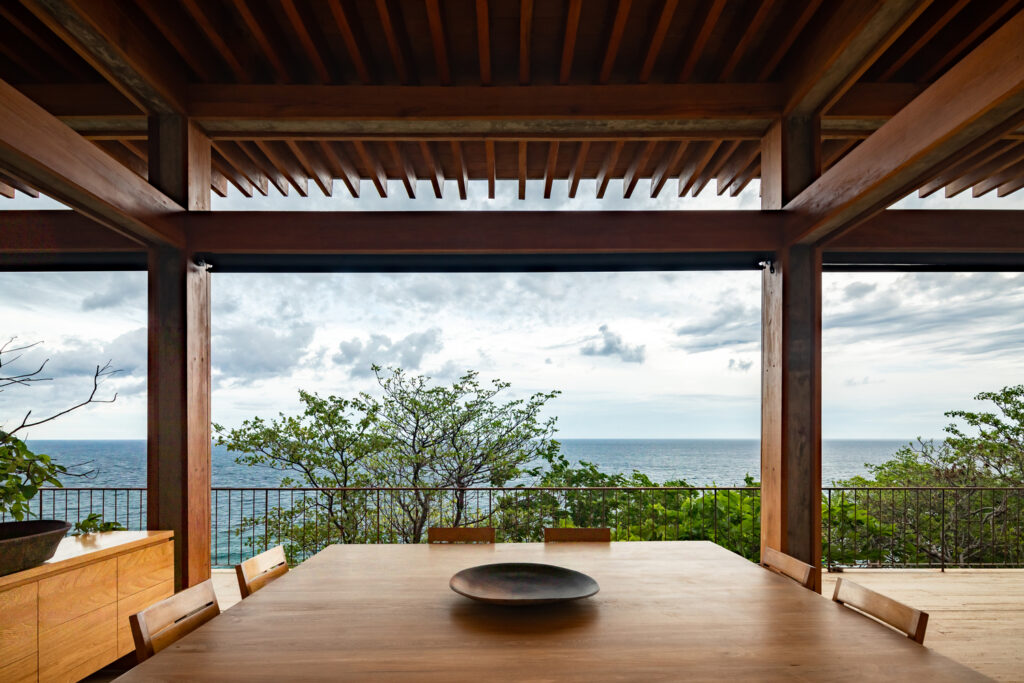 Magnificent.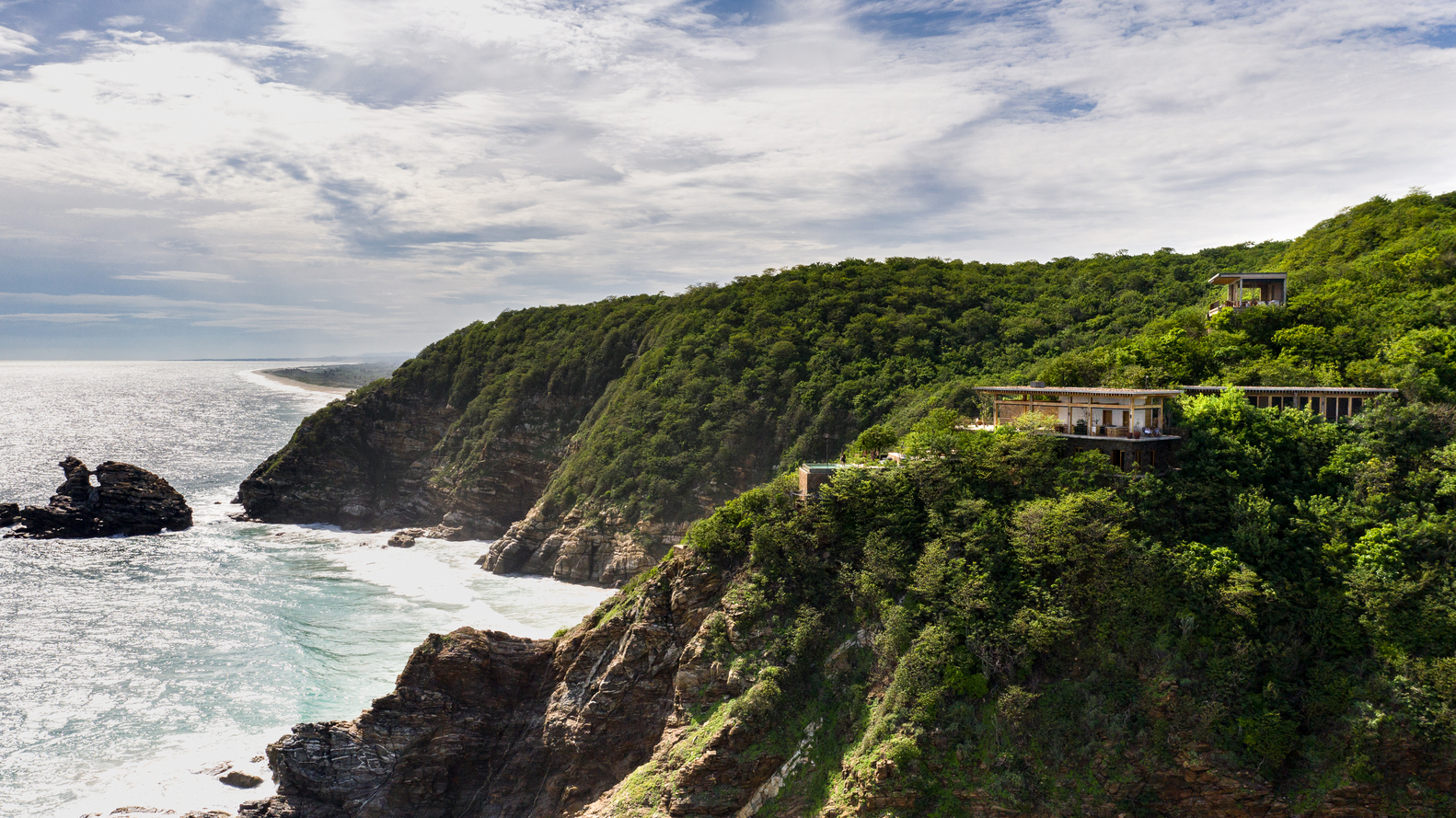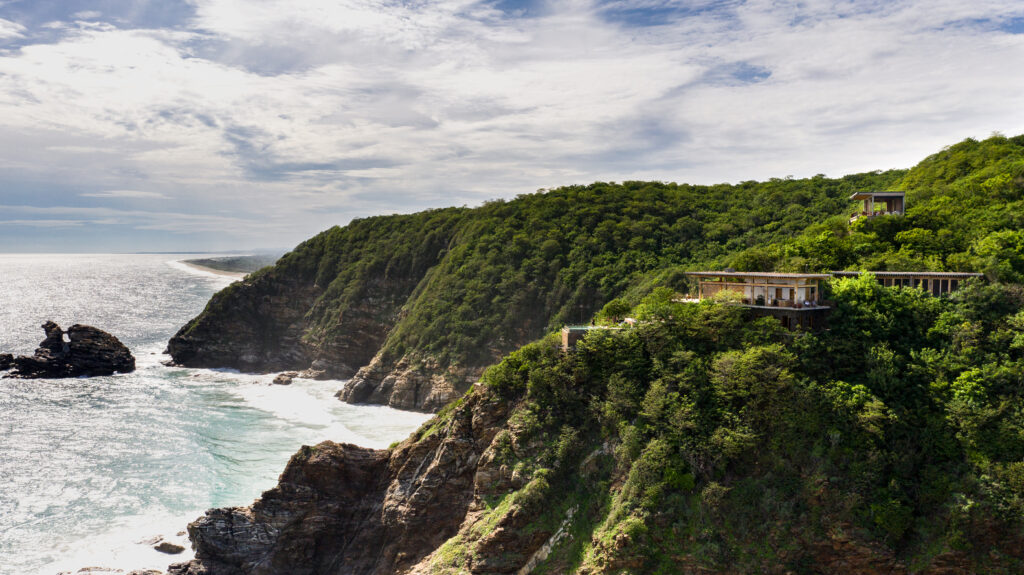 Stories You Might Have Missed
Emirates Airline to accept bitcoin as payment method: Arab News
Brazilian fintech unicorn Nubank to start offering crypto services
Chairs from the SEC and CFTC talk crypto regulation at ISDA meeting
El Salvador's president reveals design for volcanic Bitcoin City 
Pan-African Crypto Exchange Mara Launches With Backing From Coinbase, Alameda
The SEC has already sued Terraform Labs. It has every reason to investigate UST, lawyers say
EX Sports' New NFT Street Football Game is About Much More Than Just Scoring Goals
Germany Publishes First Nationwide Tax Guide for Crypto
FTX US applies for trust charter in New York
After Terra's stablecoin implosion, battered investors ask 'where is Do Kwon?'
YellowHeart is Transforming How Tickets Are Issued, Sold and Exchanged
Kanav Kariya – President, Jump Crypto Ep #65 | The Solana Podcast
Addressing the Elephant in the Room – All Star Charts
The FULL Aku Story with Founder, Micah Johnson
Crypto Startup Moralis Raises $40 Million in Fresh Funding
'Animal Crossing Meets Minecraft': Branch Raises $12.5M for Play-to-Earn Project
Bitcoin mining firm Hive Blockchain announces 5-to-1 share consolidation plan
Sorare to Launch Major League Baseball Ethereum NFT Fantasy Game
Chainalysis doubles valuation to $8.6 billion in latest fundraising round
'Cryptoqueen' Ruja Ignatova Added To Europol's Most Wanted List
Arnhildur Palmadottir proposes building cities from lava
Self-cleaning sunflower solar panels generate up to 40% more power
A Trip to the Moon – the 1902 Science Fiction Film by Georges Méliès