🦌 Grandma Got Run Over By Inflation
Inflation Cometh
Yesterday, The Board of Labor Department reported a 6.8% Inflation Rate through November in the US.
This is the biggest print in 40 years. Here's what that looks like in a chart: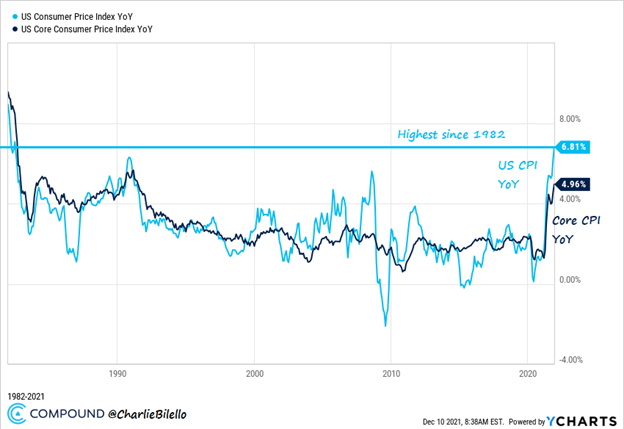 We're pragmatists, not conspiracists, but that's a big number and a sharp jab to the jaw of the US Dollar, which remains the world reserve currency.
Still, what matters more than where we are is where we are headed and nobody knows that for sure. We say all this, because 21 million Bitcoin is all there will ever be and so the purchasing power of the US Dollar matters.
What's New In NFTs?
It was another gnarly week for NFTs. 
CryptoPunk #4156 set a record selling for 2,500 ETH ($10.2M). This was the first new high sale since March 11 where Punk #3100 sold for $7.58M. See the CryptoPunk top sales here. 
DECAY by XCOPY sold for 345.69E ($1.4M).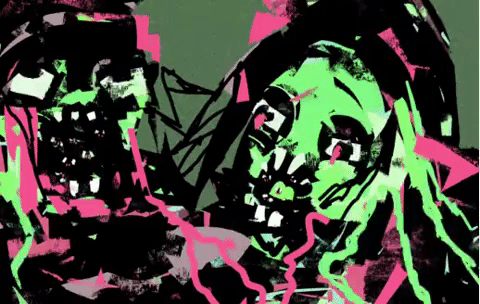 White Castle Goes Crypto, Acquires ENS and Seahams NFT — we kinda like this one. 
The Grammy's introduced its own line of NFTs.
Palm NFT Studio raised $27M led by Microsoft's M12 venture fund.
A 3-Bagger in Seized Bitcoin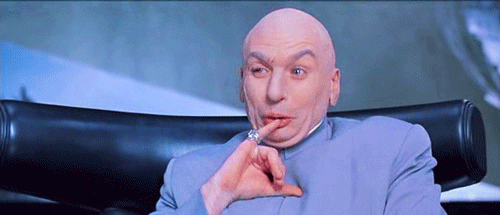 The U.S. seized $1B in Bitcoin in November 2020 following the fallout of the Silk Road digital marketplace. 
Today, this seized Bitcoin is worth more than $3B. 
The IRS says it will auction off the crypto and it got us thinking.
Do some nations HODL Bitcoin anonymously? Maybe we don't know things. lol. 
Just spitballing…
Listen To This —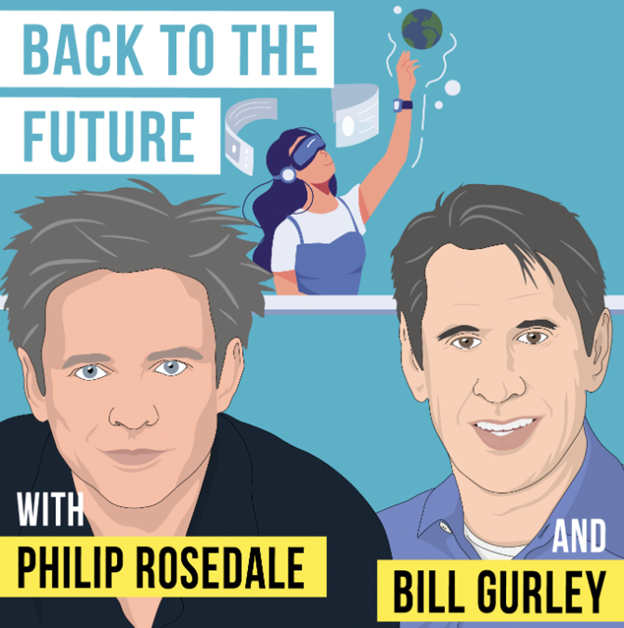 Bill Gurley, general partner at Benchmark and Philip Rosedale, creator of Second Life spoke with Patrick O'Shannessy about building Second Life's virtual world, their views on today's metaverse, and what excites them most about the future. It's a great listen. 
Elon Musk spoke with Joanna Stern on Monday about the US infrastructure bill, government innovation, fake titles, and more.
The Tesla CEO mentioned that the US should kill the infrastructure bill and "if we don't cut government spending something really bad is going to happen."
Catch the 36-minute conversation here. 
Nic Carter, Partner at Castle Island Ventures and co-founder and Chairman of Coin Metrics, joined Peter McCormack to discuss the future of Bitcoin. The two covered Bitcoin's maturing role within the evolving US and global economy, and it's role in relation to stable coins, gold, and the US dollar. 
Here's the money quote:
Satoshi had to do so much to win our trust. Everything open source. Everything with fair warning; full disclosure. Create the most auditable monetary system ever, and then leave the project.
Web3 in Washington  
Congress continues to contemplate its Web3 strategy.
This week crypto executives appeared in Washington taking questions for nearly 5 hours. 
Here are a few highlights —
The executives warned that tough restrictions could push innovation overseas. 
Patrick McHenry of North Carolina shared this sentiment saying, 
We don't need knee-jerk reactions by lawmakers to regulate out of fear of the unknown rather than seeking to understand. That fear of the unknown and the move to regulate before understanding will only stifle American ingenuity and put us at a competitive disadvantage.

SBF stole the show simply stating,

The industry has the potential to improve a lot of people's lives. 
Regulators are stuck between a rock and a hard place. Inflation is at its highest mark in 39-years and Dollars continue to dump into Web3. All eyes are on Washington.
If you like watching paint dry, here's the full 5-hour hearing.
And here's a nice write-up from the New York Times.
The Game Awards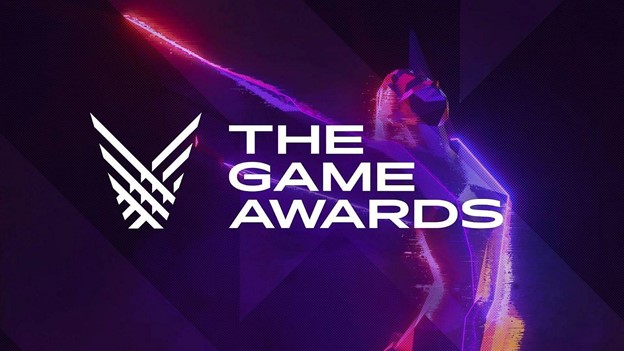 Gaming continues to grow and its influence on culture is as prevalent as ever. 
We got a glimpse of the future at this week's Game Awards. This is a great watch for those fascinated by the metaverse. 
It Takes Two claimed the game of the year. 
The awards show also teased upcoming titles. Here are our favorite trailers — 
Dune: Spice Wars – Announcement Trailer
Star Wars Eclipse – Official Cinematic Reveal Trailer
Here's a full video recap and here's a write-up via The Washington Post. 
Web3 Holiday Book Guide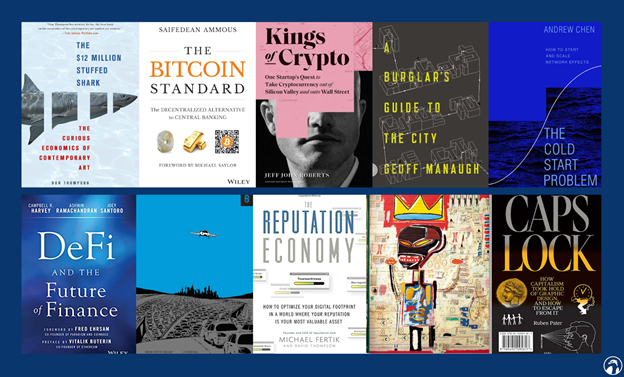 In case you missed it, we shared our Web3 Holiday Book Guide. 
Here are additional bonus picks for our most loyal readers:
Mastering the Lightning Network: A Second Layer Blockchain Protocol for Instant Bitcoin Payments
Frank Lloyd Wright: Natural Design, Organic Architecture: Lessons for Building Green from an American Original
Micheal Saylor Bought MORE Bitcoin
Michael Saylor continues to buy the dip. 
On Thursday, MicroStrategy announced that it purchased an additional 1,434 Bitcoin.
The Company now owns 122,478 Bitcoin with an average cost of $29,861 per coin.
Incredible.
Just DAO It?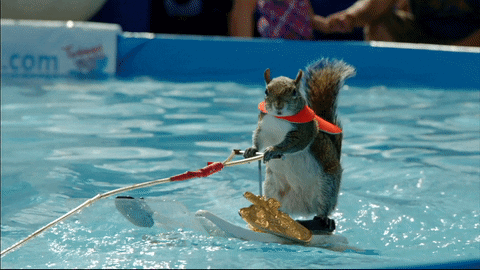 ESPN wants to sell the XGames and we might see a Web3 bid for the brand.
Sahil Bloom suggested a DAO be developed to acquire it. He shared a tweet thread laying out his vision. Read it here. 
Sahil also spoke with Olympian Apolo Ohno about his idea in a recent podcast recording. 
We're early, we're speculating, and this story is developing, but we love to see it.
Hillside Hideaway   
Check out this hidden house in the California desert.
It's a work of art.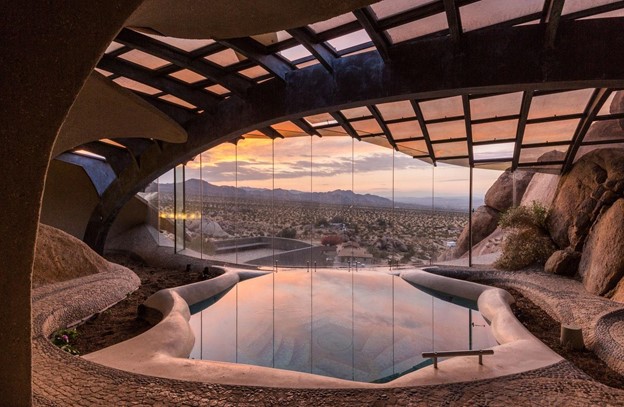 The project took 20 years to complete and has a fascinating history. Here's Architectural Digest with more.
Stories You Might Have Missed
Getting Married in the Metaverse
Metaverse: Hype or Reality? – by Richard MacManus
Hong Kong Property Tycoon Adrian Cheng Builds Virtual Land In The Sandbox's Metaverse
The Blockchain Art Market is Here (2017) — Artnome
Polygon acquires ZK-rollups startup Mir Protocol for $400 million
FTX US gains membership to international derivatives agreements body ISDA
Opera's Browser Wallet to Support Solana in Early 2022
Meta's crypto wallet Novi launches on WhatsApp
Ledger unveils crypto debit card, partners with FTX, Coinbase, Rarible
Messari launches governance aggregator facilitating DAO participation
Reddit is bringing its tokenized Community Points to more subreddits
Web traffic to crypto exchanges in November reached second-highest level for 2021
Visa forms new crypto advisory unit as client demand grows
Biden's banking regulator nominee withdraws under widespread scrutiny
Google's former CEO joins Chainlink Labs as a strategic advisor
Bitcoin Hash Rate Hits New All-Time High
The Historic Application of Sacred Geometry & How It Applies To The Stock Market w/ Larry Pesavento
Snoop Dogg megafan spends $450,000 to be rapper's VIRTUAL neighbour
Rory Sutherland: "Don't order Dr. Pepper in Paris" [Talking Business E1]
Miura – The Quest for the Perfect Golf Club | Adventures in Golf Season 3
JAY-Z – Picasso Baby: A Performance Art Film
Rupert Murdoch Buys $200 Million Montana Ranch From the Koch Family
In California, a Historic Home on 400 Acres Lists for $70 Million
Neri Oxman told to alter Norman Foster design for New York penthouse
BMW Concept XM is the first high-performance, electrified M car
Japanese scientists invent glowing masks that detect coronavirus
Pantone introduces very peri as the color of the year 2022
Candela raises €24M investment for silent flying watercraft production