Hey, y'all. Welcome back to Osprey Funds Weekend Recap. Let's dive in—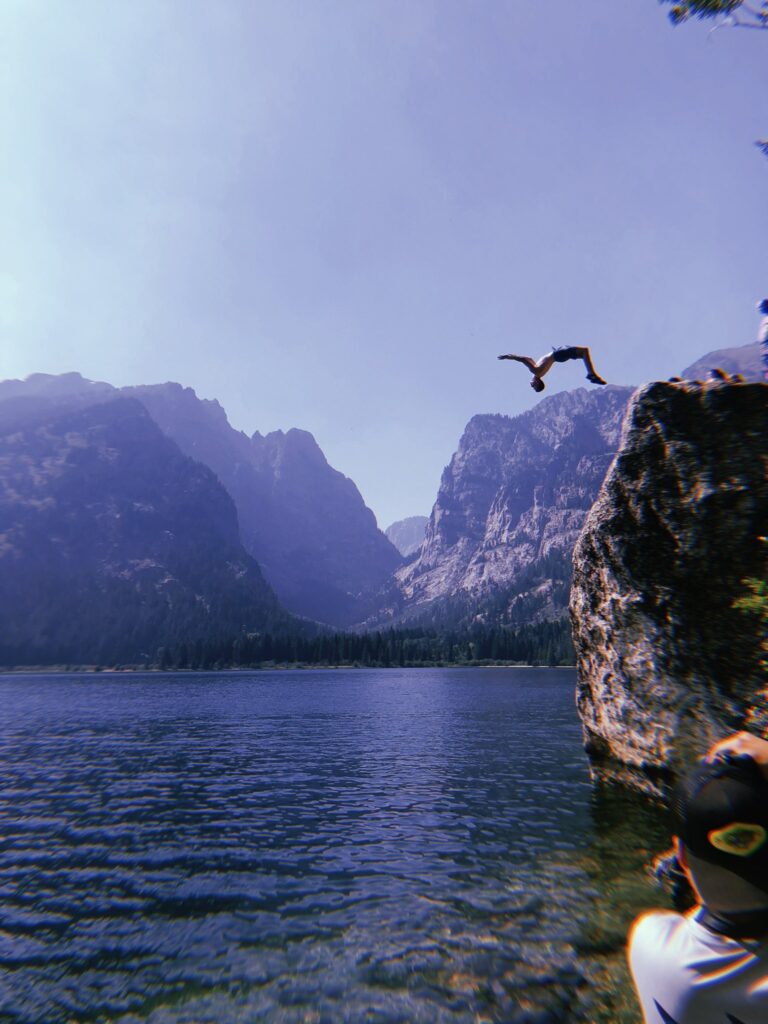 ?? China Cries Wolf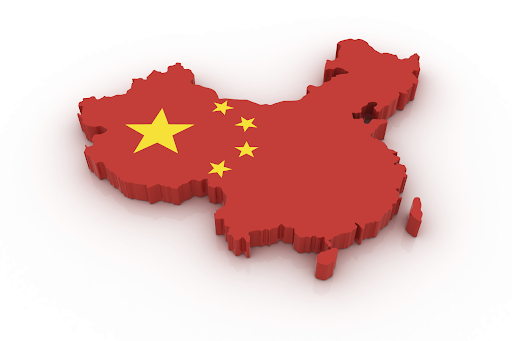 Early Friday morning, the People's Bank of China (PBOC) published a statement regarding cryptocurrencies. Here's the English translation.
PBOC issued a blanket ban on all crypto transactions and mining, which serves as continued escalation of its already prohibitive stance.
Reports of the statement sent crypto lower but far less than previous occasions. Recall, China's 2017 warnings triggered a 30% Bitcoin slide while earlier this year, its crackdown on mining added to the correction already in motion at the time.
This time, though, BTC looks off 8% or so, still in the same trading range we've seen for 2 months.
Still, it's some déjà vu as the authoritarian nation is making these types of proclamations more often.
China is making a bet that its economy is big enough to weather the confinement required to keep society closed and information flow controlled in order to prevent decentralized currencies from reaching critical mass domestically.
Their risk is that blockchain technologies gain global adoption over the longer-term and the nation winds up isolating itself to its own economic detriment. 
Here's Reuters with the details.
? Twitter's Trojan Horse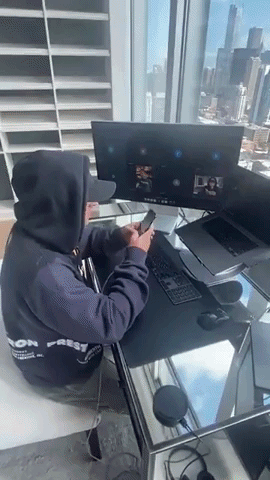 On Thursday, Twitter rolled out Bitcoin Tips for iOS users. 
The company partnered with Strike, a Bitcoin wallet app built on the Lightning Network, to facilitate the transactions. 
Twitter Tips is cool, but the implications of the new function may be more profound. 
Strike founder, Jack Mallers, demoed the new feature by sending an instantaneous zero-fee remittance payment to El Salvador. Wild. 
Mallers quipped, 
Why would anyone ever use Western Union again? When you take one of the world's largest social internet networks and combine it with the world's best open monetary networks, Twitter accidentally becomes one of the best remitting experiences in the world… 

Western Union, pawn to E4. Your move. 
Twitter also said it plans to authenticate and verify ownership of NFTs. Also cool. 
Here's The Verge with the full scoop. 
? Glassnode on Lightning
Speaking of the Lightning Network… 
Glassnode shared this chart showing 226% growth of new Lightning Network Channels in the last 12 months.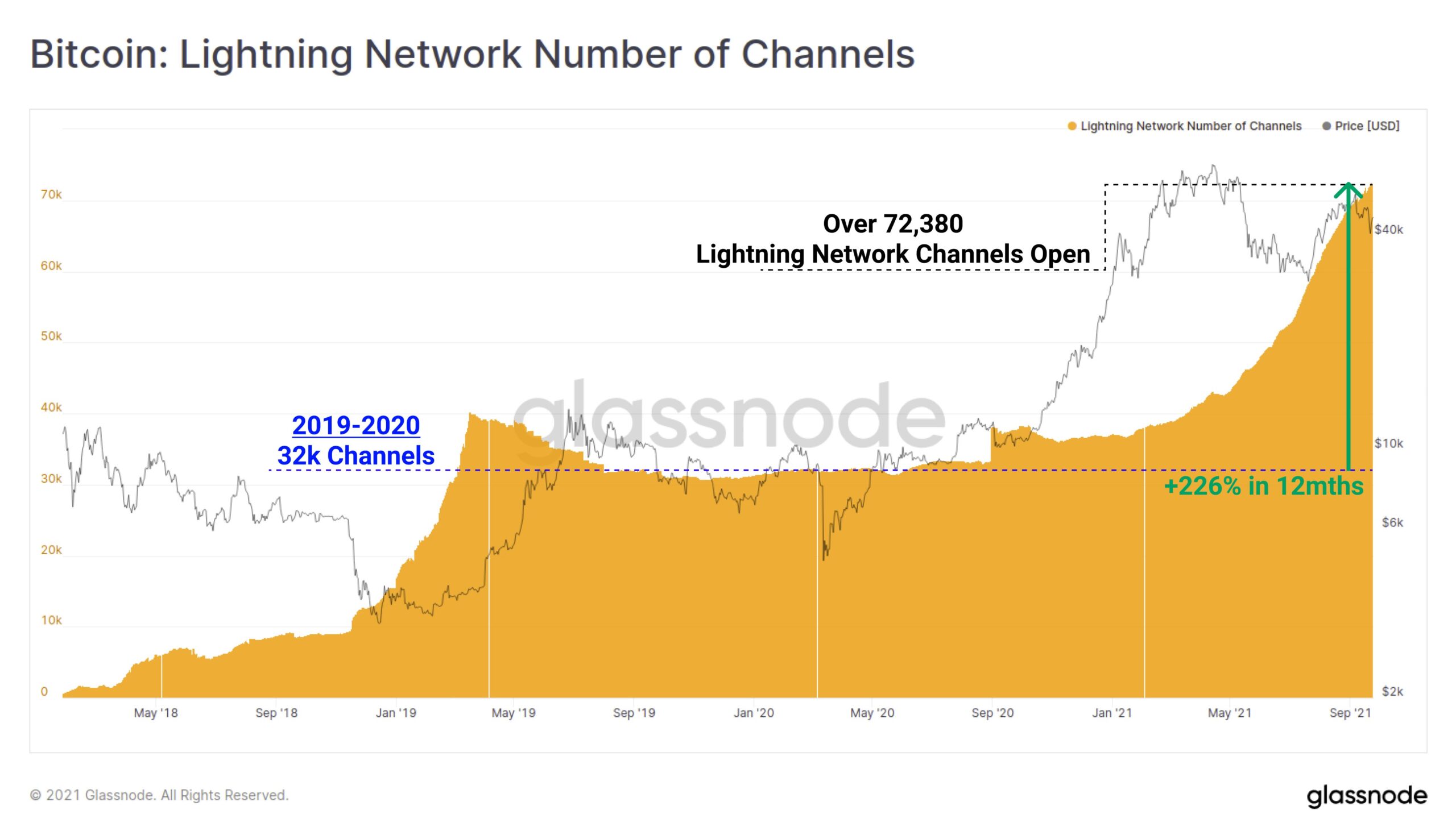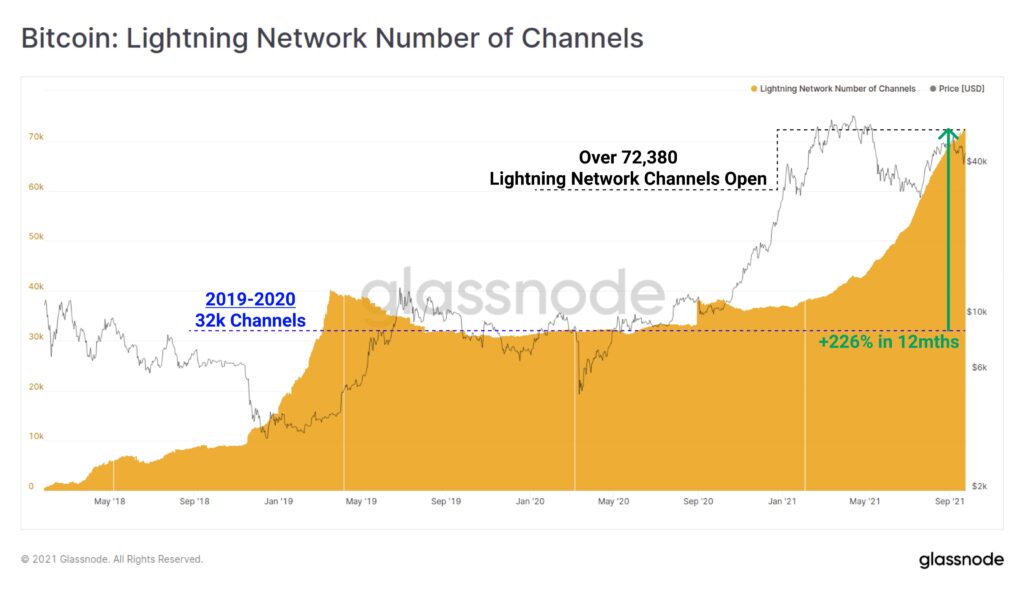 Additionally, HODLers are hodling. 
54.2% of Bitcoin's supply has remained dormant for at least a year.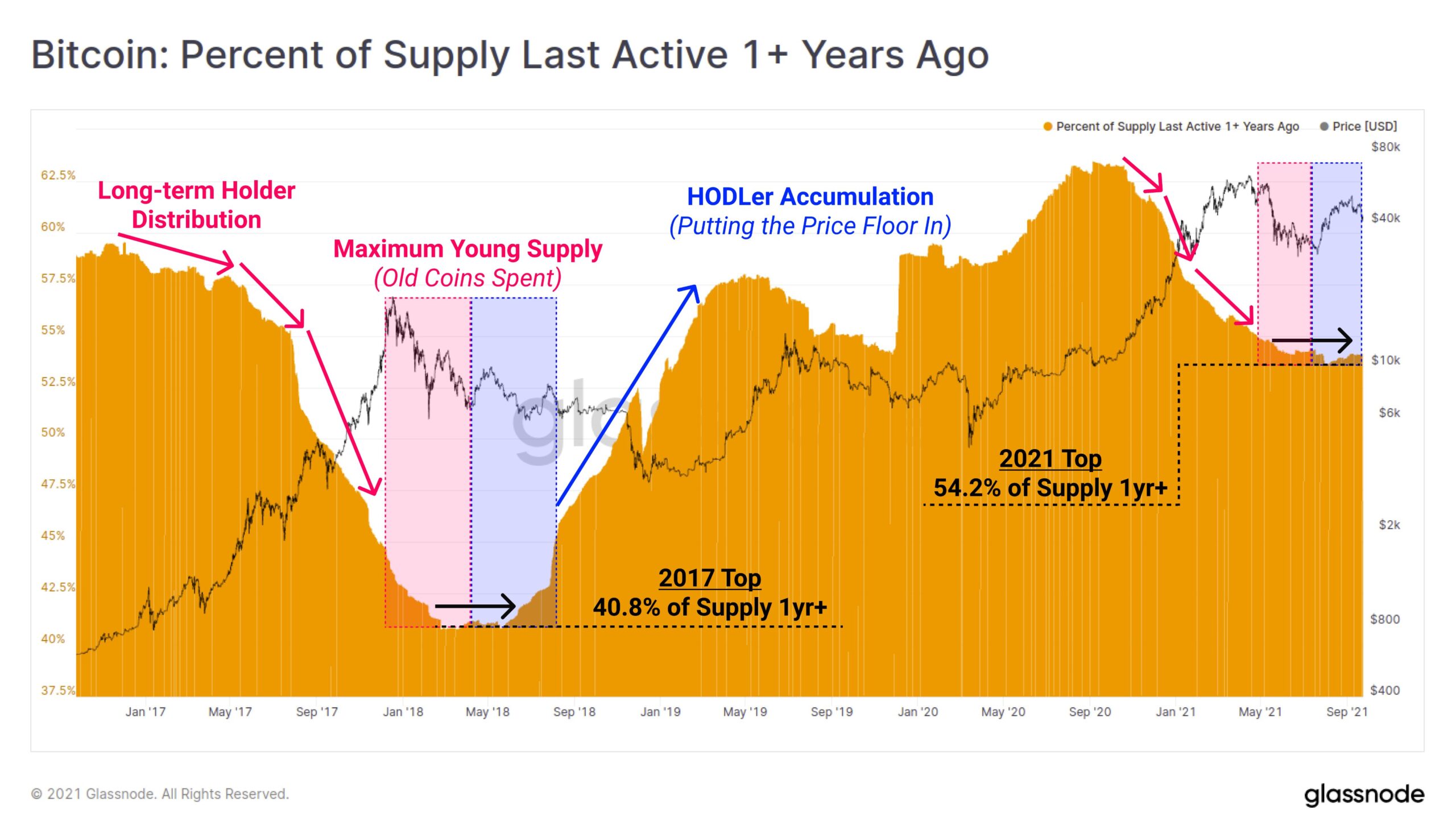 ? Wallets and DCA at Robinhood Sounds Hot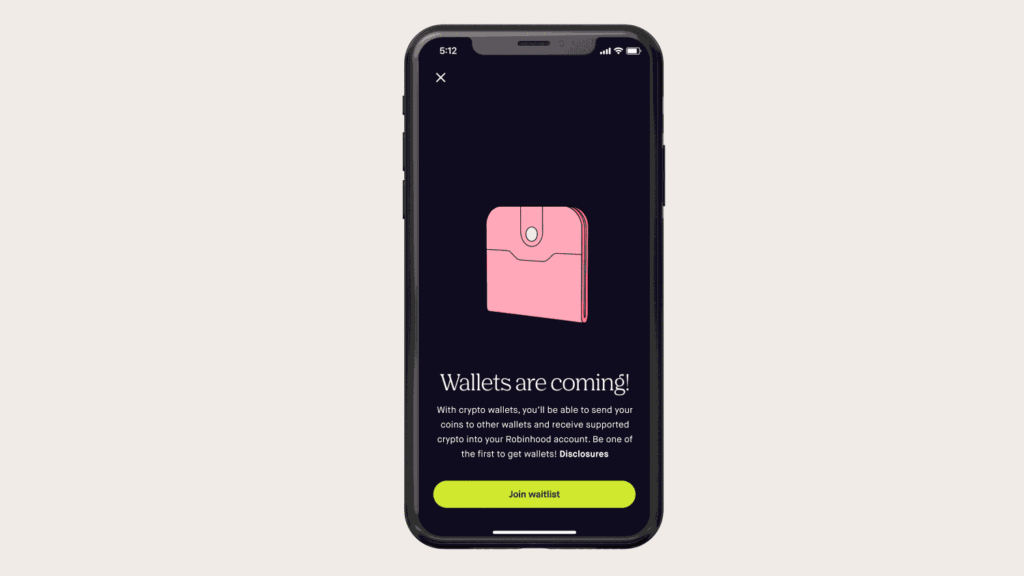 Crypto wallets are coming to Robinhood. 
Starting next month, the commission-free brokerage app will beta test crypto wallets allowing users to send, receive, hold, and trade crypto. 
Robinhood also announced free automatic recurring investments in crypto, great for investors looking to dollar cost average in the space. 
This seems like a powerful combination here that, maybe, did not get enough press. Users can set the purchase frequency and forget it and periodically move their assets to their wallets. All without fees. 
? NFT Autumn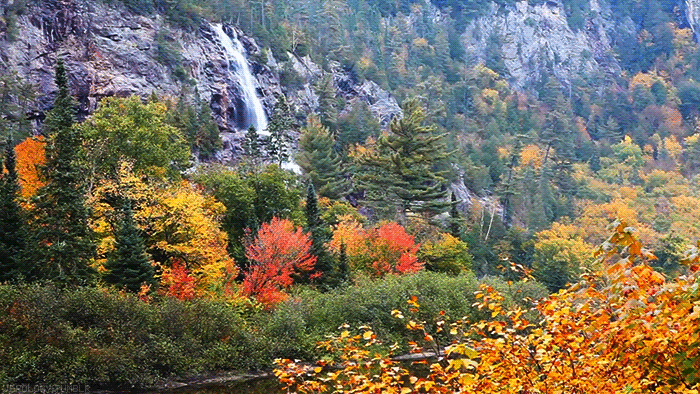 Leaves are changing and it feels like NFT Autumn.
Here's the latest news and research across the space.
Wormhole released an NFT bridge between Ethereum and Solana. 
Collectors can now send NFTs cross-chain. 
Here's a visual representation of the bridge —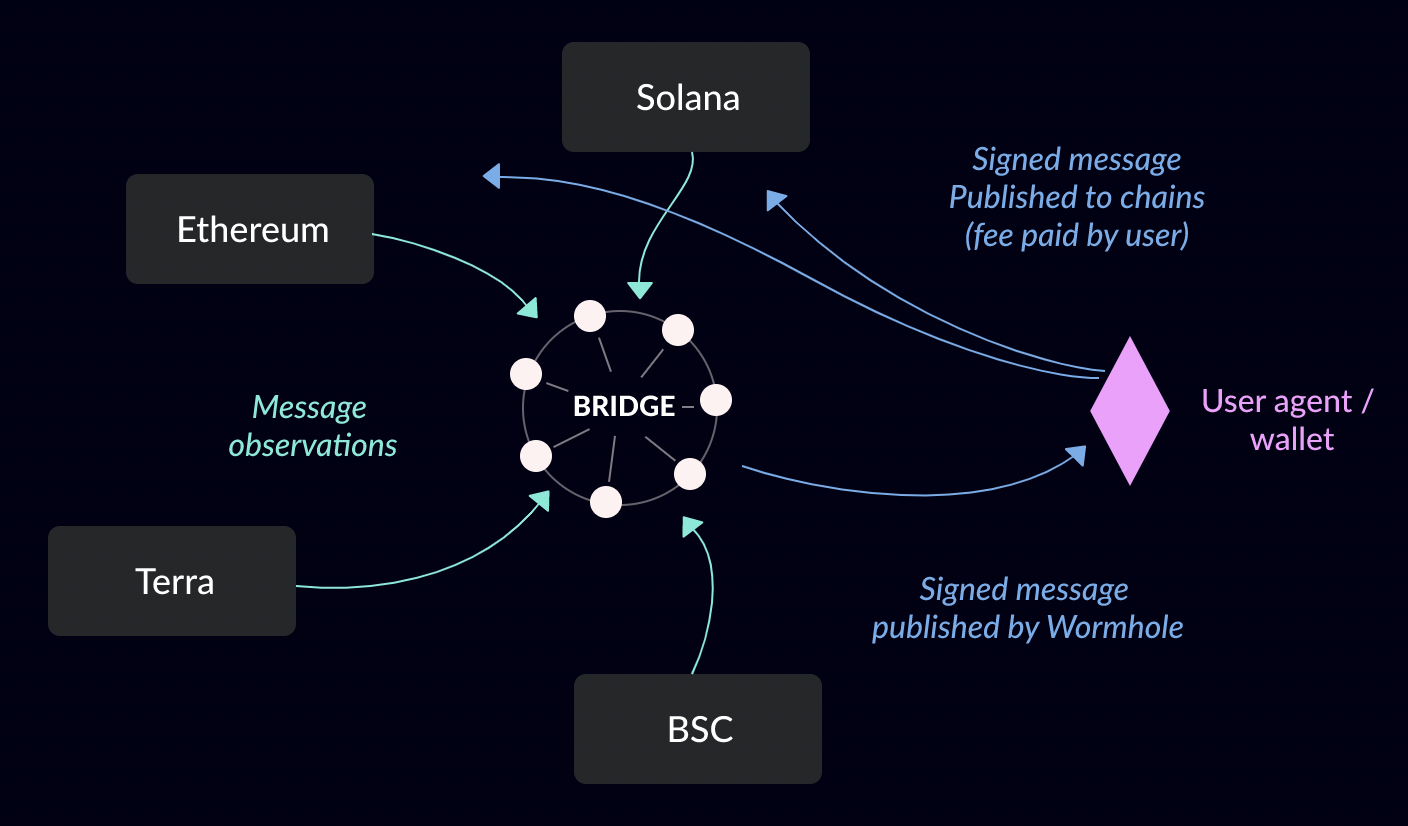 One stat we will love to see is the distribution of NFTs being sent from ETH to SOL and vice versa. 
Sports-centered NFT start-ups secured the bag this week. 
Dapper Labs, creator of NBA Top Shot raised $250M at a $7.6B valuation, while Sorare, a French fantasy soccer game infused with NFTs, raised $680M led by SoftBank. 
Chris Dixon, general partner at Andreessen Horowitz writes, 
Tokens give users property rights: the ability to own a piece of the internet.

Like websites, tokens are digital primitives that can be generalized to represent almost anything– money, art, photo, music, text, code, game items, control, access, and whatever people dream up in the future.
Bridget Harris breaks down fractionalized NFTs. She shares, 
NFT fractionalization truly allows a more feasible and accessible approach to the industry and deeply broadens the financial utility of owning — a whole or a piece of — an NFT.
Coin Metrics published on The Rise of NFTs. 
The research team posted the great chart below showing the growth of total unique owners for NFT projects. Have a look. 
Total unique owners is an important metric because NFT projects, like crypto networks in general, can benefit from network effects. A larger network of owners can command more cultural influence by having a broader set of supporters that are incentivized to promote the project or platform.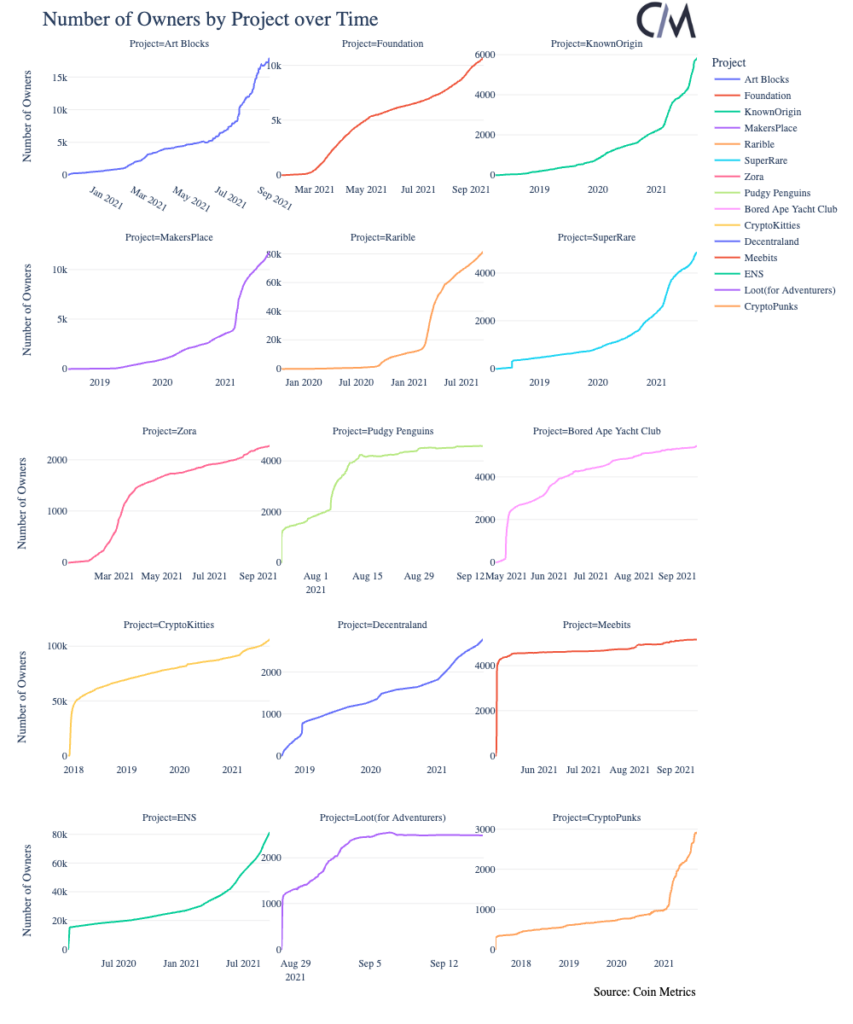 ? FTX Goes Full Speed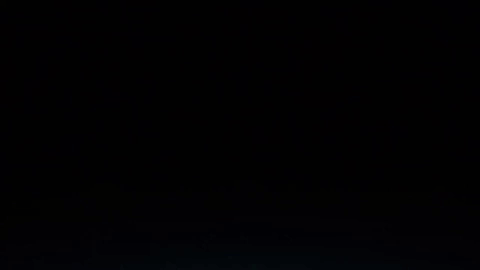 FTX is relentless. 
This week, the crypto exchange announced a long-term partnership with Mercedes AMG – Petronas Formula 1 Team. 
The FTX logo will be featured on both cars and drivers starting this Sunday, September 26th at the Russian Grand Prix. 
FTX has major partnerships with the NFL, NBA, MLB, College Football and now F1.

You love to see it.
? The Fed's Digital Currency Dance
The Fed continues mulling the prospects of developing a Central Bank Digital Currency (CBDC). It planned a Summer release of its research looking into blockchain tech in general, but we're still waiting.
Here are a few highlights from Fed Chair Powell's comments on the topic from Wednesday:
The Fed is in the process of evaluating whether to issue a CBDC.

The Fed is performing a cost-benefit analysis as a critical part of this process.

The Boston Fed and MIT

have been the hub

for this research. 
The next Fed meeting will occur November 2-3 so maybe we get some concrete news then.
? The Evergrande Eyesore 
Much ado early this week about Evergrande, the indebted Chinese property developer. The media bandied the phrase Lehman Moment about while equities and crypto both sold off with some gusto.
Knee jerk overreaction is seldom the right take and this was no different.
CNBC had a good piece about why this was no Lehman Moment as Evergrande owns $220B in land.
But our favorite take came from Mark Dow who explained why markets tend to flinch from this kind of headline.
Still, If you haven't heard enough about this one yet, check out Joe and Tracy with 58 minutes of deft audio insight.
? Gensler Comments On Crypto 
SEC Chairman Gary Gensler spoke with The Washington Post this week on the path forward for cryptocurrencies. 
Gensler called for tougher regulation saying,
These stablecoins are acting almost like poker chips at the casino right now. History tells us that private forms of money don't last long.
Here's The Washington Post with more. 
⛓ MainNet Recap
MainNet 2021 was live in New York this week. Here's the stuff we found most interesting. 
There were rumors of a subpoena being served, but no confirmation has been shared.
Ryan Selkis, CEO of Messari, announced his candidacy for US Senate, but has yet to further comment. 
Here's a lecture on The Future of Polkadot with project luminaries including Dan Reecer and Peter Mauric. 
And check out Messari's YouTube channel for video clips and highlights of the event. 
? Pay Brady in Crypto?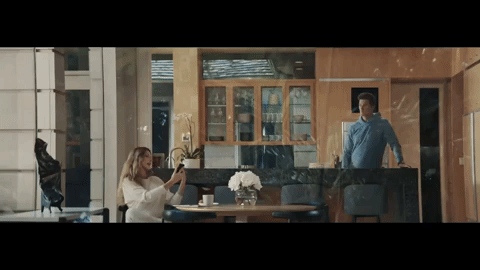 Tom Brady was asked by Jim Gray if NFL players would make requests to be paid in crypto. 
Brady replied, 
I'd love to request that to get paid in some crypto and, you know, to get paid in some Bitcoin or Ethereum or Solana tokens. I think it's an amazing thing that's happening in the world with the way the world is becoming more digital.
Brady and his wife, Gisele Bündchen, already have skin in the game as FTX ambassadors. 
We'll see if the Buccaneers ever pay players in Bitcoin. 
Here's Bleacher Report with more.
? Coinbase Drops It's Lend Program
Coinbase dropped its Lend program following the SEC's Wells Notice. 
The company issued the following, 
As we continue our work to seek regulatory clarity for the crypto industry as a whole, we've made the difficult decision not to launch the USDC APY program announced below. We have also discontinued the waitlist for this program as we turn our work to what comes next.
On Thursday, Coinbase founder and CEO, Brian Armstrong spoke with Anthony Pompliano on the decision to drop the product. Catch the clip here. 
? Seamless Inside and Out 
Check out this great escape in northern Ecuador. The owner of the home sought a space that felt seamless inside and out.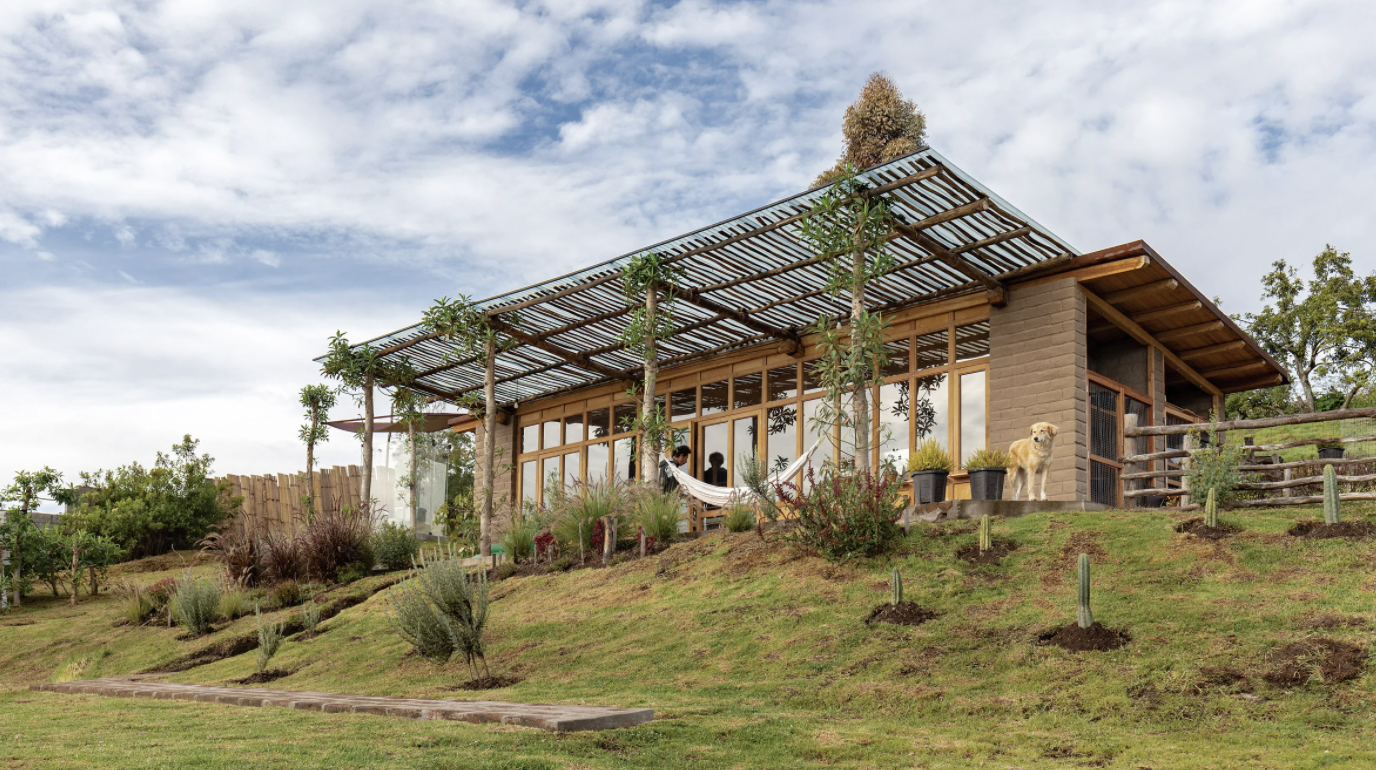 The design team behind the build shared, 
There are places where people do not know whether they are in a garden or house, or a house built by the garden.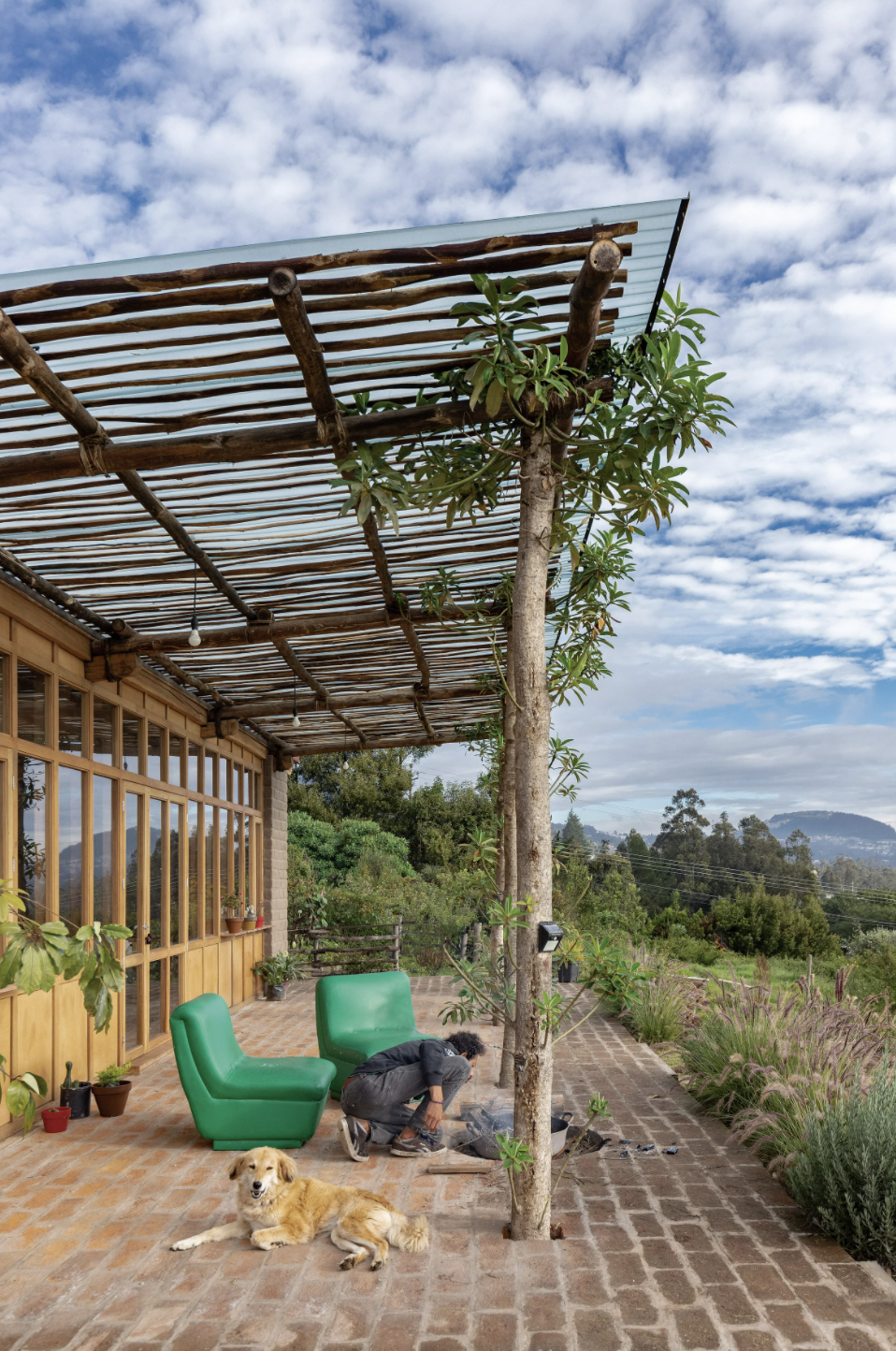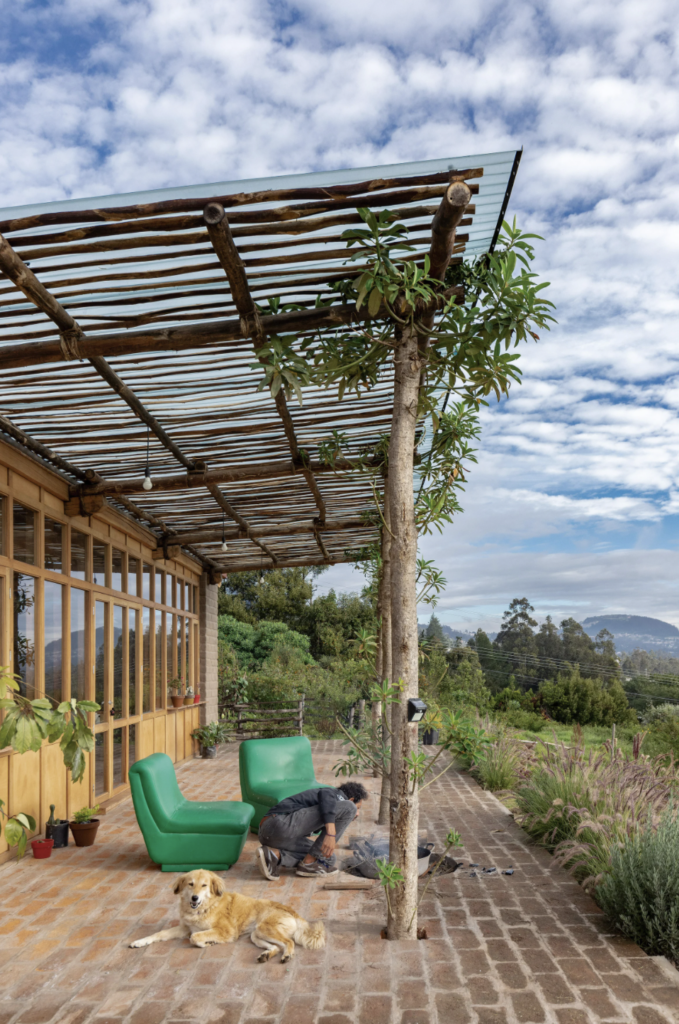 It even includes an all-glass outhouse… 
? Stories You Might Have Missed
Polkadot Founder, Gavin Wood, on Uniting All Crypto Networks for a Web 3.0 Future
Gordon signs bill exempting Wyoming natural gas flared for cryptocurrency mining from taxation
Bankman-Fried's Crypto Exchange FTX Leaves Hong Kong for Bahamas
Crypto Bezos – by Packy McCormick
What if you could travel inside a painting? asks invasione creativa
NBA's Philadelphia 76ers Score Crypto.com as Jersey Sponsor
Physicists Find Particles That Switch Between Matter and Antimatter
SCA, DWTCA sign agreement to support trading of crypto assets
Ep 375: The Magic Of Behavioural Science – The Recruiting Future Podcast
Stanford researchers print circuits onto stretchable, artificial skin
Google to Buy New York City Office Building for $2.1 Billion
Seeing Silence: The Beauty of the World's Most Quiet Places
Netflix to Buy Roald Dahl Catalog, Adding 'Charlie and the Chocolate Factory' to Its Stable
Vincent Van Gogh's Newly Discovered Work Goes on Display
Nuggets' Nikola Jokić details offseason work and preparation for upcoming 2021-22 campaign
Porsche offers a preview of the next generation of electric motors with mission R concept
Ilja Schamle powers server through tomato plants in self-sustaining ecosystem
Neutra's VDL II House hosts Built In group exhibition in Los Angeles